Windows 7 themes are amazing. By default, Microsoft installs themes based on the language and location chosen at the installation face, but maybe you did not know that you can access the others themes, hidden in Windows. These are called Windows 7 Regional Themes. Today we are going to see how to access and install themes from different countries.
1-  Click Start

in the search box "Search programs and files" and type "C:\Windows\Globalization\MCT"; press "Enter". MTC folder window will open (See image 1); you will find five folders called MCT- AU, -CA, -GB, -US, and – ZA.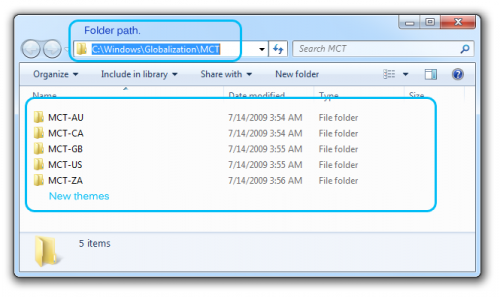 Click image to expand. Image1.
To install, access each "MCT-xx" folder and open the "Theme" folder and double click the file "'name'.theme". Repeat this step to add all the new themes. See image 2.
Note: "US" is already installed in your computer.

Click image to expand. Image2.
3-  When you are done installing all the themes, you can switch between them by going to the personalization feature in Windows 7; the new themes will be located under "My themes" area with their respective country names, i.e., Australia, Canada, South Africa & United Kingdom. See image 3.

Click image to expand. Image3.
4-  Enjoy the new regional themes.
Tip: It is possible to grab just the wallpapers instead of installing the themes by browsing to "MCT-xx"\"NameOfTheCountry". See image4.

Click image to expand. Image4.
This is a pretty cool trick to add personalization to your Windows 7.
Get our best stories delivered to your inbox.