Here we go again! One more thing that we have to worry about: Facebook is adding Places, a feature that allows you share your real world location with online friends.
With this new feature you'll be able to tap a "Check-in" button to announce your presence at a location to your Facebook friends, and it will appear in a new tab called "Places" in your profile and news feeds. Your friends can tag you being with them, but you can remove this tag like photo tagging operates.
The Check-in feature will let you see where your friends are, where you have been, and earlier updates that you wrote in a particular location. The default settings for a particular Check-in will be visible only to your friends. There is not automatic Check-ins and your friends cannot start tagging you as being present in one place until you authorize that activity.
One thing that you should keep in mind is that if enough people check into a location, it will become visible to all Facebook users nearby. Just imaging if this is your house! If this is the case you may want to consider to be removed.
If you don't prefer to share your location, or stop friends from posting it, follow these steps to disable Places:
1-  Log in to Facebook account. Go to "Account" menu and choose "Privacy Settings". See image 1.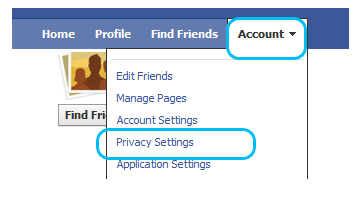 Image 1.
2-  On Choose Your Privacy Settings page go to Sharing on Facebook section, Click "Custom" and "Customize Settings" link. See image 2.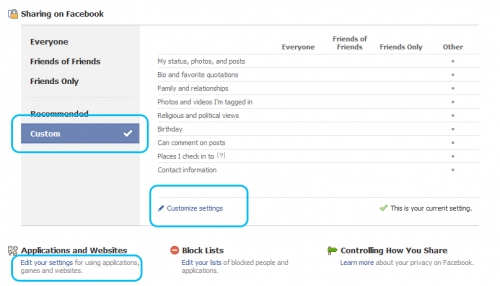 Image 2.
3-  At the bottom of Things I share section you should change 2 settings: Change Places I check in to "Only me". To do this use the drop down menu at the right side of the setting title (See image 3) and choose "Customize" , Custom Privacy window will appear and in Make this visible to choose from the drop down menu "Only me" and Click "Save Setting" (See image 4). You can always choose different settings if you want to limit more or less your friends visibility. The Include me in "People Here Now" after I check in setting should be left uncheck if you don't want this. Refer to image 3.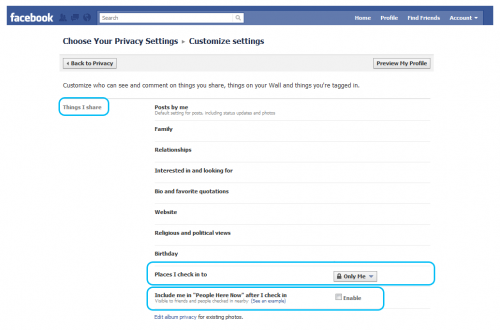 Image 3.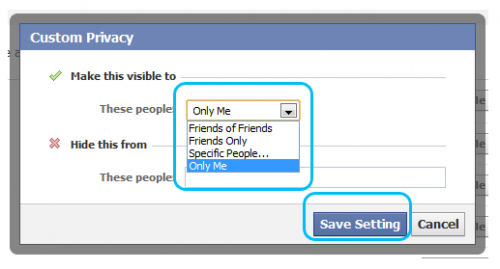 Image 4.
4-  Next Friends can check me in to Places located in Things others share section, is the most important in this feature, if you don't want friends to check you in to "Places", share your location with a lot of people that you know or may not know, you should set it to "Disabled" (See image 5). Remember that anyone that you have as a friend or friend's application could check-in you in any location and you don't even have to be there. Imaging if someone wants to play a prank on you by checking you in your ex-girlfriend's house and your new girlfriend sees this status! Or you've called in sick to work or canceled an appointment to go to a bar instead, then you bumped into a friend, started talking, and he checked you in the location!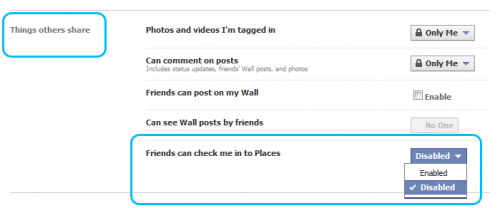 Image 5.
5-  The last setting that you should change is in the Applications and Websites section, Click on the "Edit your settings" (refer to image 2) link, and then Click on "Edit settings" (See image 6) button for Info accessible through your friends. Here is all the information that it is available to applications, games, and websites when your friends use them; uncheck "Places I check in to" (See image 7) and "Current city" or "Current location", if you happen to have one of these last two options available, and Click "Save Changes" & "Okay".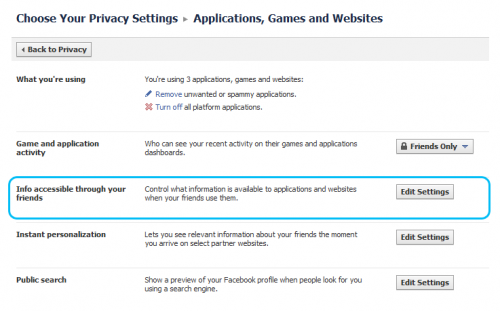 Image 6.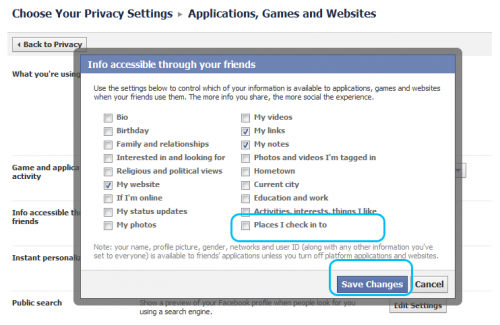 Image 7.
You are done!
Places is currently available on phones that support W3 geolocation.
Conclusion
Only time will tell if this new feature is beneficial or not.
On the one hand, the good thing is that you will know where your friends are; and on the other hand, every friend request that you accept will puts that person as your friends… But how many real friends do you really have?  5-20 or 300-1200. In my opinion, It would be imprudent to broadcast your location to everybody in Facebook. Now, you either change the settings to be more private or think it twice before accepting a friend request.
Remember to leave us your thoughts about Facebook new feature Places in the section below. Thanks!
[poll id="11"]

Get our best stories delivered to your inbox.