Microsoft has already released to the public Windows Internet Explorer 9 beta. We are getting closer to the finale release, IE9 has a lot of improvements. Some of the new features are, hardware acceleration support, integration of the latest web standards HTML5, CSS3, SVG 1.1, and has a native JavaScript engine codename "Chakra" which is optimized to better utilize multi cores computer's CPU (Central Processing Unit).
Internet Explorer 9 is only available for Windows Vista with Service Pack 2 or later and all the versions of Windows 7; sorry but those who are still using Windows XP or Vista with SP1 or below are not going to be supported.
In this video you can see:
How to install Microsoft Windows Internet Explorer 9 Beta.
See and get to know some of the new IE9 features (new address bar, pinned sites, jump list, new tap page, etc. )
HTML5 demo between Firefox 4 beta, Google Chrome 6, and Internet Explorer 9 Beta.

 
If you still did not try IE9, go to http://beautyoftheweb.com to download a copy of the public beta.
Note: Beta, means that this is not the final release of the software yet, so even though IE9 seems to be really stable there still some issues and bugs to be fixed, keep this in my before installing!
To learn more click here to watch Windows Internet Explorer: Keynote On Demand or the picture below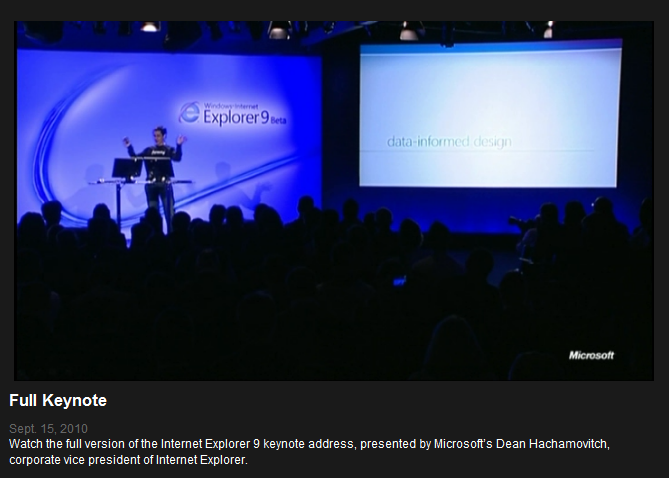 To learn more about the new Internet Explorer 9 check out Windows Internet Explorer 9 review
Get our best stories delivered to your inbox.