If you are bored this weekend, you like to do something different with your children or friends, or if you are a teacher and want to teach your students about the Earth and the Universe in a new way, then you should check out WorldWide Telescope (WWT) from Microsoft Research.
WorldWide Telescope is a portal that will convert your computer into a virtual telescope, enabling you to explore the Earth and the Universe in a totally new way. WWT is like having your own observatory in the comfort of your own home.
WorldWide Telescope combines terabytes of images — with enhanced view called Terapixel Sky image –, information, and stories from multiple sources to deliver rich and seamless experience to the end-user over the internet.
From WorldWide Telescope Website:
"[...]WorldWide Telescope, created with Microsoft's high-performance Visual Experience Engine, enables seamless panning and zooming across the night sky blending terabytes of images, data and stories from multiple sources over the Internet into a media-rich, immersive experience.

To stimulate interest in science among younger generations, providing a compelling base for teaching astronomy, scientific discovery, and computational science"

The mission of the WWT is twofold:

To aggregate scientific data from major telescopes, observatories, and institutions and make temporal and multi-spectral studies available through a single, cohesive Internet–based portal
With WorldWide Telescope you can:
View stars and planets, colorful nebulae, distant galaxies, black holes, and radiation clouds.
Watch planets orbit the sun, and moons orbit around planets.
Zoom in and out with great details.
Create and share videos.
Experience guided tours.
Easily access to distributed web information and data sources.
You should definitely explore Mars, this is one of the most detailed section that WorldWide Telescope has with more of 13,000 images from NASA spacecraft; the ability to zoom in and experience Mars in 3D rendering and with interactive guided tours.
How do I use WorldWide Telescope?
The WWT user interface is really easy to navigate, you have five tabs: Explore, Guided Tours, Search, View and Settings which they also contain submenus with further options.
You can move around and explore by left clicking, holding and dragging the mouse on the screen. With the mouse wheel you can zoom in and out. To find more detail about an object, start zooming in towards it and look at the bottom tab for more information. To learn more use WorldWide Telescope User Guide.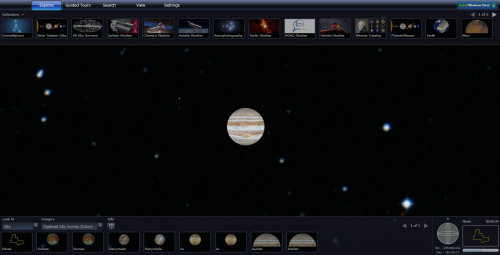 Worldwide Telescope Silverlight, Web Client user interface.
How do I access WorldWide Telescope?
There are two ways to access WorldWide Telescope, one is using a Windows Client installation (No Mac Client), or second you can use a Web Client powered by Silverlight technology, available for Windows and Mac users.
Useful links:
Source WorldWide Telescope
Get our best stories delivered to your inbox.