Well… It's been a couple of weeks already since the online music streaming service, Spotify, arrived in the US and it is making a big buzz; even more with the "invite-only" access — very similar to Google+ –. They already managed to get over 70,000 paid subscribers — not too bad!
One of the great thing about Spotify is that there is a service choice for everyone, you can choose from:
Spotify Free — Free on-demand unlimited music streaming on your computer (at least for the first six months) and with over 15 million songs to choose from. Additionally you can manage your own music and sync it to your cellphone or iPod. The catch? –Advertising, of course, you will get 30 seconds commercials around every 10 songs (still totally worth it!). Just don't try to mute your speakers to avoid the commercials, as the commercial will pause and resume once again when you unmute.
Spotify Unlimited — Gives you all the features from Spotify Free, plus advertising-free and the price is $4.99 per month.
Spotify Premium — With this top-level service, you can access all the music, all the time and on any device they support (e.g. iPhone, Android, computer, and stereo devices). You can listen to your favorite tracks online or offline, better sound quality and access to exclusive content. This will cost you $9.99 per month.
Don't have Spotify yet? Request an invite, head to the Spotify US website, enter your email address and hit the Request an invite button.
With Spotify, you can listen music using your mobile devices and also using your computer, which requires a client software that you can download at http://www.spotify.com/us/download for Windows; Linux and Mac software are also available.
Features highlights of Spotify player:
Let me begin by pointing out that the Spotify player's user interface is clean, sleek, and it is easy to operate, but you have to do some exploring before getting used to it.
What I like the most about the client software is that it allows you to manage your local music files, and skipping songs is super-fast, almost no delay. 
When the Spotify player starts you will be directed to the What's new section, which have three tabs: What's new brings you the new music releases and it is updated frequently; Top Lists shows you the most popular songs on Spotify, based on track count, and Feed, is a place where you can find shared Spotify music by your Facebook friends and where you can get the latest on Spotify news.
You can create your own playlist, play your own music collection, sync music to mobile devices, and use the Offline mode (only for Spotify Premium), which allows you keep listening your favorites tracks even when there is not an internet connection.
The search functionality is it also great, when you search for a specific keyword, Spotify will not only search on their service, but also in your music files and the result will be combined into one. In addition when searching for top Spotify artists you can read their biographies and get related artist suggestions without leaving the Spotify player. 
There is a great integration with social networks, you can share songs, playlist, and artists via Facebook, Twitter, Messenger or other Spotify users by just right-clicking and selecting Share to…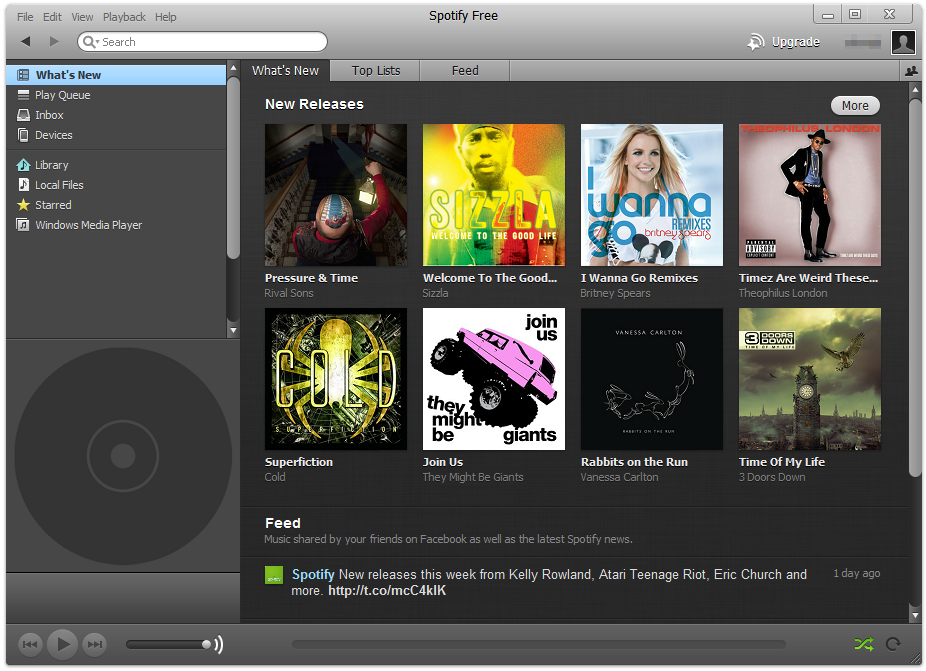 Now, if you already are using Spotify in Windows, here are some keyboard shortcuts that can come in handy:
| | |
| --- | --- |
| Keyboard Shortcuts | Action |
| Ctrl+N |  Create new playlist |
| Ctrl+X |  Cut |
| Ctrl+C |  Copy |
| Ctrl+Alt+C |  Copy (alternative link) |
| Ctrl+V |  Paste |
| Del |  Delete |
| Ctrl+A |  Select all |
| Ctrl+Shift+A |  Select none |
| Space bar |  Play/pause |
| Ctrl+Right |  Next track |
| Alt+F4 |  Quit |
| Ctrl+Left |  Previous track |
| Ctrl+UP |  Volume up |
| Ctrl+Down |  Volume down |
| Ctrl+Shift+Down |  mute |
| F1 |  Show help |
| Ctrl+L |  Give focus to address/search field |
| Alt+Left |  Go back (browse) |
| Alt+Right |   Go forward (browse) |
| Enter |  Play selected row |
| Ctrl+Shift+Enter |  Browse the album of selected row |
| Ctrl+Alt+Enter |  Browse the artist selected row |
| Ctrl+P |  Preferences |
| Ctrl+Shift-W |  Log out active user |
Overall, Spotify is a powerful music tool. It delivers to its promise of being a new music solution, on being fast, simple and pretty much free. Its library contains 15 million tracks, which is more than any other service. You don't have to use separate programs if the song you are looking for isn't in their library, but it is in your music collection. It is really easy to share the music you like with your friends on Spotify, just drag and drop the song or album over their name and it will appear in their inbox.
The surprise (or the downer) is that unfortunately this service doesn't have a web-based music player, that I think it should be a must option to have, this being a cloud-based service. But still, this is a music service that you actually will want to subscribe to! Don't forget to get request your invite.
Are you already on Spotify? We are interested to know what is your experience so far, tell us in the comment section below.
Get our best stories delivered to your inbox.