For those enthusiastic users that cannot wait until the final release and like to play with the latest and greatest, you should be excited to know that Mozilla Firefox 6 Beta 5 has been released and is ready for download.
This version gives you a good sneak peek of what is to come in the next version of Firefox with a build that is not quite ready for prime time, but it is good enough to start testing.
In comparison with Firefox Aurora, that installs separate and runs along the side an existing stable installation, Firefox Beta will install in top of the currently stable install replacing it. Knowing this, if you wish to go back to the previous install, this is a manual process of uninstalling and re-installing. 
Another thing to keep in mind is that not all add-ons will work with this release; in the case Firefox finds any add-on that does not work it will automatically disable it.
What is new to Firefox 6 Beta 5:
The address bar now highlights the domain of the website you're visiting
Streamlined the look of the site identity block
Added a new Web Developer menu item and moved development-related items into it
Added support for the latest draft version of WebSockets with a prefixed API
Added Scratchpad, an interactive JavaScript prototyping environment
Added support for window.matchMedia
Added support for EventSource / server-sent events
Improved the discoverability of Firefox Sync
Improved usability of the Web Console
Reduced browser startup time when using Panorama
There are some known issues that you should be aware of:
For all systems:
You may find scrolling a Gmail window slower than usual.
When you try to restart Firefox using a locked profile, it will crash!
For Windows users:
There may be some instability using Adobe Reader X when viewing PDF documents in the browser. Just uninstall and re-install Adobe Reader X to solve the problem.
Mac OS X:
Power PC CPU users are out of luck in this version; this version will now work!
Linux and Unix:
Users compiling from source might need a newer gcc and libstdc++ as the build requirements have been changed.
The video control buttons may not work when viewing QuickTime videos with libotem.
Firefox 6 also has others great new features, such as Permissions Manger, available by typing in the address bar about:permissions. This will allow you to enforce permissions to all or individual sites that you have visited in the past, easier and quicker regarding passwords, cookies, pop-ups, offline storage and location tracking.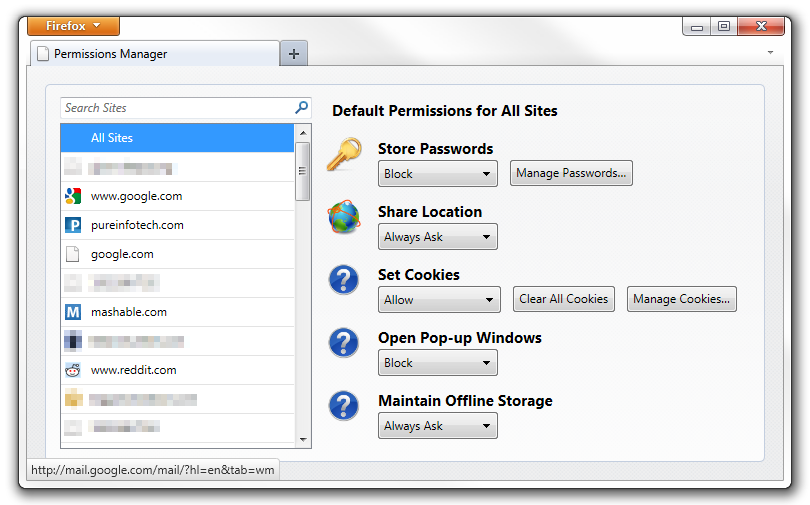 Firefox has a history of high memory demands, now following a couple previous releases, it is getting better, and in version 6 there is an improved about:memory section with good information about the memory being used, plus the ability to manually trigger a flush to reduce that memory usage.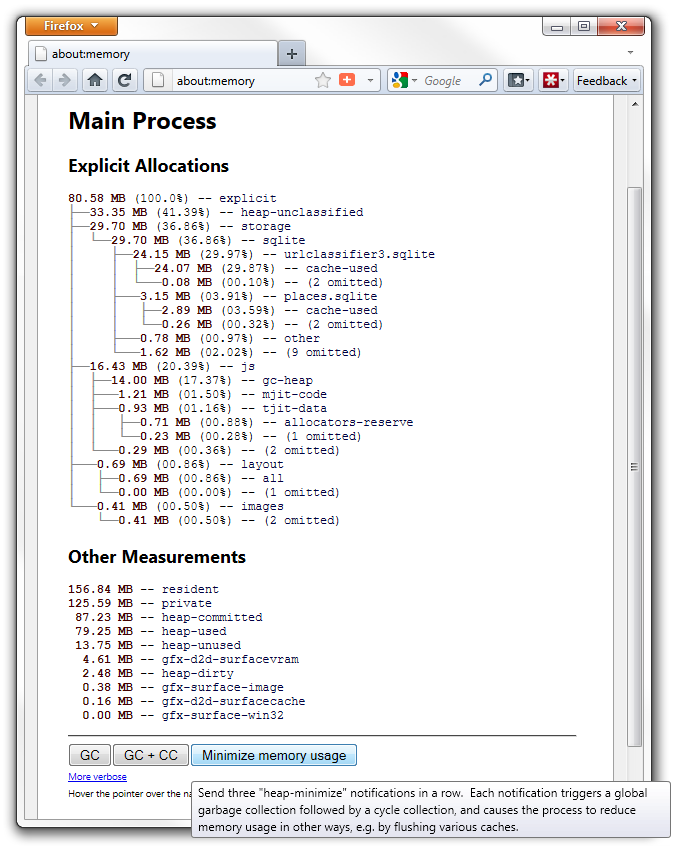 Lastly, now there is also a better support for CSS3 and HTML5 features.
To wrap up, in this version you will not find a lot of changes in the overall design (GUI) of this open source web browser — it is all about improving what is under-the-hood. You should also know that it is not recommended the use an unstable version of any  piece of software, but if you are willing to take the risk and you cannot wait until the final release to get your hands in the new features, this Firefox 6 Beta 6 is a pretty solid build worth to check it out. 
In a personal note, I did notice a reduce of memory usage (about 5%) when having several tabs opened and when clicking the Minimize memory usage button on the new about:memory section. About scrolling on a Gmail window, it wasn't so bad.
Useful Links
Source Firefox Beta
Get our best stories delivered to your inbox.