Microsoft has detailed on Tuesday the new file management (copy and paste, move, rename, and delete) in Windows 8 for Windows Explorer.
Microsoft's product director for the Windows team, Alex Simons, show off the new changes in Windows 8 UI. According to a new post in the new Building Windows 8 blog, coping, moving, renaming, and deleting are one of the most used features in Windows Explorer, which represents about 50% of total command usage (data based on Windows 7). "For Windows 8, we want to make sure that using these core file management commands, which we collectively refer to as "copy jobs," is a great experience." -Said Alex Simons.
The decision was made based on studies that confirmed that the copy experience in Windows 7 is "pretty clutter and confusing". Simons also added "We clearly have an opportunity to make some improvements in the experience of high-volume copying, in dealing with file name collisions, and in assuring the successful completion of copy jobs."
Improvements to the copy experience in Windows 8 will bring:
One place to manage all copy jobs: Create one unified experience for managing and monitoring ongoing copy operations.
Clear and concise: Remove distractions and give people the key information they need.
User in control: Put people in control of their copy operations.
Consolidation is the first change. You will now be able to review and control all the copy jobs in one single box. No more having to navigate through multiple floating dialog boxes scattered around your desktop.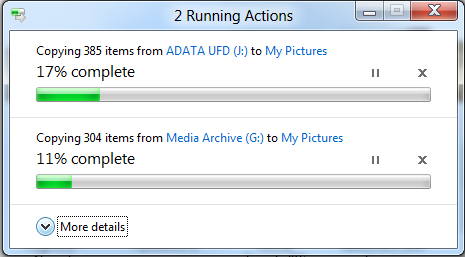 Great new feature, in Windows 8 now you can pause, resume, and stop each individual copy that is currently on queue.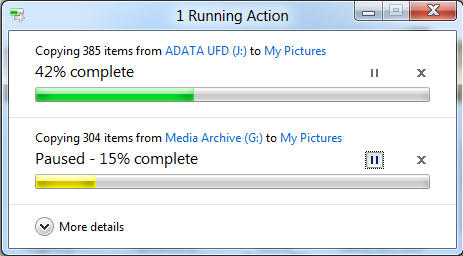 If you don't know which copy job to pause, Windows 8 added the ability to prioritize and decide, with a detailed real-time throughput graph. For each copy job now you can see the speed of the data transfer, the transfer rate trend, and how much is left to transfer.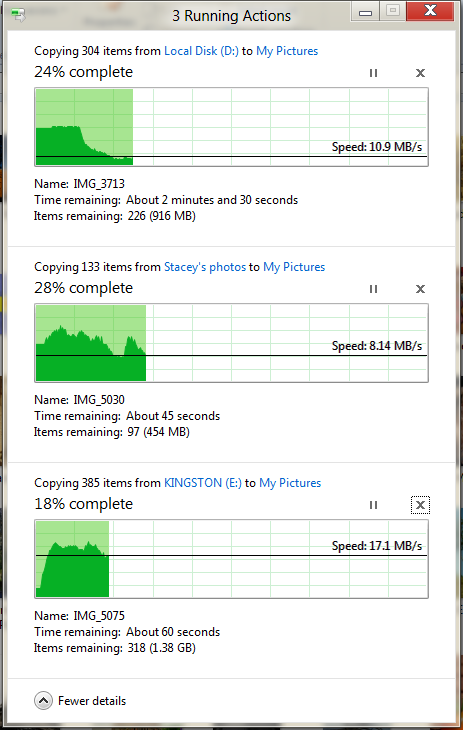 And in here you can observe how speed increases once other copy jobs has been paused: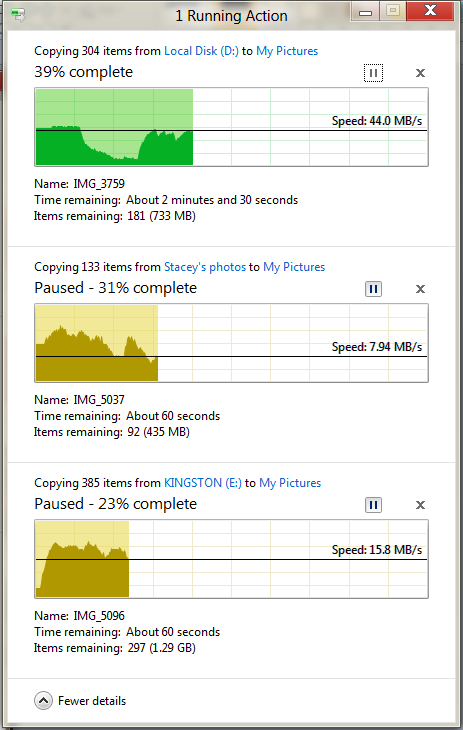 Simons also pointed out "At this point we can admit that the current experience can be rather confusing. People don't know which files are which, and they find it challenging to find the information they need to make a decision." To fix this there is a new improvement that resolves file name collisions a.k.a conflict resolution.
As you can see the new Windows 8 Conflict Resolution dialog is much clear and provides more useful information that Windows did in the past, which pretty much solves the file name collisions.
In the left you have the source files, while in the right are all the files in the target location with file name collisions.
Among other improvements the Windows team removed many confirmation dialogs that were annoying or feel redundant (i.e. "are you sure you want to move this file to the recycle bin?" or "are you sure you want to merge these folders?").
Here is a short video demo of these improvements:
Source Building Windows 8 blog
Get our best stories delivered to your inbox.