Download: Core Temp is a great little tool that you can use to monitor your computer's CPU (Central Processing Unit) temperature.
Heat is one of many enemies of electronic devices, keeping a watch on the computer's CPU temperature as well as other parts of your system can help to run things smoothly. 
Core Temp is a small and simple tool for Windows that will help you to monitor the processor's temperature, it is compatible with most processors out in the market today, and it is also capable of reporting varies important information such as, of course, CPU Temperature reading, and all processor information. Plus you can configure things like overheat protection, add more functionality with plugins, view system information, take a screenshot of the information displayed; you can use a mini mode and much more.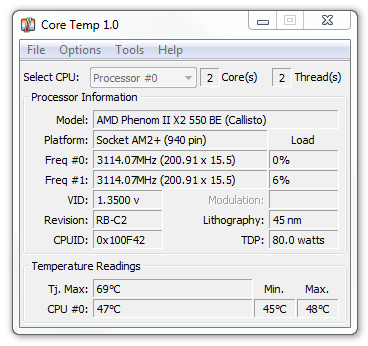 Features
Easy to use
Displays temperature reading for every core in every the CPU
Real-time temperature reading
Varies Intel, AMD and VIA processors are supported
Plugin capable, this is great for developers that can add more features — Find great plugins in this page.
Mini mode
Displays CPU information, such as model, platform, CPUID, TDP, and more.
Download link
Note: Pay attention when installing this tool to not install any additional software in your computer.
Get our best stories delivered to your inbox.