Microsoft Standalone System Sweeper (MSSS) is a version of Microsoft Security Essentials (MSE) that it can help you as an antivirus rescue tool, when you encounter yourself in the situation where your Windows PC got infected and you can not install or start an antivirus solution. 
Microsoft Standalone System Sweeper enables you to perform an offline scan, remove rootkit, and other forms of malware.
As it is mentioned in the MSS download page, this tool it is not intended to replace a full version of an antivirus solution. This is only meant for situations where you are unable to start Windows because of a tough virus or another form of malware infection. 
This antivirus rescue tool is really flexible, it allows to create a Live CD or Live DVD, a bootable USB flash drive (250MB of space or greater), or you can even create an ISO file — this last is great for users running Windows from a virtual machine or if you want to run this antivirus solution of the network.
Also, you can download the 32-bit or 64-bit version of the tool, depending on the version of Windows you are running on the infected system.
Important: You should create the bootable media from a clean machine, never from an infected one. And you can create a bootable media from a non-infected for either 32-bit or 64-bit OS architecture.
Creating an antivirus live media with Microsoft Standalone System Sweeper
1 The first thing you have to do is visit http://connect.microsoft.com/systemsweeper and download a copy of the Microsoft Standalone System Sweeper Tool (or media creator).
2 Double-click the downloaded file to start the MSSS, read a little bit more about the product and click Next.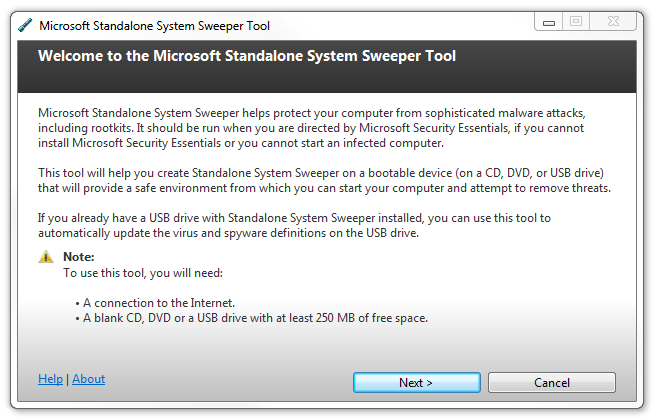 3 Before continuing, decide where to install MSSS (blank CD or DVD, USB flash drive or if you want to create an ISO image). Then inserted the media into your computer and click Next.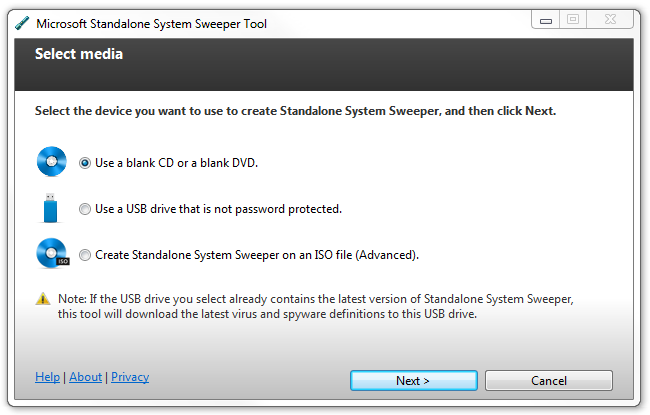 4 Confirm your choice and click Next.
Now, "Microsoft Standalone System Sweeper Tool" will take care of the rest by finishing the download of the corresponding files, then processing those files, and finally it will create the bootable media — the image below shows the creation of an ISO file.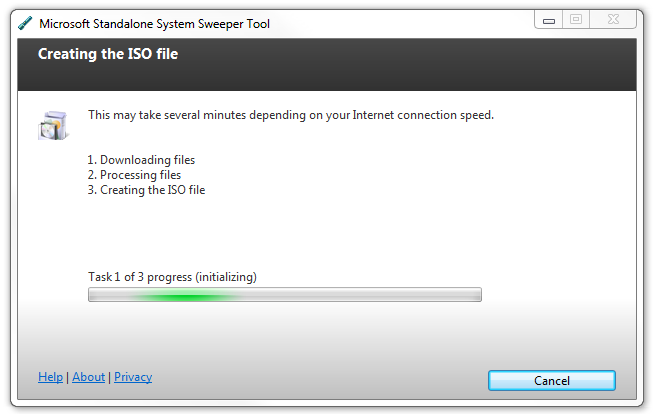 5 When the tool has completed the process click Finish.
Tip: It would be easier and better if you create a new bootable media every time you need to use this tool, that way you're always running the latest version of the antivirus, which will increase the chance of getting rid of the malware infection. And you should use a USB flash drive to not waste blank CD/DVDs.
Quick overview on how to use Microsoft Standalone System Sweeper
The only thing left to do is to eject the bootable antivirus media and connect it to the computer infected with the virus or some other form of malware — When you boot the infected computer with MSSS, you'll notice that this is an antivirus (Windows Defender Offline) loading from a special kind of Window Recovery Environment. 
Once the antivirus has been loaded you can proceed with full scan (recommended), this may take some time depending on how much data there is in your hard drive. Then, after the scan has completed and your machine is free of viruses, reboot your Windows PC without the live antivirus rescue bootable media, and hopefully everything should be back to normal.
Microsoft Standalone System Sweeper is a great antivirus solution that you can use at non-const, and it is supported by the software giant. Of course, you are not just limited to only one solution, you can also find other good similar antivirus solution that allows you to create a "Live CD" to fight back viruses, rootkit, and other form of malware. If you are interested visit our previous article — Seven different Antivirus Rescue CDs to help fix an infected computer.
Get our best stories delivered to your inbox.