SkyDrive is Microsoft's online storage solution, that allows users to save files to the cloud and access them from virtually anywhere. In the past, the only way to use SkyDrive was through a feature in Office 2010 called Save to Web or by installing Windows Live Mesh, which was part of the Windows Live Essentials suite, and allowed you to configure a folder which will then sync to the cloud. But now the software maker has release a new solution to synchronize and fetch from any PC, Mac and supported Mobile devices like the Windows Phone and iPhone.
The SkyDrive app works in the same way as famous DropBox; when you install the application, it will create a dedicated folder — you can also choose the location during the installation –, and any file and folder that you place in it, will be synced automatically to your online personal hard drive. From the app you can launch a really nice and fluid web page in your web browser to manage all your uploaded documents.  Furthermore, the new SkyDrive for Windows desktop and Mac app has the ability to turn your machine in your own personal cloud storage, by allowing you to access files in your computer through a web browser — that you authorize, of course.
Quick & easy installation
You can download the SkyDrive for Windows and Mac app from this link — https://apps.live.com/skydrive. The installation is pretty straight forward, the only thing you have to do is to, choose a location to create a folder that will house all the files and folders you want to upload, and you'll also need to sign in with your Windows Live ID.
Really easy to use
If during the installation you left the default settings, the location for your "SkyDrive folder" will be C:\Users\user-name\SkyDrive. The application will also add a link in Windows Explorer, under Favorites, and it will start downloading any files you already have in the cloud.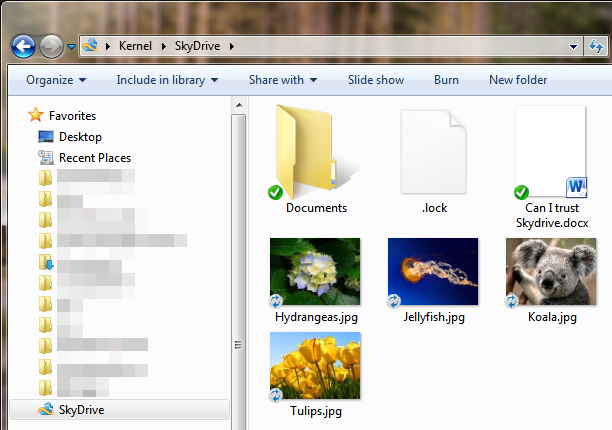 The desktop client sits in the system tray for easy access to various settings and options. Just right-click the blue cloud to open your "SkyDrive folder", to upgrade your storage capacity (Manage storage), to change settings, etc.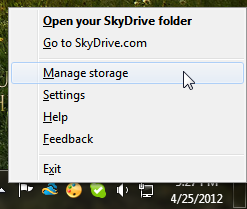 In the dialog box for Settings you can change whether files in your computer will be available on other devices. Turning off the option will sync files to other configured devices with the cloud service. And of course, you have also the option to start the app automatically when you login to Windows.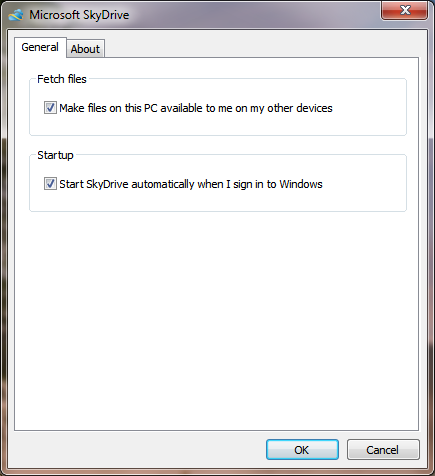 Secure in a web browser
SkyDrive makes it easy to access files and folders along with all internal and external drives from any computer (PC or Mac) where the application is installed and running. You may or may not noticed this, but when you installed the app and connected it to your Windows Live ID, you were also enabling remote access to your local files. This is what Microsoft calls Fetch files; not worry though, the software giant added another layer of security and you'll need to enter a security code (phone number or a secondary email address) to avoid unauthorized access. You will find this feature really useful, if for example, you are at work and forgot your "TPS report" in your home computer, thanks to the app you can then easily access and fetch (retrieve) the file in seconds.
Currently Microsoft is only offering 7GB of free storage space for new users, which is more that the competition is offering. People that have been using the service for a while now will be able to keep the old 25GB. For more information and pricing, visit — SkyDrive storage limit changing from 25GB to 7GB (learn how to avoid the slash).
If you are a Microsoft Office user, this is a great product that does a great job with documents created in Word, Excel, PowerPoint, and OneNote. Additionally, you can edit documents with other people, in the same way you can on DropBox and Box. And you can create documents from the web browser like in Google Drive using Google Docs as well. Among other features Microsoft's syncing solution lets you share public links, view/edit private links too. 
Sadly, sharing is not a feature in the Mac app version just yet and not every mobile device supports offline viewing. However with all the features that SkyDrive has to offer, makes it an awesome cloud storage solution that can compete head-to-head with all other solutions.   
The app is available for Windows 8, Windows 7, and Windows Vista (x86/x64), and for Mac OS X Lion.
Get our best stories delivered to your inbox.