Microsoft has announced that the "Windows Live" brand which has been part of the Windows ecosystem since 2005, was confusing to users and it was not designed to connect with cloud services, now this is about to change. The company is taking the opportunity of the Windows 8 launch to do some house cleaning and make things a little bit simpler.
According to a new article from the Building Windows 8 blog, the company is ditching the "Windows Live" brand together with "Windows Live Essentials" name from the suite of desktop applications (Photo Gallery, Movie Maker, Messenger, Writer, Family Safety and Live Mesh) and now they are getting simple and non-confusing names. From now on they will be simply known as: Calendar, People, Photos, Messaging and SkyDrive. While Hotmail.com (a.k.a live.com) will continue to be the name for the web email solution, the "Windows Live Mail" name is vanishing and it will be renamed to only Mail app.
Along with the re-brand the "Windows Live ID", which is use to authenticate users to Live services and sync software information across devices (e.g., PC and Windows Phone) is also going to change, and now a "Microsoft account" will replace it and it will become the new passport or key to authenticate on every Microsoft product and cloud service, from signing in to your PC or Windows Phone, to SkyDrive and Messengers among others.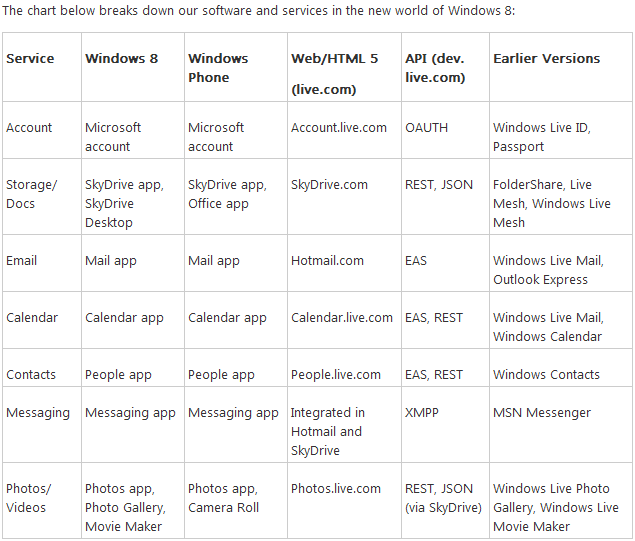 Users who will continue with Windows 7, the software maker is setting a package called "Windows desktop apps", which will include: Photo Gallery, Movie Maker, Messenger, Mail, Family Safety and the new SkyDrive for Windows desktop.
Things will start changing soon and functionality throughout the products and services will remain the same. Every Microsoft account will receive SkyDrive and also the account will be the main identity to do purchases in the Windows 8 Store, the Zune and Xbox Live market. It will also allow synchronization of Windows 8 settings, Metro style apps and files across other authorized devices.
With the changes the company expects to make a seamless experience across Windows devices and products, while consolidating cloud services under one account. If you've been testing Windows 8 Consumer Preview, you already seen some of the changes with the pre-installed apps. Keep in mind that these apps will continue to be optional and you can always opt to sign in to your PC with a local account.
Get our best stories delivered to your inbox.