Did you check your default email address displayed in your Facebook profile today?  Apparently the social network giant is pushing the @facebook.com addresses — you know, the one you never used or you didn't even know you have – by switching everyone's default email in the Contact info section and hiding any other previous addresses that you wanted your friends to know. This also happened without the your consent.
I still remember more than a year ago when Facebook launched their unified communication system, that was the day when you were welcome to send a request to get your hands on one of the @facebook.com email addresses. Apparently not too many users were interested — maybe because we already have other email services that work well enough, e.g., Gmail and AOL (Just kidding on the last one), and we already use the Facebook wall and private message to communicate to begin with, so why another.
If someone wanted to know your email address by looking in your profile, this friend of yours will only find listed the @facebook.com email account — not really fair, right?
This is not a big deal, but it can be a little irritating, so here is how to change back to the actual email you use.
1 Sign in to your account, navigate your Timeline and click Update Info.
2 In the Contact Info section, click Edit.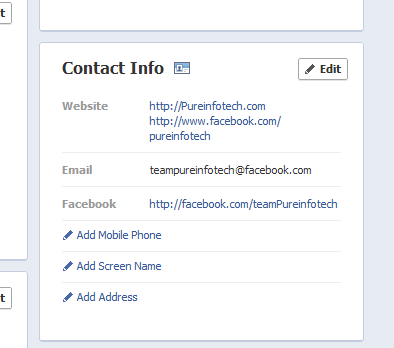 3 Now change the "crossed out circle" (Hidden from Timeline) icons to the "full circle" (Show on Timeline) for each email account that you want to be visible in your profile. Don't forget to switch to the crossed out circle icon, if you don't want to promote or show the @facebook.com address.

That's all there is to it!
Source Gizmodo
Get our best stories delivered to your inbox.