Nowadays more Internet service providers are limiting how much data customers are able to access each month and it gets more restricted as we move to mobile device, e.g., tablets and smartphones – ridiculous, right?
As we move into the era of portable, always connected, devices, Windows 8 is incorporating really nifty features such as being able to control how much data each application uses, in the same way as most phones are capable today.
Microsoft calls it App history and anyone can find it in the new redesigned Task Manager. This new feature can show you how much network data certain applications on your PC access in a time period — I say "certain" because it seems that the operating system can only control usages on Windows 8 Store apps (a.k.a Metro style apps).
App history also includes data used by a metered network connection like 3G or 4G from mobile providers, very convenient to avoid over chargers in your bill. 
Instructions
To access App history and view Windows 8 apps network data, use the keyboard shortcut Ctrl+Shift+Esc to open the Task Manager and navigate through the App history tab. Alternatively, from the Desktop you can right-click the taskbar and select Task Manager, and a third way is to use the Ctrl+Alt+Delete shortcut.
As you see in the image below, you will not only be able to see the network data, but also from your metered network, as well as the amount of CPU time and data use by the live tile updates.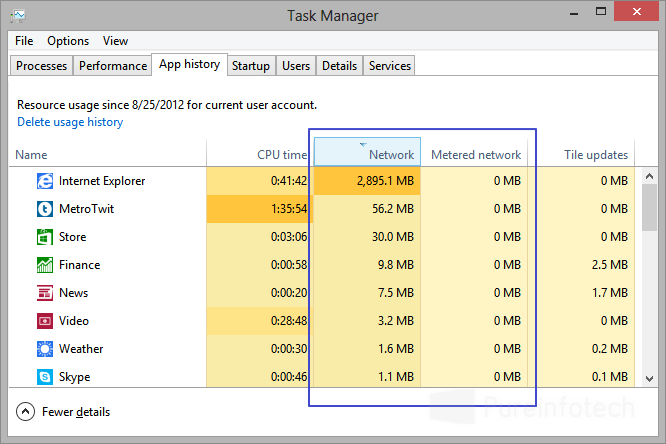 Quick Tip: Use the link "Delete usage history" to reset usage and at the top you'll also notice the date since the last reset.
App history at the moment seems a bit limited as you cannot configure to automatically reset each month or view history statistic of the data used, and because it only shows data for Windows 8 Store apps and not from traditional desktop applications. We may see improvements in the future, but I highly doubt any changes to support desktop apps as Windows 8 is the first step toward a new model of applications and moving away from the Windows Desktop.
Get our best stories delivered to your inbox.