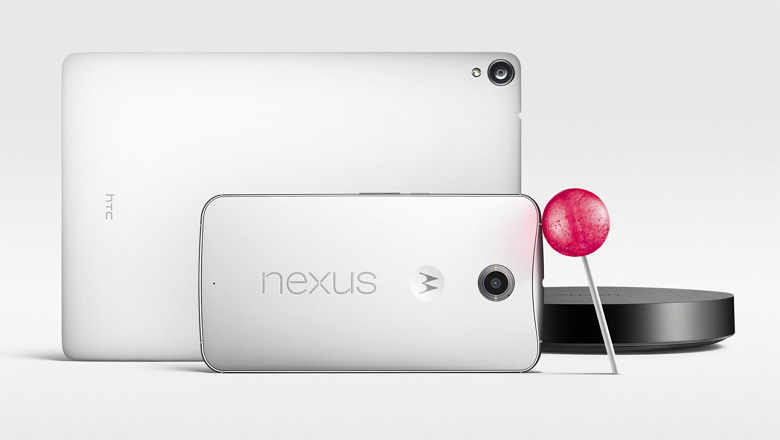 Google just announced its updated operating system, Android 5.0 Lollipop, and with a new software, the company is also unveiling a new lineup of devices: the new Nexus 6 smartphone and Nexus 9 tablet, and a new Nexus Player set-top box aiming to once again take over the living room.
Here is the roundup of devices:
Nexus 6
The new Nexus 6 is huge, basically is a Motorola X like phone but bigger and better, and it's the successor to the Nexus 5. It's a 6-inch phone with a 5.96-inch 2560 x 1440 Quad HD AMOLED display (493 ppi) with Gorilla Glass 3. An stunning Quad core Krait 450 processor running at 2.7GHz (Qualcomm Snapdragon 805 SOC), Ardeno 420 GPU, a 13-megapixel rear camera, a 2-megapixel front-facing camera, a 3200 mAh battery, which Google promise all day battery life, and dual front-facing speakers. Customers can select from an either 32GB or 64GB of storage and it comes in white or blue color.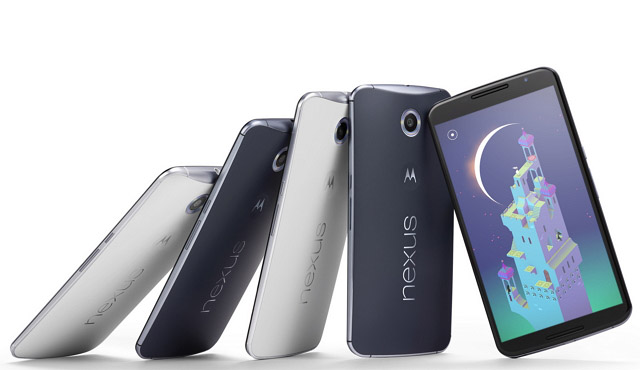 Also there is an optional Turbo Charge accessory that will fully charge the phone in under thirty minutes.
Pricing for the Nexus 6 is $649 and & $699 out of contract for the 32GB and 64GB respectively. It's in the expensive side of Google phones compare the Nexus 5, but when you consider the hardware: screen resolution, processor, RAM, and other aspect of the new phone, it's not too expensive. It'll be sold on all major U.S. carries including Sprint, AT&T, T-Mobile and Verizon.
Though Google hasn't specified a date, customers can expect to pre-order a Nexus 6 sometime in October, shipping starts in November.
Nexus 9
The Nexus 9 is a premium looking tablet all the way around. It's a smaller than typical tablets and aims to be the Nexus 7 and Nexus 10 successor. The most exciting feature without a doubt is the display. The Nexus 9 is an 8.9-inch tablet with a 2048 x 1536 screen resolution (Gorilla Glass 3) featuring a 4:3 aspect ratio. Under the hood there is a dual-core 64-bit NVidia Tegra K1 processor clocked at 2.3GHz and 2GB of RAM, 8 megapixel back and 1.6 megapixel front-facing camera, and a 6700 mAh.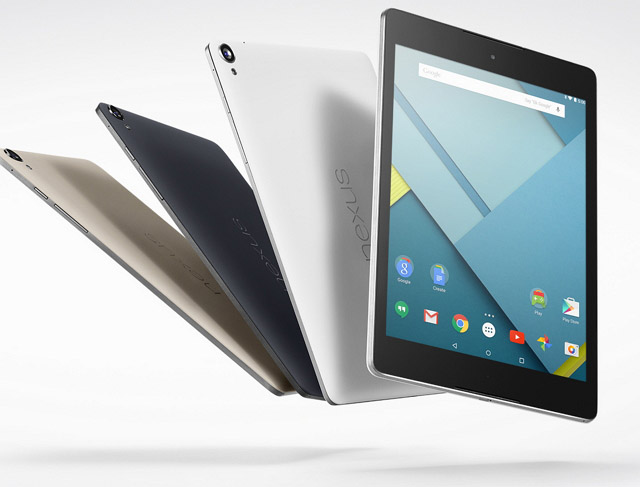 The tablet made by HTC only weights 425g (and 436g for the LTE version) and it comes with 16GB or 32GB of internal storage. Like Surface Pro 3, it features front-facing speakers and there is keyboard accessory similar to the Surface Type Cover that also offers a two-position stand and it's priced at $129.
The Nexus 9 goes in pre-order on October 17 and shipment start on November 3. As for pricing it'll start at $399 for the 16GB version, the 32GB version will cost $479 and the 32GB version with LTE will cost $599.
Nexus Player
The next Nexus doesn't have a number on its name, but it's a big deal as Google will try one more time to win over the living room. One can say that the Nexus Player is just Google trying to compete with the Amazon Fire TV too.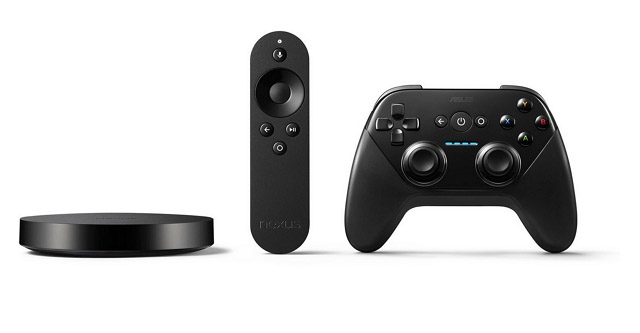 The device is a collaboration with Asus and Google describe it as a device for streaming moving, videos, and music. "It's also a first-of-its-kind Android gaming device". Yes, you can also play Android games in your high definition TV with the game controller, and you can always resume a game on your phone. The Nexus Player also has Chromecast capabilities built-in as you can cast almost anything from your Chromebook, Android or iOS phone or tablet to your TV.
Nexus Player goes on pre-order on October 17 and it will start shipping on November 3. The The Player and remote control will be priced at $99 with an optional controller for $40.
SEE ALSO: Google's Android 5.0 is called Lollipop, here are the features