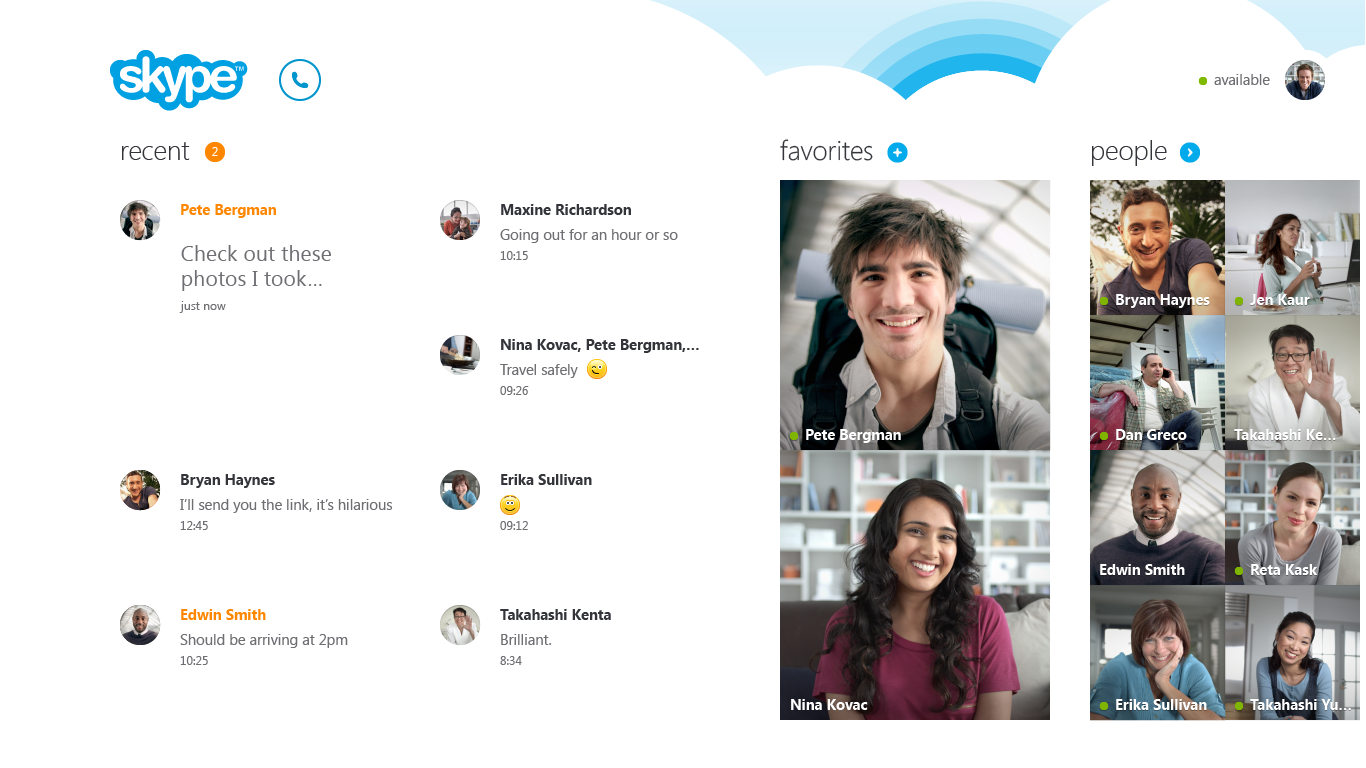 A little over two months ago, we looked at a sneak peek of Skype for Windows 8, and now Microsoft is about to release the final version of the official app on Friday, October 26th. The client will be available for Windows 8 and for Surface with Windows RT, which will provide a redesigned UI matching Windows 8's Modern style and a new user experience on voice and video calling.
The new audio and video messaging client focuses on the Metro interface now found in all Windows Store apps and in easy to use — The Skype team explains in their blog post –. When the user first launch the app will display relevant contacts, recent chat messages and calls. Even the keypad has been redesigned to make easier to call landlines or mobile phones directly.
Thanks to the new Windows 8 application model Skype can always be running on the background waiting for a call or message without wasting battery and alert the user when someone is trying to get in touch.
Skype now also uses Microsoft's Messenger backend to deliver IMs and it seamlessly integrates with your Microsoft account. This also means that once the two accounts are linked and you are signed in to Windows 8 with your Microsoft account, you will be automatically signed in to Skype.
Gallery
As you've been seeing on different Windows 8 apps, you will be able to use Snap View, which allows snap the app to either side of the screen, while be able to work in another app or in the Windows Desktop. Furthermore, Skype will integrate with the People app making it really easy to call or message someone right from the app.
Don't forget to check the video to get a glimpse of what is to come. Skype for Windows 8 will be released on Friday with the launch of Windows 8 and Surface with Windows RT tablet from Microsoft.
Important: One Skype account can only be merged with one Microsoft account. After you merge your accounts, you can not unmerge them. More info @ the Skydrive support site.
Details
Supported architectures
x86/x64 CPUs (Windows 8)
ARM (Windows RT)