When you are using Google Chrome in multiple computers and in different platforms, i.e., Windows, Linux, or Mac, Xmarks Bookmark Sync is an extension that you must have installed in Chrome. With Xmarks you get more than just syncing your bookmarks and passwords in the cloud, but this little tool is also able to sync your open tabs as well.
Another cool feature is that it doesn't matter if you are on your friend's computer and he doesn't have Xmarks installed, you can access all your bookmarks by just loging in to your Xmarks account page right from the Web browser.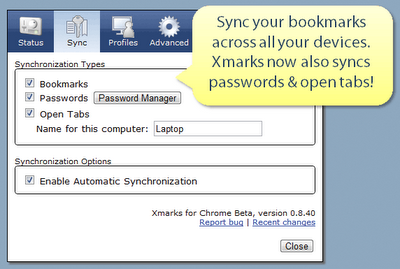 The sync happens automatically, but you also have the option to do it manually right from the Chrome toolbar, plus to manage settings and view your open remote tabs.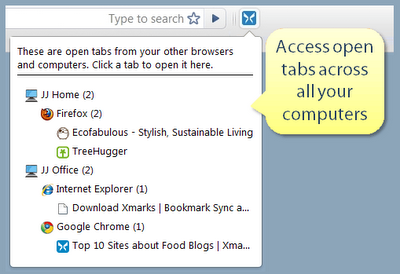 Xmarks is also supported across different browsers Firefox, Safari, and IE.
So the next time you need to save and sync your bookmarks, passwords and open tabs, look no further and install Xmarks Chrome extension and do not worry about security, because you also the option to configure the connection be secured (encrypted) between your computer and Xmarks cloud service.
Source and images Chrome Web Store