Previous Versions is a technology in Microsoft Windows that allows making manual or automatic data backup and stores it into your computer's hard drive. These backups are hidden, you will not see them even if you configure Show files and folders in Windows. Windows can keep as many backups or snapshot of files as the percentage of hard drive's partition space that you have configured; if you add additional storage, internal or external, you must configure this feature manually for each storage device installed.
This kind of backup or snapshot has two purposes: One makes a system and files backup in case you accidentally modified or deleted them, or simply they were damaged; the second one allows data not to change while a backup is being done.
Previous Versions started being available in the Business, Enterprise, and Ultimate version of Windows Vista and in all versions starting Windows 7.
One thing to keep in mind is that this form of backup is not done every time a file changes; instead it is done once a day, or every time a system "Restore Point" is triggered, this could happen by creating a manual "Restore Point" or when an update or application is installed.
To restore a folder or file using "Previous Versions", follow these steps:
1 Right Click on the folder that has the folder or file that you wish to restore and select"Properties".
2 Select the "Previous Versions" tab (see image 1). In the "Folder Versions" section, you will be presented with a list sorted by the date created. The most recent will show up in the top first; select the folder version that you think it has the file(s) and Click "Open" to verify it's the version you want, Click "Copy" to save the file/folder to another location or Click "Restore".
Warning: Choosing "Restore" will over write the current file or folder version on your computer, and this action cannot be undone.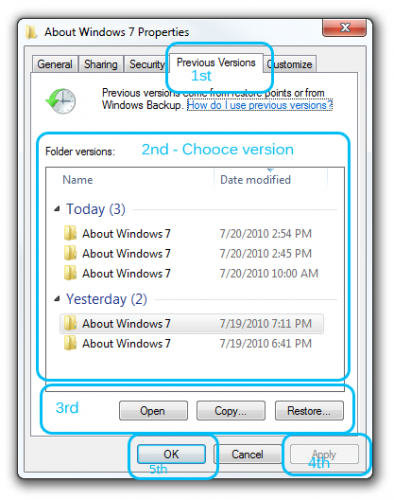 Click image to expand. Image1.
Tip1: When you Click "Open" to verify the file or folder version, you can just drag and drop the file or folder to any location you like.

Tip2: If you need to work with a file that already contains data, make a copy of the file and use this copy to do your work. Once you know that everything is the way you want it, save it and delete the original.

Tip3: If the file /folder you like to restore is included in a library, navigate to the location folder instead; Right Click and Select properties and continue with step2.
To configure newly added storage with "Previous Versions" follow these steps:
1 Click Start

  in the search box "Search programs and files" type "restore point"
2 In the search result under "Control Panel" title, click on "Restore Point".
3 Go to the "Protection Settings" section (here will be listed all the storage devices connected to your computer); look for the one you installed, select it and Click "Configure". See image2.
4 Next, in the "Restore Settings" section there are three choices; if the storage device does not contain any application installed, I would recommend to pick the second option: "Only restore previous versions of files".  See image2
5 In "Disk Space Usage" adjusts the amount of space that you would like to dedicate for the backup files; here I would recommend you leave the recommend percentage subjected by Windows if it is more than 1%. see image2
6 Click "Apply" then "OK", in the next window Click "Apply" and "OK" again.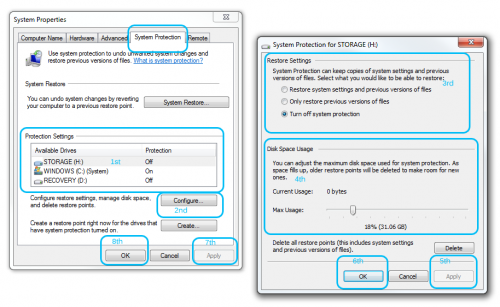 Click image to expand. Image2.
Conclusion
Previous Versions is a good method to backup your data and system files in case that something goes wrong, but you should not use this method as your primary backup because you won't be able to get your data back if your computer's hard drive fails or if you created a file or folder and they were deleted before a backup was made. Always make data and whole computer backup, then keep it off site if that data is really important to you.
Get our best stories delivered to your inbox.