There are various reasons to why to uninstall Google Cloud Connect, for example: You've tried it and you decided that it is not what you were expecting or the plugin is not working correctly and to troubleshoot you may need to re-install. Whatever the case may be uninstalling Cloud Connect is pretty easy as uninstalling any other program in Windows.
Today I am going to show you how to uninstall Google Cloud Connect from Microsoft Office 2010 in Windows 7, but the process will be similar if you are trying to uninstall the plugin from Windows XP or Windows Vista as well.
Alright, let's get started:
1 First go to Start

, type Add or remove programs and press Enter.
2 Now look for the application name Google Cloud Connect for Microsoft Office, select it and click the Uninstall button.

3 Next click Yes, wait for the uninstaller to run and do its thing and after several seconds the plugin will be uninstall from your system.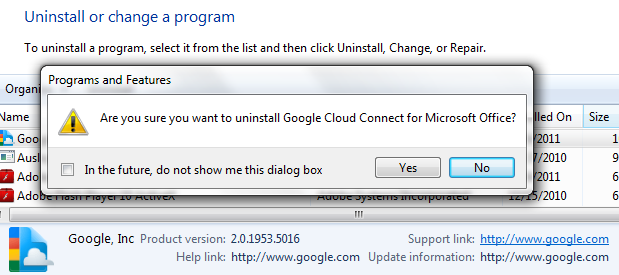 And now you are done!
Get our best stories delivered to your inbox.