Microsoft is finally refreshing its built-in Windows 8 apps: Mail, Calendar, and People as part of the effort to improve the Windows experience.
In this new update expect the Mail app to support flagging email messages and creating folders. In the Calendar app, the folks at Redmond are introducing a new look, forward invitations and several other tweaks. And the People app will incorporate a much improved navigations and filters.
The new changes are available now for every Windows 8 and Windows RT user as a single manual update in the Windows Store.
All the new features and options are welcome additions to the Windows 8 apps. If you remember back in October, 2012, when the software giant released Windows 8, Mail lacked of many basics features and you couldn't compare it with other email clients. The same were true for the Calendar and People apps, the ideas were in the right track, but features just weren't there.
Today's update will improve the productivity and functionality of these apps, but there will always be room for more improvement, and you can expect more updates coming in the future.
Mail
The Windows 8 Mail app is perhaps the one piece of software where Microsoft is adding more features. In the updated version of the app, you can now organize and create folders right from the email client. You can also flag important emails, which then later you view from the new Flagged folder.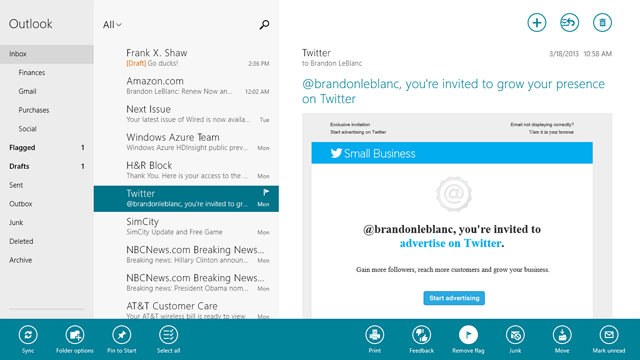 Mail for Windows 8 also improves the way you compose emails. When creating a new message, the "To" line suggests popular contacts, and new drafts will automatically appear atop of your inbox, making it faster to find, finish, and send an email.
For those people cutting and pasting content onto emails, now it is a bit easier as Microsoft has improved how formatted data is preserved in a message. Also you can now edit hyperlinks and bullet points.
One great feature new to the Mail app is that now search goes beyond your local downloaded inbox, with the new update when you do a search for a message and it is older than two weeks, Mail will also do a search on the email servers and return your request.
Remember that all the new options can be found in the app commands by swiping from top to bottom or by right-clicking.
Calendar
The Windows 8 Calendar app just got a makeover and a few new features, such as a new "Work week" view option, scheduling support, forward meeting invitations and capability to send an email to all the event attendees and more recurrence options.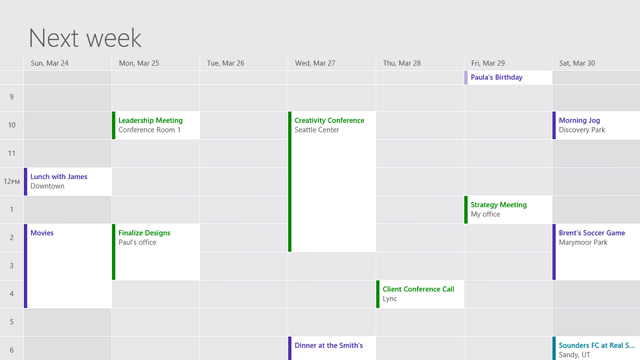 Also with the new look, long gone are the solid blocks, now white blocks with color bars on the left represent upcoming events, which makes more sense for easier reading.
Another important change in Calendar is Microsoft removing Google Calendar sync support, however Windows 8 users will continue to have the option to import Gmail contacts to the People app.
People
The People Windows 8 app also gets an update today, but it doesn't bring as many changes like in Mail or Calendar. In this update, People gets a new app commands bar, new filter capability in the "What's new" page and finally the ability to post in your Facebook friends walls.

The new single update that cover these apps is available now from the Windows Store for Windows 8 and Windows RT. The new improvements may not be enough, but they are in the right direction to make the apps more useful.
Source Windows Experience Blog
Get our best stories delivered to your inbox.