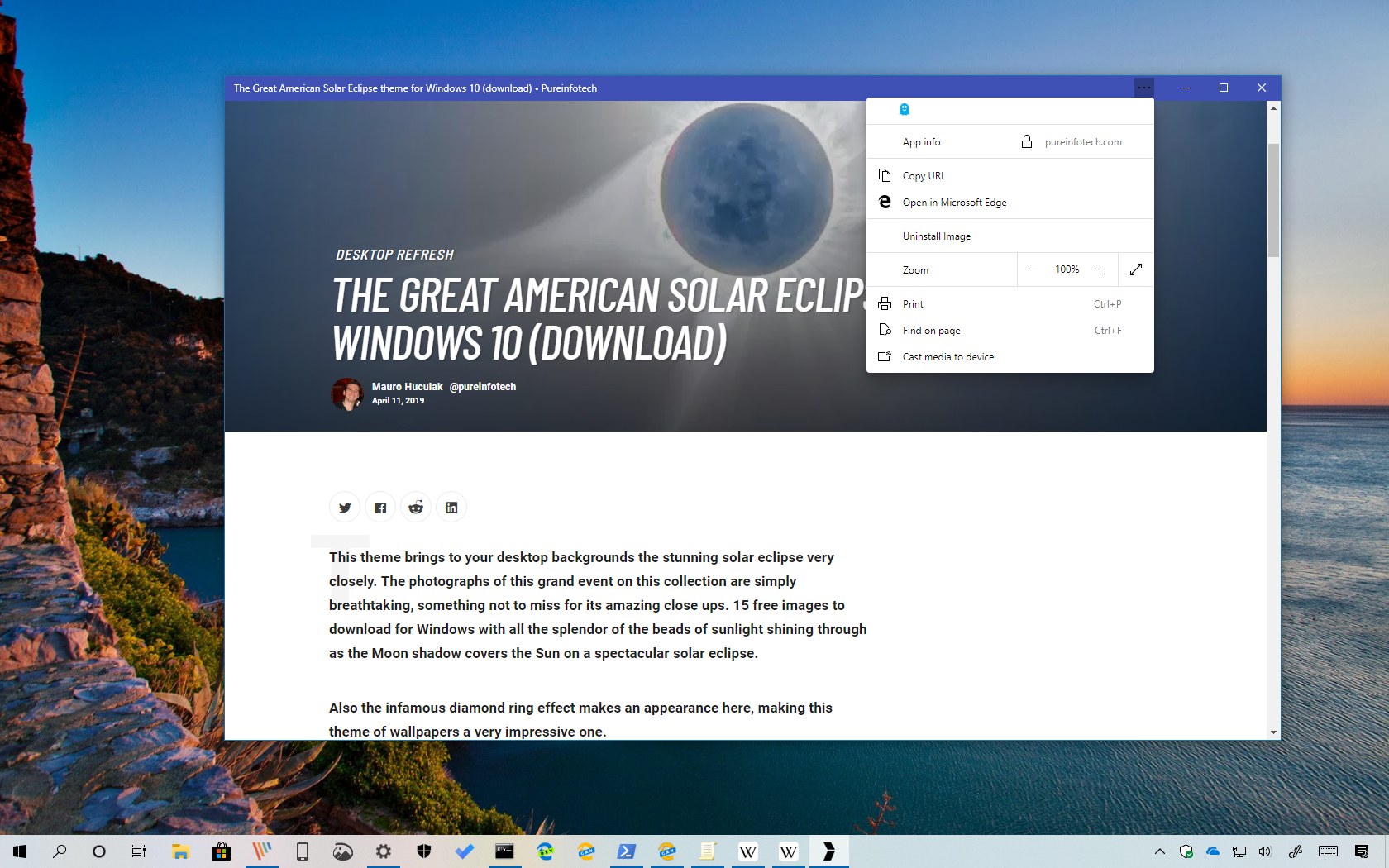 The Chromium version of Microsoft Edge comes with Progressive Web Apps (PWAs) support, which makes it possible to install a website as a native app on Windows 10 enabling additional features, such as push notifications, background data refresh, offline support, and more. 
If the feature sounds familiar, it's because in previous versions, Microsoft Edge had a similar functionality known as pins. However, the ability to install web apps from the new version of the browser makes sites available from the Start menu and taskbar. In addition, if the website is capable, you can also use it offline.
The most interesting part about web apps for Edge Chromium is that they literally install like normal apps, and you'll even find them registered in the "Apps & features" settings page.
In this guide, you'll learn the steps to install a website as an app on the new Chromium version of Microsoft Edge.
How to install Progressive Web Apps on Microsoft Edge
To install a Progressive Web App on Windows 10 using Microsoft Edge Chromium, use these steps:
Open Microsoft Edge.

Navigate to the site that you want turn into an app on Windows 10.

Click the Settings and More (three-dotted) button on the top-right corner.

Select the Apps option.

Click the Install option.

Installing web apps on Microsoft Edge Chromium

Select a descriptive name for the site.

Click the Install button.

Configure web app on Microsoft Edge
Once you complete the steps, the website will open as a separate process with a minimalist frame without navigation options or address bar as if it was a native application on Windows 10.
However, you'll notice a three-dotted button in the top-right, which allows you to access options, such as to remove the app, print, zoom, search, info about the site, and an option to open the site on Microsoft Edge normally.
After you save a site, it'll install like a normal app, and it'll appear in the Start menu. You can then pin it to Start or taskbar. You can always access all of your web apps from edge://apps.
Update January 20, 2020: Originally published in April 2019, and it's been revised in January 2020.