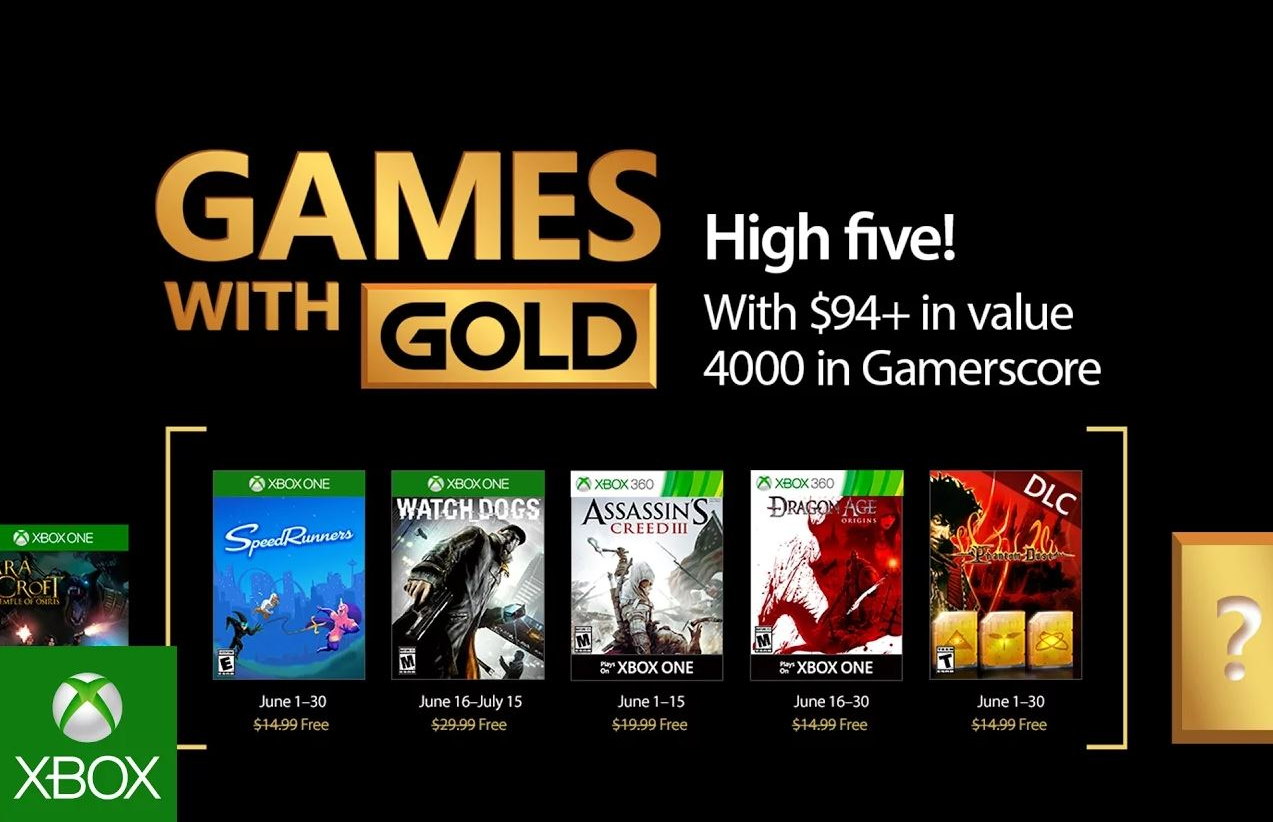 Microsoft announces the Xbox titles members will be getting in June as part of the Games with Gold program. Throughout the month of June 2017, Xbox Live members will be getting five new games with over $94 of savings, including SpeedRunners, Watch_Dogs, Bonus DLC for Phantom Dust, Assassin's Creed 3, and Dragon Age: Origins.
As usual, two of the games for June 2017 are available for Xbox One, and the other two on Xbox 360. However, you can play every game available through the Game with Gold program on Xbox One using Backward Compatibility.
On Xbox One, during the month of June, Xbox Live Gold subscribers can download SpeedRunners ($14.99 ERP) for free during the entire month. Then on June 16 to July 15, Watch_Dogs ($29.99 ERP) will be available as a free download. Additionally, during the month of June, you can download the Phantom Dust Multiplayer Content Pack at not extra charge.
Also, during the month of June, in celebration of the new release of Phantom Dust, subscribers can download a free multiplayer DLC pack for Phantom Dust. The pack includes skills and abilities to help you defeat your enemies in the re-release of this original Xbox classic.
On Xbox 360, starting June 1 and through June 15, Assassin's Creed 3 ($19.99) will be free for Xbox Live subscribers. Then on June 16 and through the end of the month, members can download Dragon Age: Origins ($14.99) for free.
You can also see May 2017 games here.
Get an Xbox One S
If you don't already own an Xbox, you can now get an Xbox One S, which is the new slim version of the console with a brand new sleek design, support for 4K video playback and for High Dynamic Range (HDR) for video and gaming, IR blaster, and three USB ports.
Xbox Live Gold subscription
If you're not yet an Xbox Live Gold subscriber, you can always find good deals on 12-month membership on Amazon.