Hasn't ever happened that you started Windows Media Player and it will not show the right information, like the right CD cover of an album, wrong song information or it will not play the music or video that you know is there, or WMP (Windows Media Player) is not loading?… This could be the cause of a bad (corrupted) database, sometimes we just need a fresh start and we can do this by re-building Windows Media Player database.
This is how we do it:
1-  Close Windows Media Player if it is running.
2-  We need to stop the media sharing service. Go to Start

in the search box "Search programs and files" type "services.msc " and press Enter.
3-  Look for "Windows Media Player Network Sharing Service" Right-click on it and select Stop. See image 1.
You need to stop this service in order to be able to delete "CurrentDatabase_***.wmdb"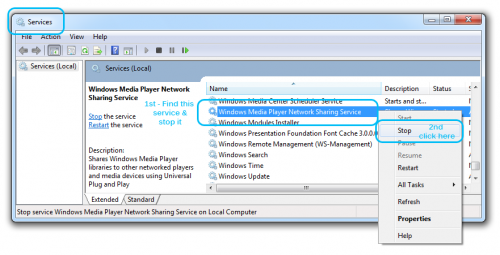 Click image to expand. Image 1.
4-Go to Start

Click "Computer" and navigate to C:\Users\"your_username"\AppData\Local\Microsoft\Media Player or type this path in the address bar (location path) in"your_username" replace it with your computer username without quotes. See image 2.
Note: You may have to unhide hidden files to do this. For more information refer to the article "How to show hidden folders & files in Microsoft Windows"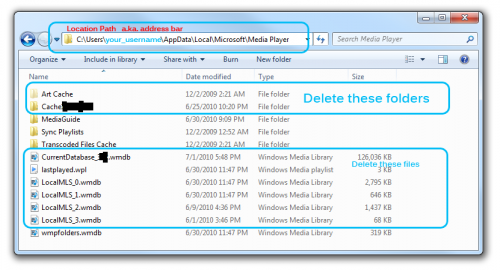 Click image to expand. Image 2.
5-  Now delete all of the following files named:  (See image 2)
CurrentDatabase_***.wmdb contains a list of references to video and audio located by WMP after scanning your computer or network path(s) that you specified.
LocalMLS_*.wmdbthere may be more than one file with this name structure delete all of them.
lastplayed.wplhere are stored the names of the last songs you played you can go ahead and delete this one as well.
And theCache***folder.
6-  Start the media sharing service as mentioned in steps 2 and 3 (in step #3 Click Start instead of Stop).
7-  Now start Windows Media Player to rebuild the library. You Are Done!
Conclusion
Windows Media Player is one of the best media player out there, but like any other software application, it is not perfect and sometimes accidents can happen, so this is when a work around comes in handy.
Get our best stories delivered to your inbox.