By default, Windows does not show known file extensions; that's why we are going to learn how to show file extensions in Windows 7 and Windows Vista.
A file extension is the last three characters of a file name, after the period; for example: Pureinfotech.txt, Pureinfotech.docx. This makes it possible for Windows to identify which software application to use to open such file; and it also indicates the encoding convention of its content.
One thing to notice is that a file extension used to have three characters long; but nowadays, depending on the software you use, it could have three, four, or more characters.
To show file extensions in Windows follow these steps:
1 Click 

, in the search box "Search programs and files" type "folder options", and under "Control Panel" Click the result.
2 In the Folder Options window go to the "View" Tab. See image 1.
3 Look for "Hide extensions for known file types" uncheck this option, Click "Apply" and "OK". See image 1.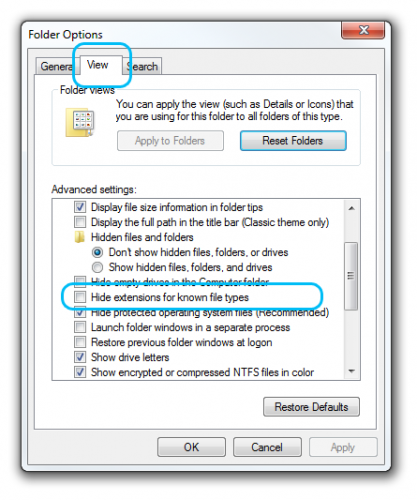 Image 1.
Tip: In Windows file extensions are NOT case-sensitive; Pureinfotech.TXT is the same as pureinfotech.txt.
Done!
From the "View" tabyou could also change various settings including  Hidden files & folders see the full article.
Here is an example list of common file extensions:
EXE is a Windows executable file or self extracting archive; most of the time contains the files to install a program in Windows.
MSI is another Windows installer file extension like EXE.
ZIP is a common file compression extension.
TXT is a text file and Windows opens this file with Notepad by default.
DOC, DOCX, XLS, XLSX, PPT, PPTX, PUB, ONE; etc. are Microsoft Office document file extensions.
MP3, WAV, AAC, WMA; etc. are audio file extensions.
JPG, PNG, JPEG, GIF; etc. are image file extensions.
AVI, MP4, WMV, XVID, FLV; etc. are video audio extensions.
Note that there are thousands of files extensions. This is just a really small list to show examples.
And remember, that when file extensions are hidden, the only thing that you will see is the file name, like examplefile; then if you change it to examplefile.doc you are not changing the extension, you are just renaming the file from examplefile.txt to examplefile.doc.txt (because .txt is hidden). This is a reason why you may want to configure Windows "folder options" to show the known file extensions.
Get our best stories delivered to your inbox.