Interest on installing Windows 8 Developer Preview is huge, but replacing your main current operating system it will not be a wise idea, because there still a more work to be done and many things can go wrong. In this step-by-step you are going to learn how to dual-boot Windows 7 and Windows 8 together, so they both can run in harmony.
If in the past you have configure a computer for dual-boot, this is not much different; the concept is the same. Pretty much all you have to do is to create a new partition, install Windows 8 on it, and finally you will want to customize the boot menu, that way Windows 7 will always boot first (default). Keep reading to learn more.
Step #1: Backup and create a new partition
Always backup first, create a full backup of your computer and/or make a backup of your data to an external or network share folder — remember that you are about to modify your hard drive settings to format and install a new operating system, so there are many things that can go wrong, and you want to be ready to restore.
Now there could be the case where you have enough free space — about 20GB for Windows 8 — in your hard drive, but is all in one partition. In this situation you are going to need to shrink the volume or partition — check the previous article: How to shrink a volume or partition in Windows to learn how to do this –. Then when this is done you will need to create a new partition — don't worry if you do not know how to do this, we got you covered check How to create a new volume or partition in Windows. Now you are all ready to install Windows 8 Developer Preview.
Step #2: Install Windows 8
1  If you haven't done it yet, download the Windows 8 Developer Preview ISO image of your choice, and create a bootable USB or DVD disc. Don't forget to make sure that your computer is configure in the BIOS to boot from either CD/DVD-ROM or USB drive, insert the media into the computer, and reboot.
2  You might be prompted to Press any key to boot from DVD, if you do hit any key on your keyboard to continue. Then Windows 8 installation should appear — note that Windows 8 installer is almost identical to Windows 7, so if you have done it before this should not feel any different –.
3  Select your language, click the Install Now button, then choose the Custom option when you are asked which kind of installation you'd like to perform.
4  In next step, look for the new partition you have just created on the list of drives. Click the Next button, sit and relax while the installer take care of the rest. 
Warning: Be careful and make sure that you select the right partition, because you are about to say bye- bye to the content on that partition.
5  When the install in completed the computer should boot into the new Windows 8. Your computer will provably reboot several times, then you will be greeted with the new totally redesigned Windows 8 welcome screen. Now you are ready to log in.
Up to here, you have successfully shrunk, created a new partition, and successfully dual-booted Windows 8 and Windows 7. The next step is optional, but it would be recommended to do it.
Step #3: How to make Windows 7 your default boot operating system
At the first boot you'll see that Windows 8 displays a new boot menu user interface, that let you choose which version of Windows you want to start. Windows 8 is going to be the default, the one that will be selected to start first if you don't manually choose Windows 7 after 30 seconds. As much as you already like Windows 8, it is more than likely that you don't want it to be your primary operating system just yet, so the next steps are to make Windows 7 the default operating system in the boot menu:
1  In the boot menu, click on Change Defaults or Choose Other Options button.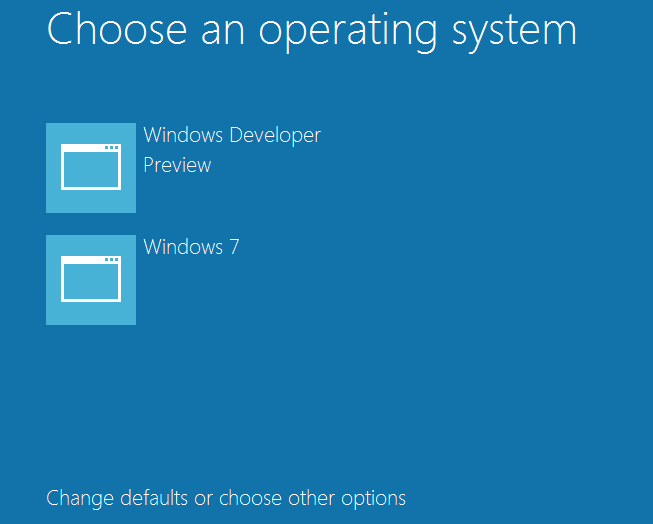 2  Click Choose the Default Operating System.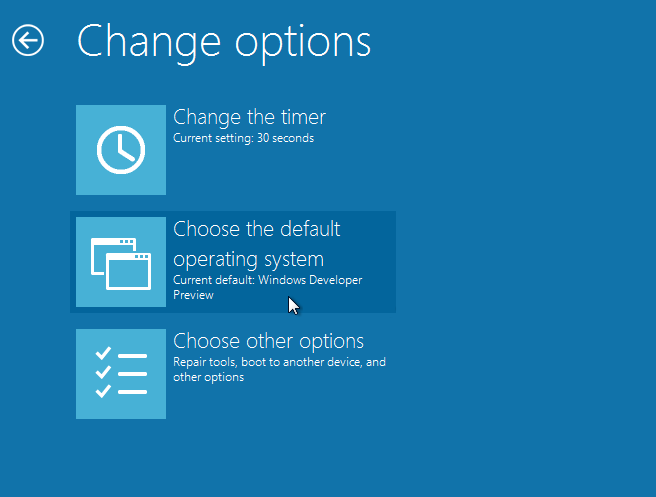 3  And finally choose the default operating system.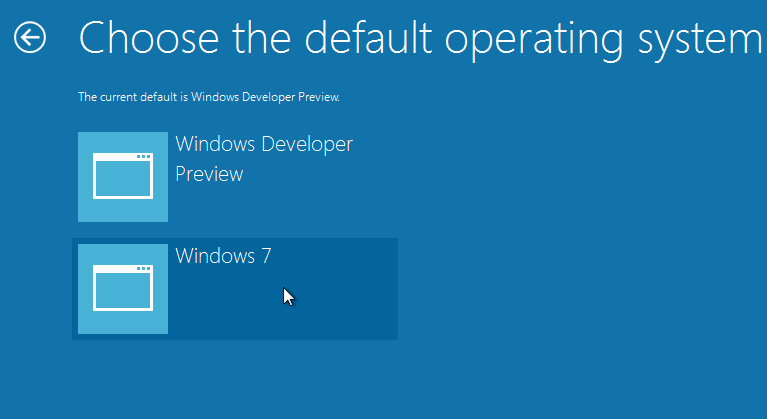 There you'll be able to pick Windows 7, and from this point forward your system will boot into Windows 7 by default, and when you feel that you want to keep testing Windows 8, reboot the computer and select it from the boot menu. And that is all there is to it. I hope you are enjoying playing with Windows 8 Developer Preview. Let's us know in comments what do you think so far about this preview release.
Get our best stories delivered to your inbox.