A system image is simply a full backup of your PC which includes: Windows installation files, applications, personal documents, device driver and everything else, that will help to restore Windows 8 in case of fatal system failure, viruses, and other error that may occur.
Creating an image of your system in Windows 8 hasn't changed one bit from how it was done in Windows 7, Microsoft only changed the name from "Windows Backup and Restore" to "Windows 7 File Recovery" — Why the "7" in the name? This is for backward compatibility with previous version of the operating system.
Having a full backup of your hard drive can be considered the best disaster strategy, when things goes wrong in your PC. You should always consider creating backup at least once a week.
Instructions
Here is the thing, it seems that Microsoft doesn't want to use this feature anymore, why? Just look at the name of it, if you do a search from the Start screen using the keywords: "backup" or "system image", you won't see this feature as an option; the name is confusing, it hasn't been updated, and it might go away in the future because it is mainly to restore files from a Windows 7 System Image or if you've performed an upgrade from a previous version of the OS.
The software maker now prefers you use the new File History to backup your files (documents, libraries, contacts, favorites, etc.), and then use the new feature "Refresh your PC without affecting your files" — formerly known as "Refresh your PC" — and the "Remove everything and reinstall Windows" — formerly known as "Reset your PC" –, to come back from a system failure or to help you safely get rid of your computer.
1 To begin go to the Start screen, type Control Panel and launch the utility.
2 In the search box from the top-right side of the page, do a search for Windows 7 File Recovery and click the link to start the process.
3 If you have done this in Win 7 the user interface will look a lot familiar because it hasn't changed. From the menu on the left, click Create a system image.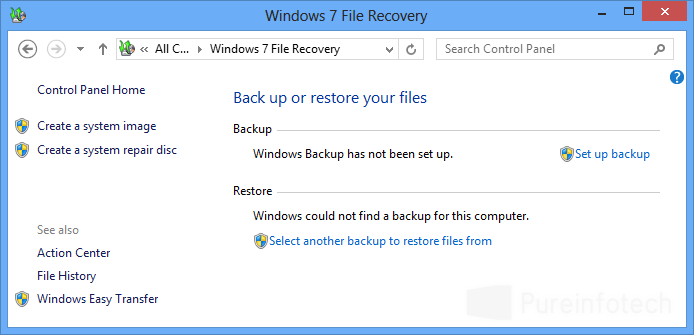 4 Choose whether to save the system backup on an external hard drive, on a DVD (this could take many discs), or on a network location and click Next. For this demonstration, I'll be using the network location. This is convenient if you know how to configure a network shared location, if you don't, the safest way is by using an external storage media such as a USB drive, just make sure that you have enough free space available.
Note: Files already in the storage media will not be erased by this operation.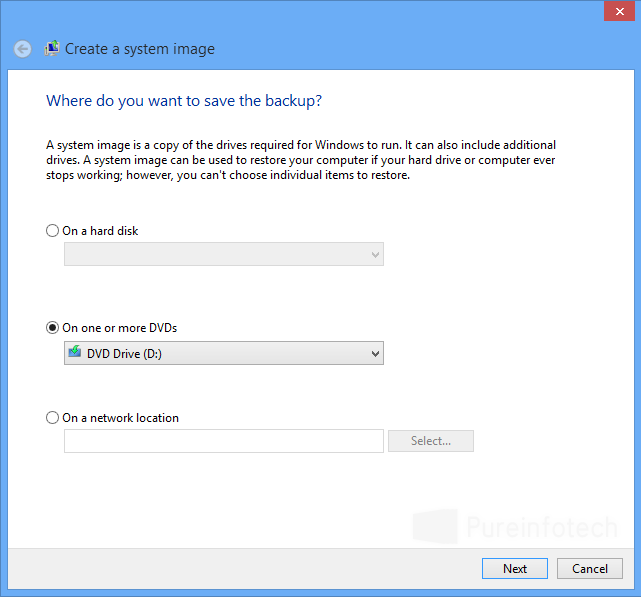 5  Confirm your settings and click Start backup. The time that Windows 8 will take to create the system image will depend on the amount of data and the location where you are storing the backup.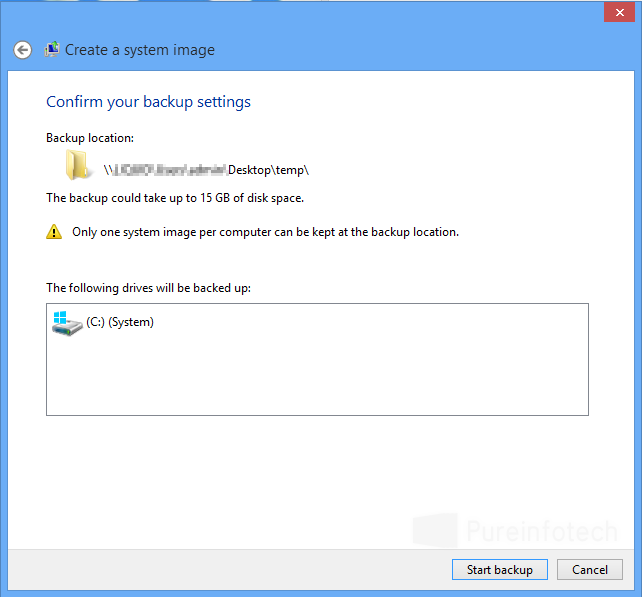 6 Windows will start saving the backup and once the process is done you'll be prompted to create a "system image repair disc", click Yes to continue. You want to do this in case your PC hits a serious system failure and the PC does not boot. The repair disc will enable you to boot the PC into the recovery environment and make use of the backup you just created to restore everything.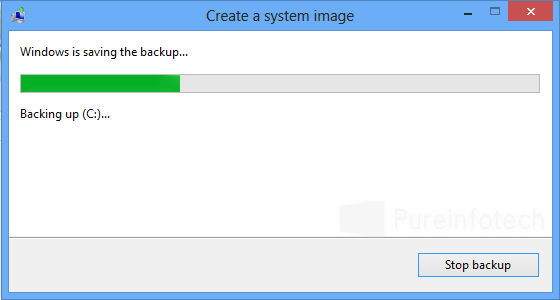 7 Click Create disc. After Windows 8 has finished backing everything up, don't forget to store your system image in a safe place. Taking it offsite to a friend's house that you trust or a family member is not a bad idea.
You are now done!
System Image benefits
The benefits of creating a system image are: consolidation of your whole PC in a single backup, applications are preserved and you don't have to reinstall them, personal document and settings are maintained as well. But best of all, if you hard drive were to go bad (unusable) you can recovery your full system in matter of minutes by just restoring the backup image.
SEE ALSO: How to restore Windows 8 system image in the event of system failure (step-by-step)