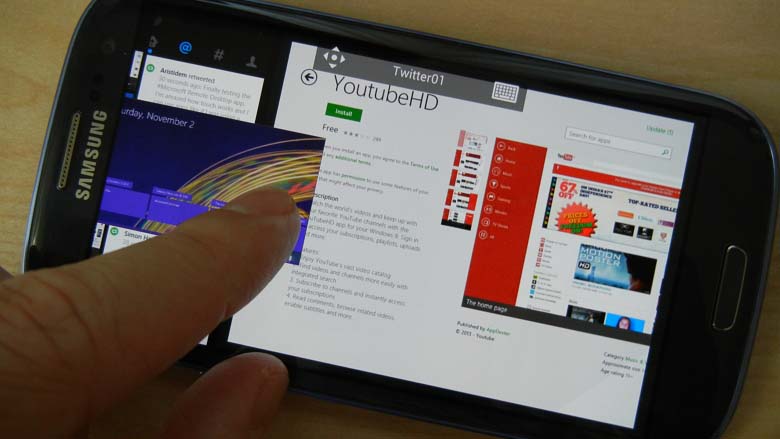 Microsoft released the Remote Desktop app for Android and iOS with the purpose of helping IT pros to connect to Windows 8.1 PCs and Windows Server 2012 R2 machines at work. But of course the app isn't limited only to professionals, the Microsoft Remote Desktop app is free and anyone can download it on an Android or iOS device, that being in a phone or tablet. I personally, I've been using the app on my Samsung Galaxy S3 to connect to various Windows 8.1 devices and the user experience surpassed my expectations.
The installation and remote PC configuration is painless, that is of course, if you understand how to find your computer's name or have a basic understanding of what an IP address is; that said to configure a new remote connection, you only need to assign a connection name, computer name or IP address, and your credentials, then tap the connection to connect.
Quick Tip: To quickly find your PC name in Windows 8.1, right-click the Start button, click System, and simply look for "Computer name".
The remote experience
Let me start by saying that the app connects really fast and the network compression is absolutely great, but you'll notice some lag depending on your wireless connection. What really impressed me the most is that the Microsoft Remote Desktop app also supports touch inputs over the network, so all the Windows 8.1 gestures works in the app even on small screens. You can pinch to zoom, bring Charms or cycle through apps by swiping from the right or left edge of the screen, as you would normally do in Surface or any other Windows 8.1 tablet.
When you connect to a remote PC, you'll notice a semi-transparent black toolbar with three items: full screen button, name of the PC you're connecting to, and the keyboard button. The full screen mode allows you to see the remote desktop on its native resolution, so you may have to scroll to see parts of the desktop. This can be helpful for better readability.
In my experience using a Galaxy S3 phone, swiping from the edges works great, but depending on the device you're using, it could take a while before getting used to, and some touch screens may not work well. As such, you may also have to swipe slow a couple of times before seeing the menus.
Tapping the computer's name brings up the function's keyboard with the Start, Ctrl, and Alt buttons, and a special button to switch from touch to mouse mode.
Finally, we have the keyboard button, that naturally brings up the the on screen keyboard, but with the difference that it is the phone's keyboard and not the one in Windows.
Gallery
Video streaming over the Microsoft Remote Desktop app is decent, YouTube seems to work fine even in full screen, but of course I wouldn't try to watch Netflix with the Windows 8.1 app.
Although we're talking about the app here, it's worth noting the important role of Windows 8.1, as this is a touch first operating system and you'll really see this in action when you realize, you can grab a phone (e.g., Samsung Galaxy S3) and you're able to manage a full-blown PC or use different apps with nothing more than your fingers in a tiny screen.
The Microsoft Remote Desktop app is currently available on for Apple iOS and Google Android, but Microsoft said that it's working on Windows Phone version. And it seems that app is already doing very well with over 1 million downloads after only a week of its release.
I also think there is a Microsoft hidden agenda with the app being released for other platforms first and that is to allow non-Windows tablet users to experience how the operating system works with touch, and may be will convince a few people to choose a Surface Pro 2 or any other Windows tablet over an Android or iPad tablet.
Oh! I almost forgot, tap the back button twice to disconnect.
Update: Download the Microsoft Remote Desktop Preview for Windows Phone from the Windows Phone Store.