Windows 10 is far from complete, but it's already a bigger improvement from its predecessor, Windows 8.1 — at least we can say this for sure on desktop computers –. For the next version of the operating system, Microsoft is killing the Charms bar, making modern apps play well with traditional desktop apps, and the Start menu returns.
While Microsoft still working to complete its operating system, here are twelve of the coolest features already built-in Windows 10 you must try when testing the preview.
Start menu
The Windows 8 Start screen is long-gone in Windows 10, the Start menu is back and it's here to stay in its rightful lower left-hand corner of the screen. The Windows 10 Start menu is a mix of the Windows 7 Start menu and the Windows 8 Start screen, which means that Live Tiles still present, they work in the same way as before, and users will feel the familiarity of the old menu.
For those nostalgic users, in the top-right corner of the Start menu will find the Expand button, which you can click to expand the menu edge-to-edge similar to the Start screen in Windows 8.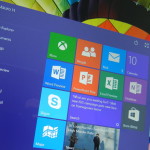 Windows 10: How to customize the Start menu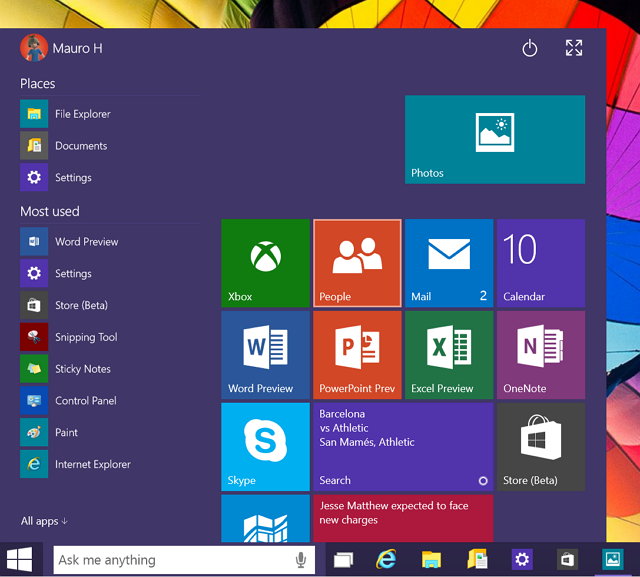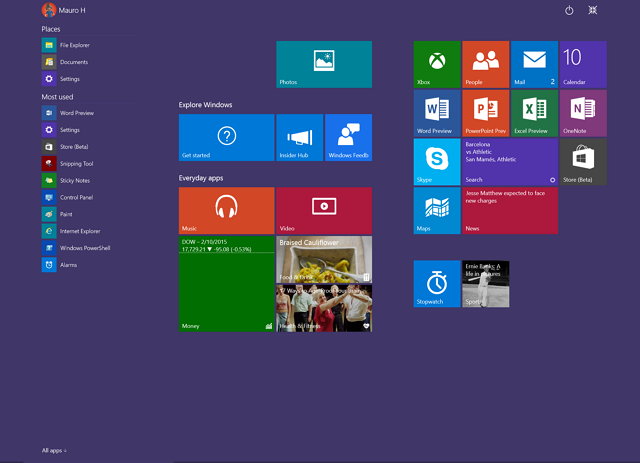 Continuum
Microsoft is building Windows 10 to be a single operating system that works across PCs, tablets, and phones. Continuum is a new feature in the operating system that allows convertible, such as the Surface Pro 3 and the Lenovo Yoga, to seamlessly transition from a desktop-optimized to a touch-centric environment, and makes it a lot easier to navigate and interact with the operating system.
When Continuum (Microsoft actually calls this feature "Tablet mode") is enabled in your PC, users will get a full screen Start menu, all modern and desktop apps will now run in full screen, and you won't have access to the desktop. The experience is pretty much similar to Windows 8, but improved.
Windows 10 will automatically detect if the computer needs to have Continuum enabled, but you can always manually enable the feature, going to the Action Center (clicking the notification icon in the lower-right corner of the desktop) and clicking Tablet mode.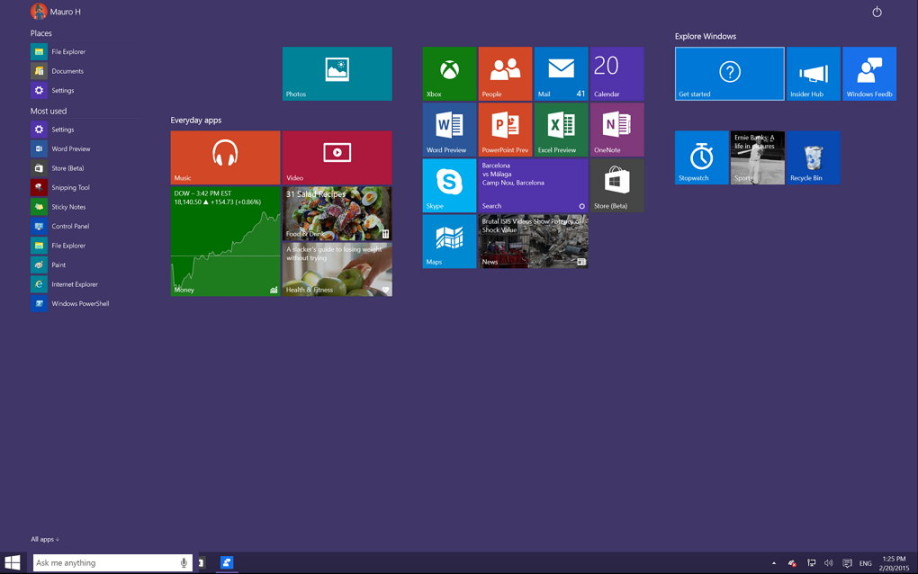 Action Center
Notifications aren't just for phones anymore and perhaps the new Action Center in Windows 10 is one of places where you'll spend a lot of time. The notification center is somewhat similar to the one in Windows Phone, you'll receive notifications from the operating system, modern apps, reminders, and much more.
You can easily view all the notifications group by apps and you can easily dismiss all or each one individually.
The Action Center also brings Quick Actions like Windows Phone to quickly access to settings, such as Tablet mode, Display, Connect, All settings, Location, Rotation Lock, VPN, Wifi and more.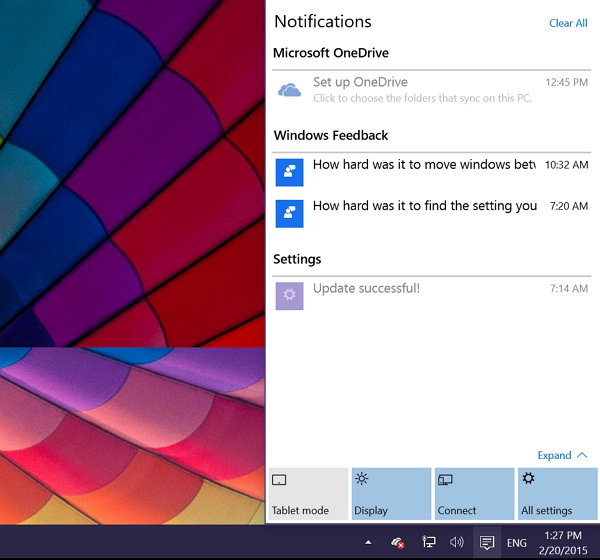 Virtual desktops
Task View (also known as virtual desktops), is a new addition to Windows 10. The feature allows users to create an unlimited number of virtual desktops to easily separate work and personal tasks.
You can either use Alt + Tab to move through apps or you can use

 + Ctrl + D to create a new virtual desktop. To view all the desktops, simply click the Task View button on the taskbar or use the

 + Tab keyboard shortcut.
When you need to move a particular application to another desktop, right click it, select Move to, and choose the desktop you want.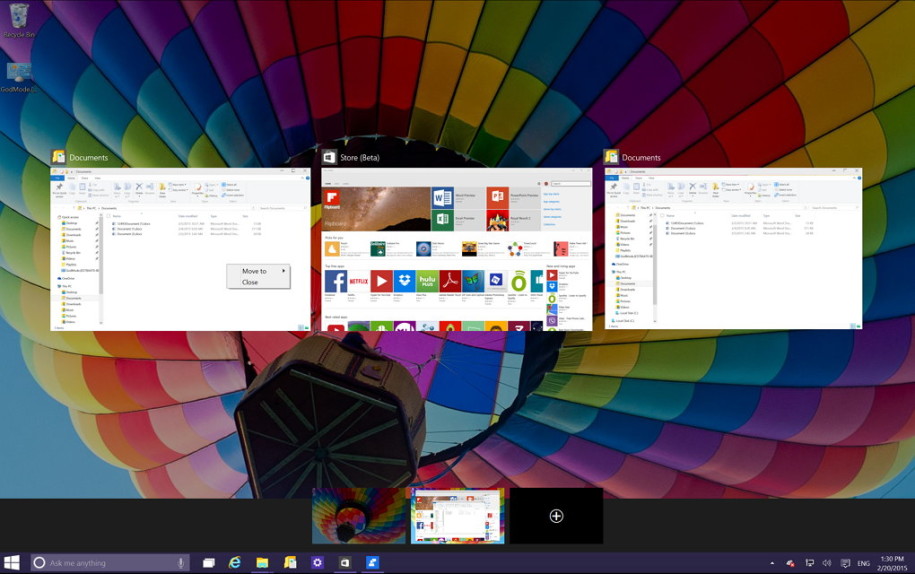 Cortana
Cortana is the smartest digital assistant you'll find in the market. She currently lives in Windows Phone 8.1, but Microsoft is bringing her to Windows 10 on desktop computers.
In order to Cortana to be productive, she needs to have access to all your information and use Bing to learn and understand who you are and improve over time.
With Cortana you can set reminders, alarms, check calendar, ask any question in natural language, search for documents on OneDrive and locally stored in your computer, perform web searches and much more.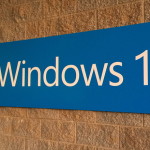 Windows 10 build 9926: Hands-on with updated UI, Cortana, Tablet mode, Action Center, Store beta, apps (video)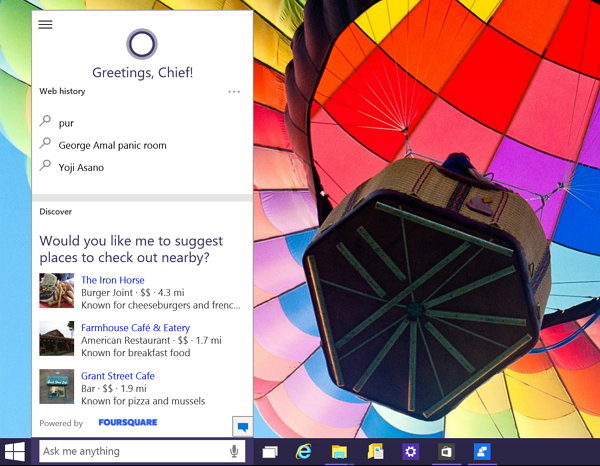 Settings
Microsoft is also revamping the Settings app in Windows 10, which will eventually replace the Control Panel. Settings has a new interface, but the software giant still has a lot of work to do in this area. Windows Insiders will also notice that they can't no longer update the operating system via the traditional Control Panel, moving forward users will only be able to update Windows via the Settings app.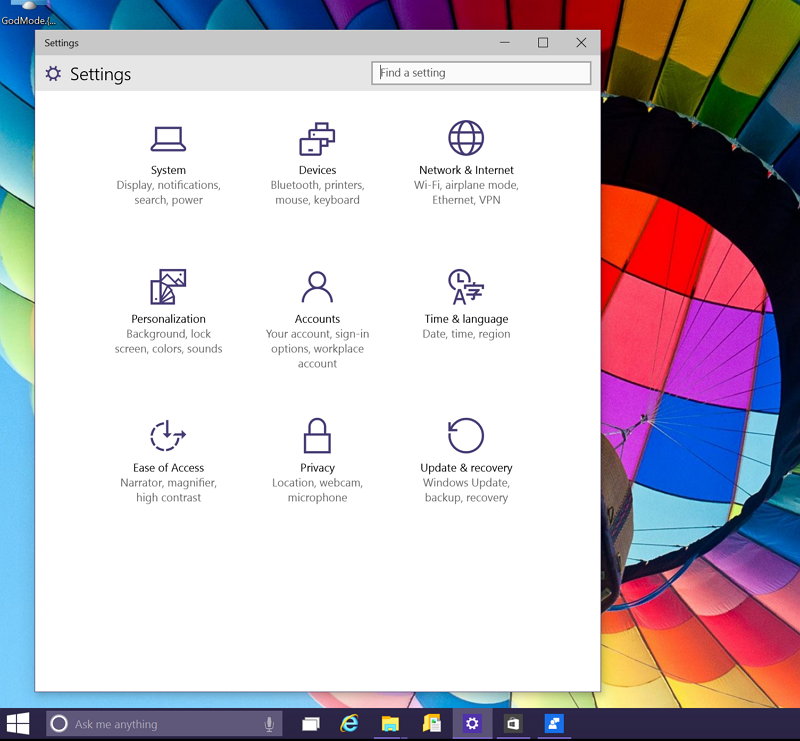 Windowed modern apps
Yes, more apps now run windowed on the desktop and you can work with them side-by-side with traditional desktop applications, rather than taking up the entire screen lowering your productivity.
The new windowed modern apps have a new title bar with an extra button on the top-right corner to full screen the apps as necessary. Also in the top-left corner, there is a new hamburger menu to access the Charms options.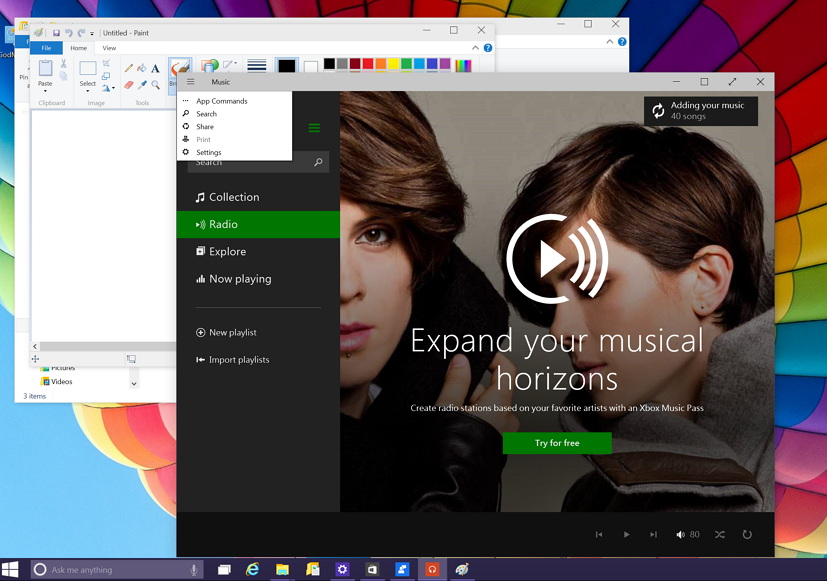 Xbox app
With the Xbox app for Windows 10, you can connect in more ways and all your games, friends, achievements, and more will follow you not only in Xbox One, but in Windows 10 too.
The app has an Xbox One familiar interface with the Activity feed front and center, list of the most recent played games, list of friends, and access to your games, messages, Game DVR, and more.
Even more, you can stream your Xbox One games to Windows 10 within a local network. However this feature isn't yet implemented in the latest preview of the operating system.
Command prompt
The Command Prompt in Windows 10 finally gets some nifty improvements. Now, users can simply use Ctrl + V to paste as you would expect to paste content on any application. Right-clicking the title bar, going to Properties, and navigating to the Experimental tab will unveil some new features.
For example, now the Command Prompt supports transparency, you can wrap text to the edge of the window, and now you can full screen the window – so no more typing on a tiny box.
Also there are a few new text selection features and the ability to filter odd errors when pasting text.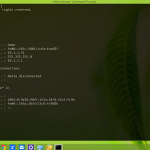 Windows 10: Command Prompt maximizes in full screen in build 9860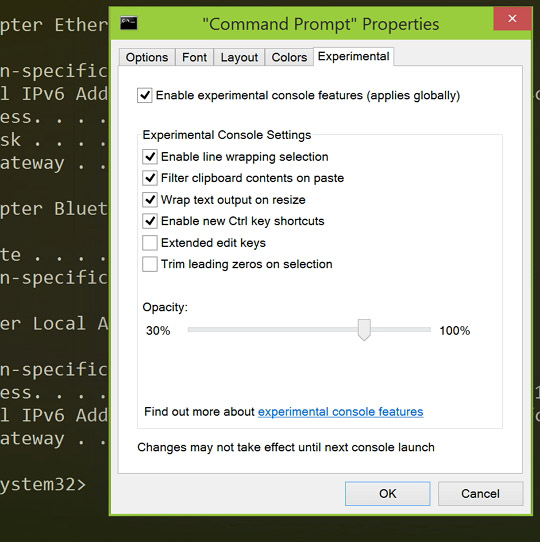 Office apps
Although, the Office apps aren't part of Windows 10, Microsoft said that the new touch-friendly version of Office will be free for Windows 10 devices. The software makers already released a preview of Word, Excel, and PowerPoint for everyone to test. OneNote is also part of the suite of apps, but you don't need to download it as it comes already pre-install with the operating system. The company is also working in a new version of Outlook, but it hasn't been release yet.
The new Office apps for Windows 10 are optimized for touch and they are really ease to use, though some features require an Office 365 subscription.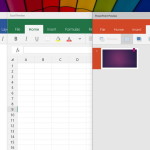 Universal Office touch-friendly apps for Windows 10 are simple, but yet powerful
Feedback app
The Feedback app may not look like much, but it's perhaps the most powerful feature in Windows 10. Microsoft has created the Feedback app for user to send comments, report bugs, and suggest new features. The software maker is listening to consumers like never before, as a result Windows 10 is turning out to be the best version of the operating system.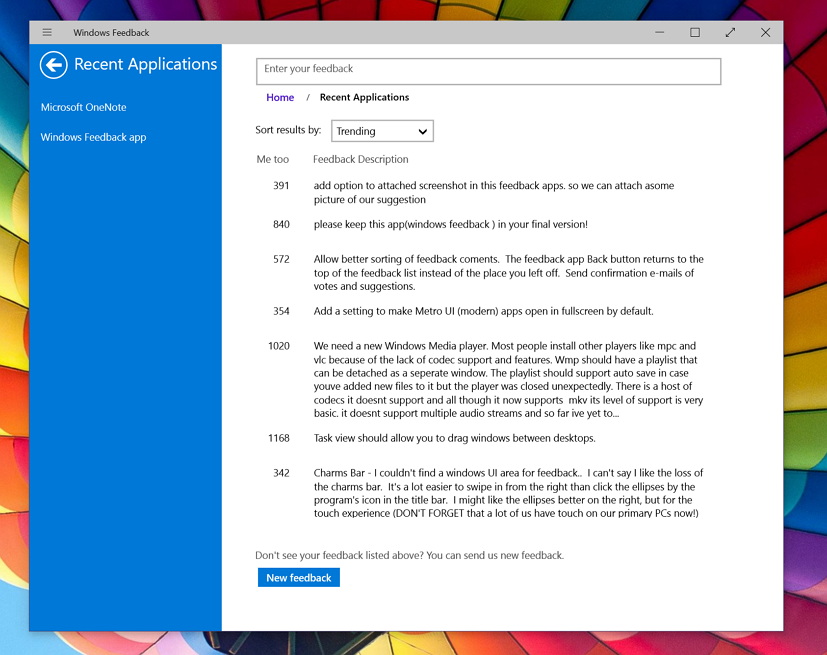 While Windows 10 isn't anywhere near finished, everything included in the preview shows a promising new version of the operating system and it's by far a major improvement from Windows 8.
Microsoft is building a single core of Windows that runs everywhere on PCs, tablets, and phones. The company is also introducing a new app model that will make it a lot easier for developers to build apps once and run on every device. The software maker calls these apps "Universal" and we can already see and use a few of them. For example, the Calculator, Office, and Photos apps, and many more are coming.
Which is your favorite Windows 10 feature thus far?