Windows 10 version 2004, May 2020 Update, will be the ninth major refresh since the original release that Microsoft is planning to release sometime in spring 2020 with new features and improvements. 
Also, codenamed "20H1" (Vibranium), this will be the first of two developments coming in 2020, and while we're still a month away from the final release, thanks to the previews available in the Windows Insider Program, we now know the changes that will be available with this new version of the operating system.
In this guide, we'll highlight the new features and improvements planned for version 2004 as they appear in each test preview.
Quick note: This guide will get updated and republished with features and improvements as they become available through the Windows Insider Program. However, depending on when you're reading this guide, some features and changes may still be missing. If this is the case, you can check this section with the latest updates.
What's new with desktop experience on Windows 10 May 2020 Update
Lock screen 
As part of the Lock screen improvements, Windows 10 version 2004 now includes support to authenticate into your account using your PIN while in Safe mode. In the past, you're still required to use a password while in Safe mode, even though PIN authentication was configured.
Start menu
Beginning with the 20H1 update, when opening the Start menu, you'll notice a new list called "Start typing to search" with quick access to search for online results, apps, and documents, which should make it clear that users can simply start typing to search without the need to actually open the Search experience from the taskbar.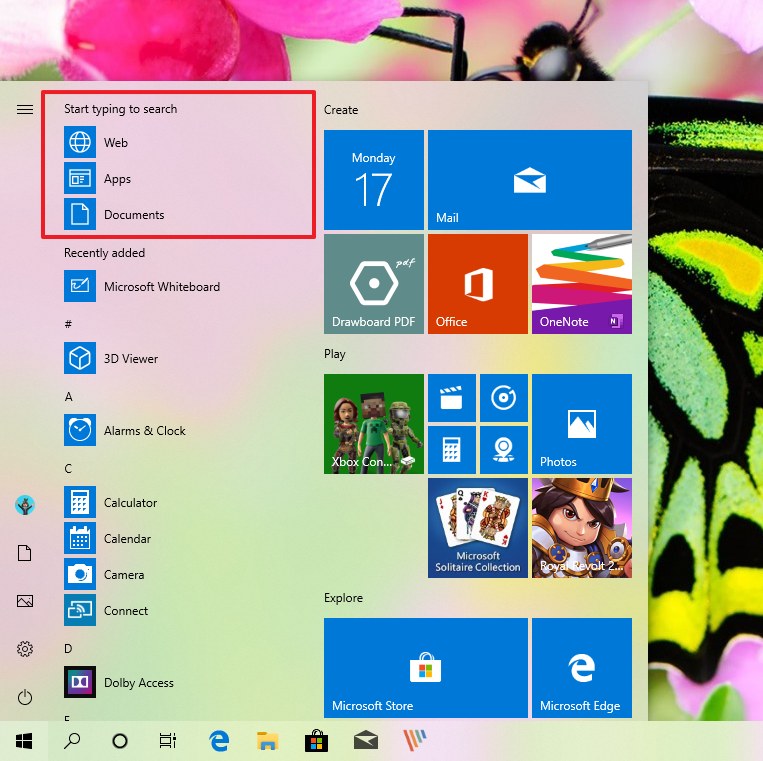 Also, the "Start typing to search" title sometimes changes to "Search for," which is a different title aimed to lure users to select a search type from the list.
Windows Search improvements
The spell checker technology for Windows Search now intelligently understand and correct small typos for search queries, such as "powerpiont" and "exce;" which previously would return no results.
In addition, the search experience is also receiving an update to show related results when searching settings that don't match the query. For example, if you type "free" the best match will include "Turn on storage sense" with a "Related: free up" label to help understand the result.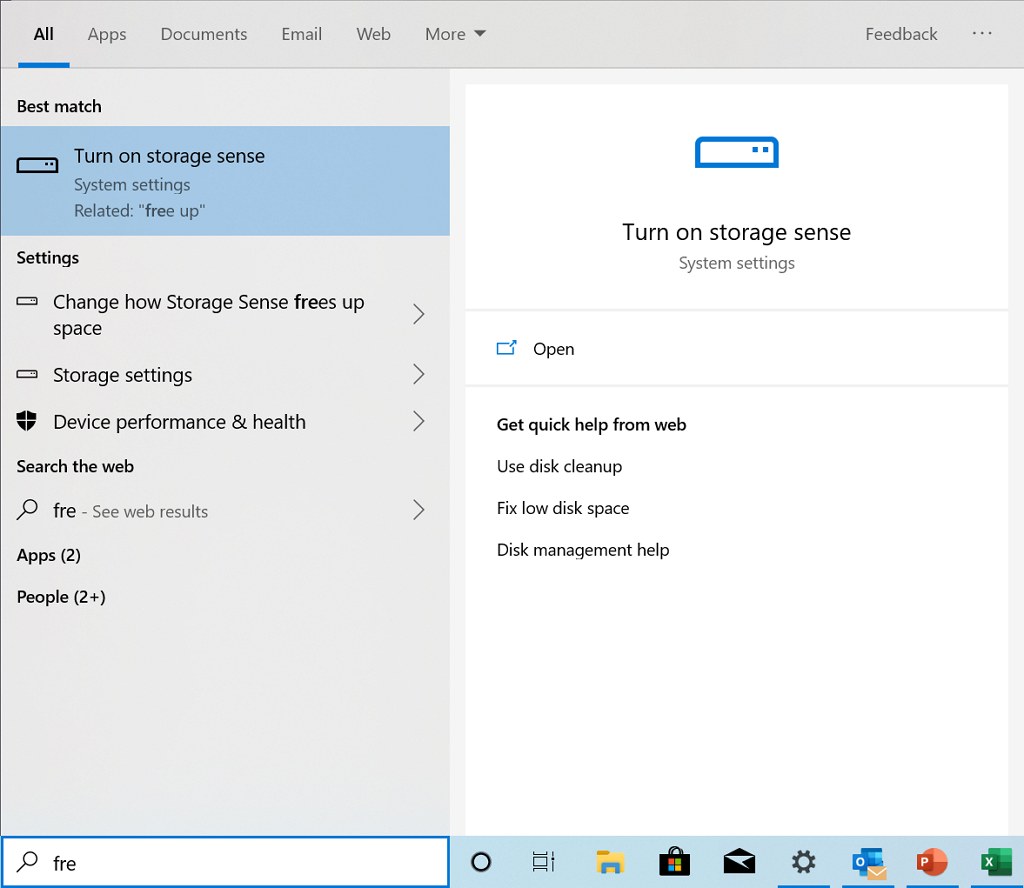 Also, starting with this new version, Windows Search ships with a new algorithm that detects high disk usage and activity to minimize the usage of system resources while indexing.
This means that to minimize performance issues, the indexer will stop or throttled when gaming mode, power savings mode, or low power mode is enabled. Also, when device is waking up after being in low power mode or in a logon state or goes from AC to DC power, or CPU usage goes above 80 percent, disk usage goes above 70 percent, the battery charge is less 50 percent, or the display state goes to screen off.
In addition, there are some specific improvements for developers to prevent searches of certain repositories and project folders to improve disk usage.
Taskbar 
If you use the "Time & date" flyout in the taskbar to view upcoming events, with this new version, you'll also find a new option to create quick calendar events with time, location, and more, without the need to open the Calendar app.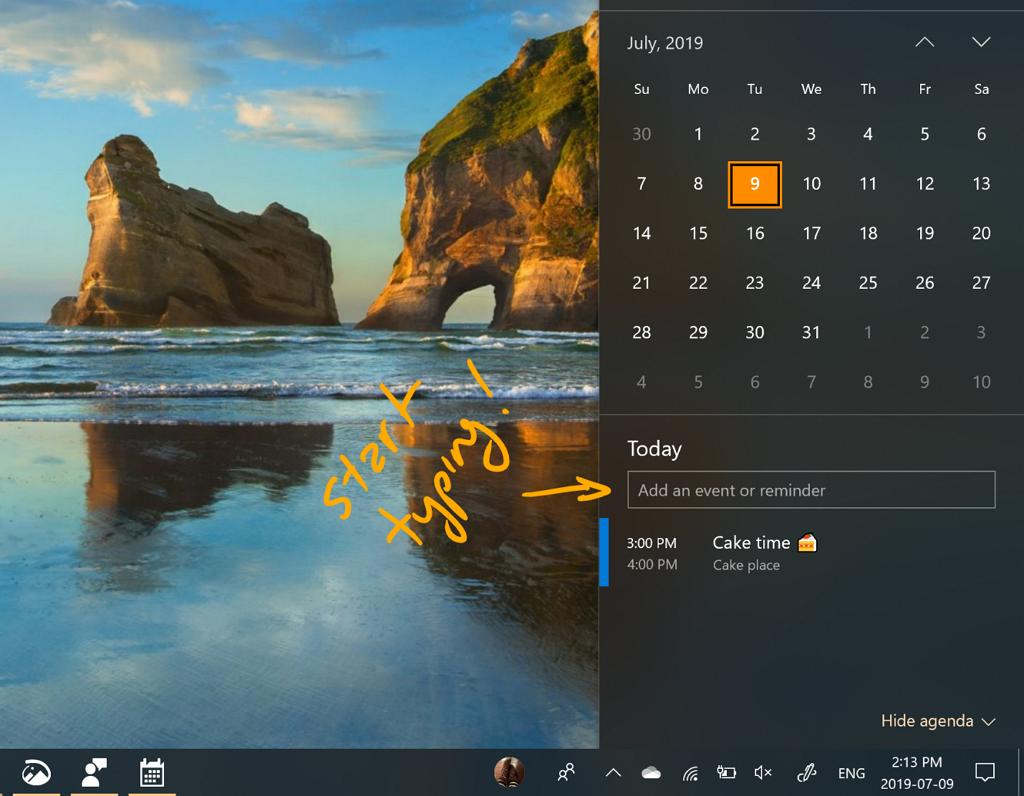 Virtual desktops
If you use virtual desktops to separate your different tasks, you can now click the header of desktop and specify a custom name for each virtual desktop.
You can also right-click the thumbnail of the desired desktop in Task View, and a context menu with a Rename option in it should appear.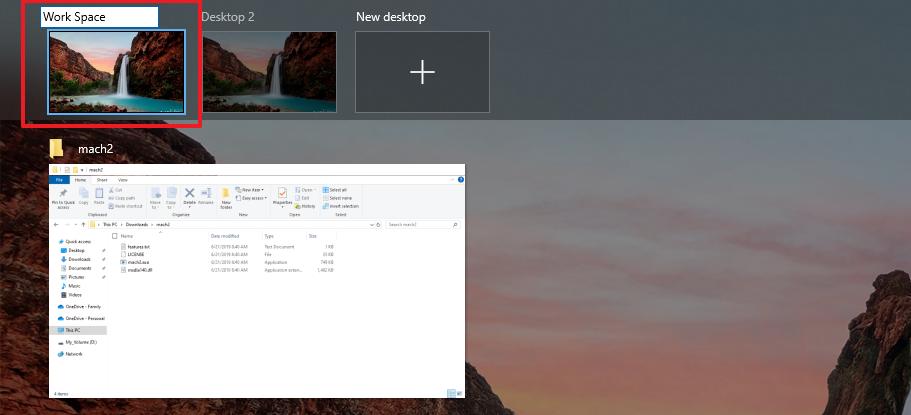 Tablet mode
As part of version 2004, Windows 10 is also building a new tablet experience for 2-in-1 convertible devices.
The new interface allows users entering tablet posture to stay in the familiar desktop experience without interruption, and a few extra improvements, such as increased spacing between Taskbar icons. Search box on taskbar collapsed into an icon. File Explorer switches to touch optimized layout. And touch keyboard auto invokes when you tap text fields.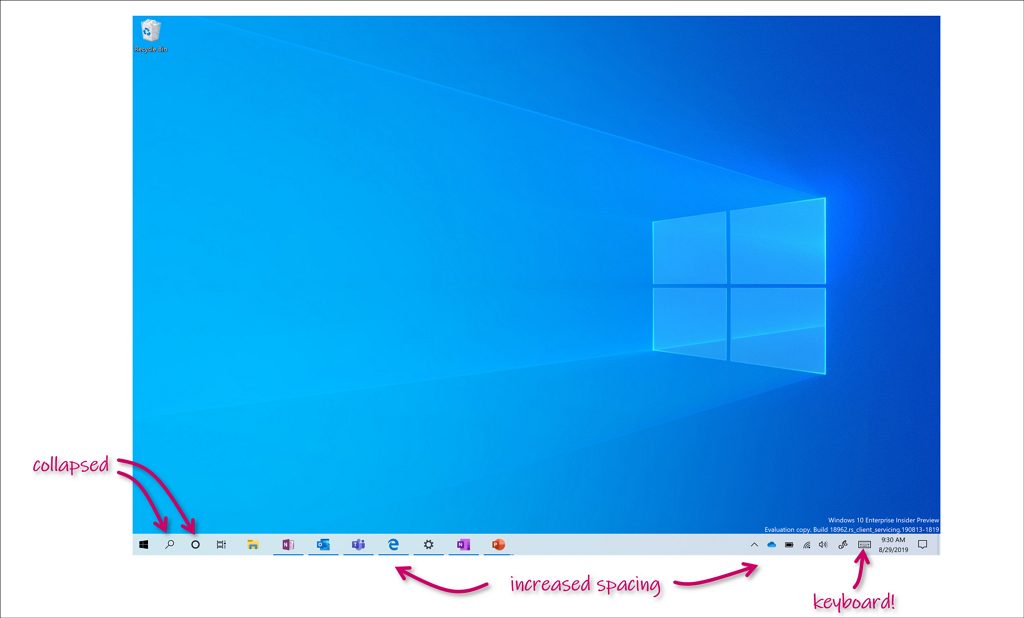 In addition, as a result of these changes, the tablet section in the Settings is gaining new changes.
Cortana
Windows 10 now ships with a new Cortana app that updates through the Microsoft Store and provides a new chat-based interface with the ability to type or speak to the assistant.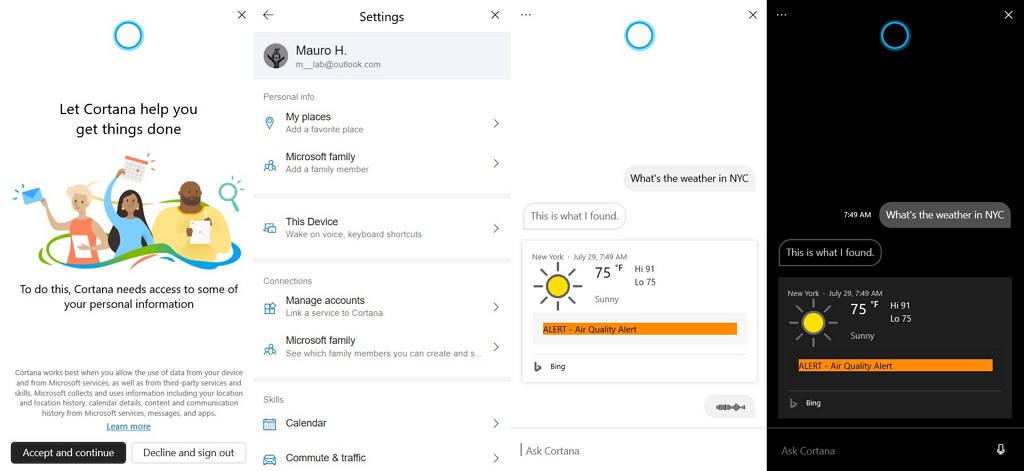 The app now supports the light and dark theme available on Windows 10, and the new experience offers less intrusive screen for "Hey Cortana" queries that can stay in the flow while you work. Also, the assistant has been updated with new speech and language models, significantly improved performance, and you can even drag and resize like any other app.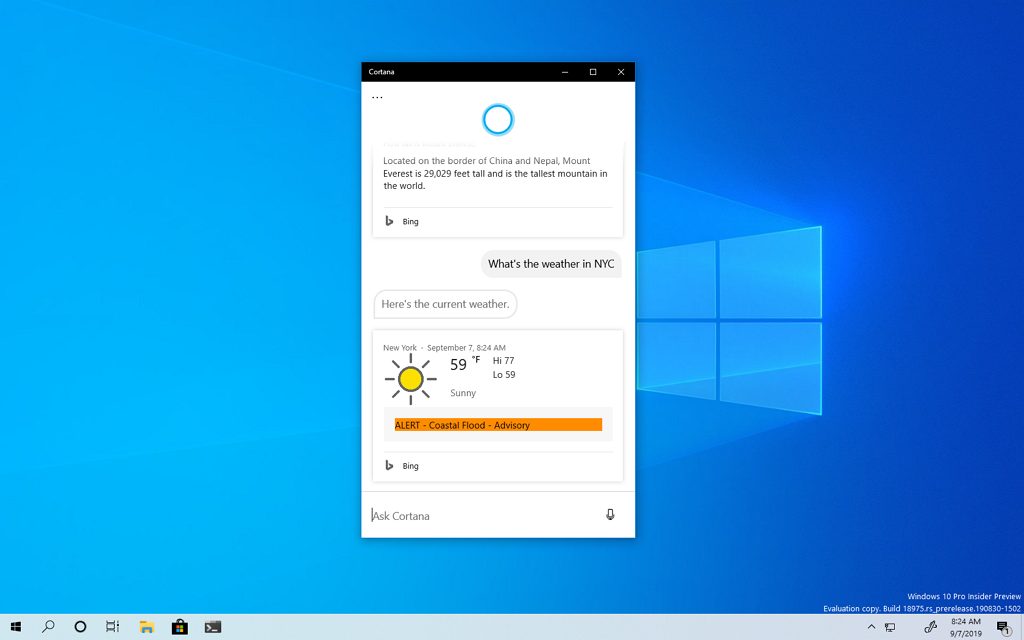 As a result of this change, you'll no longer find references of Cortana in the homepage of the Settings app.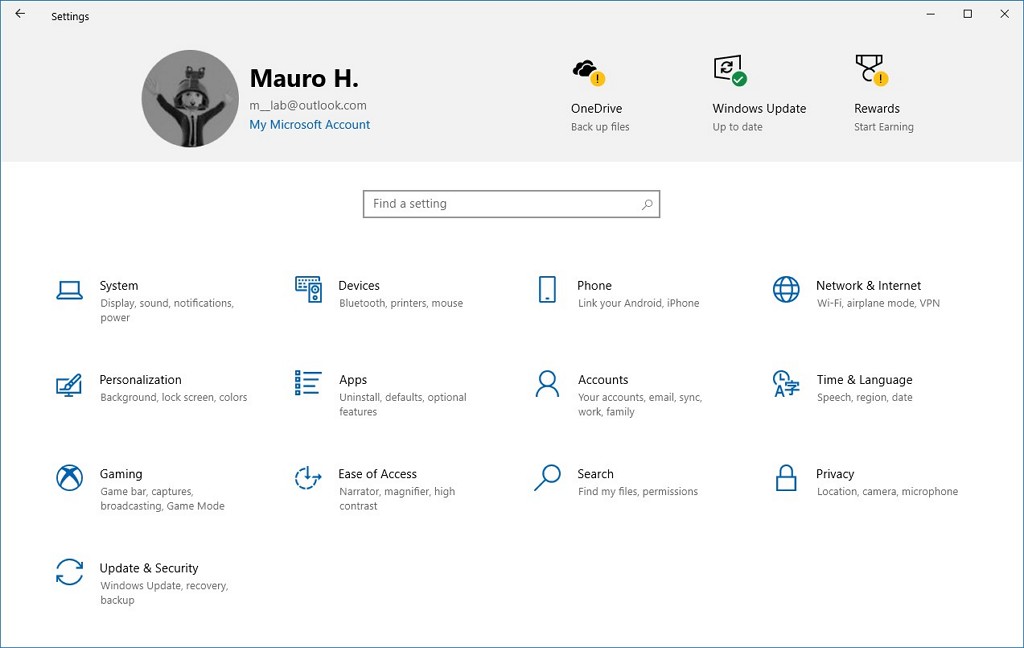 Or the "Speech" settings page.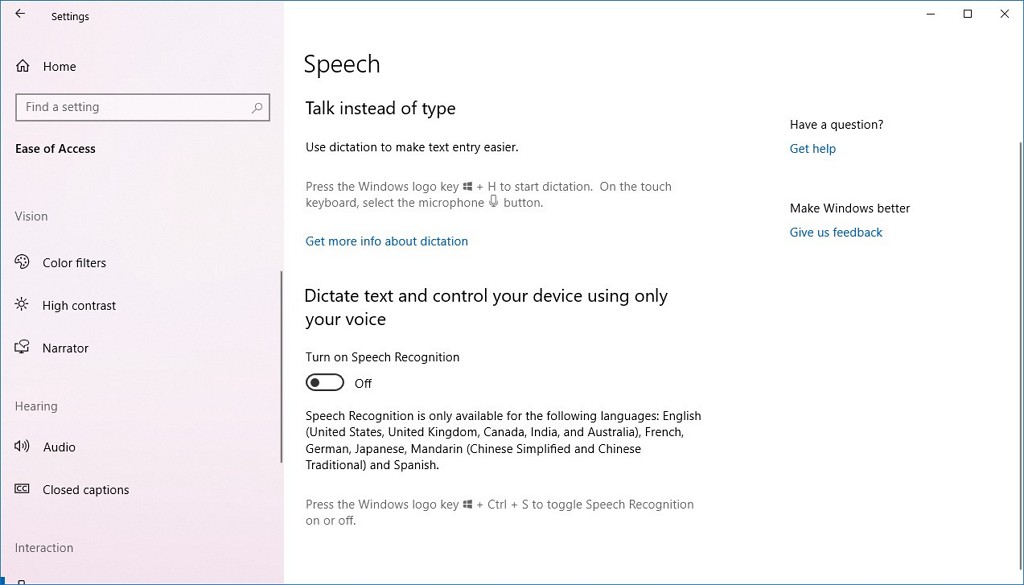 File Explorer
Starting with Windows 10 version 2004, the search box in File Explorer is now controlled by Windows Search. This also means that the search box in File Explorer will integrate with OneDrive content online, just like when using search from the taskbar.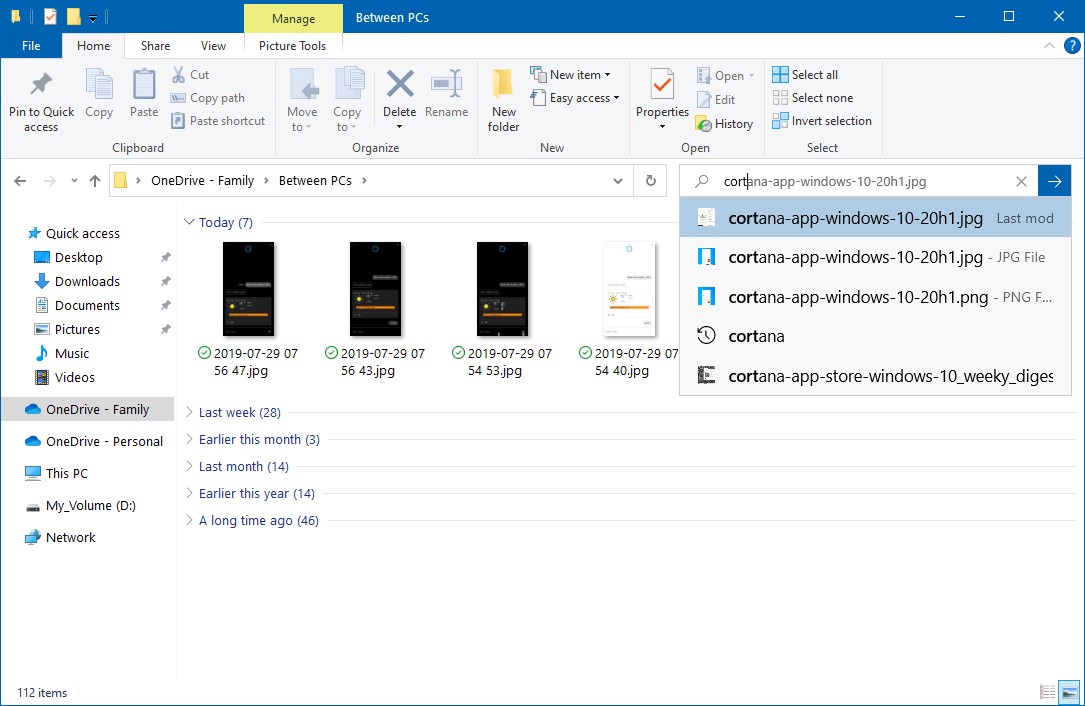 The File Explorer app has been updated with a drop-down list with your search history when you click the search box (or when using the CTRL + E shortcut to set focus to it), and the search experience has been updated to be dark when using the dark system mode.
In addition, starting with Windows 10 build 18956, when right-clicking a folder, you'll no longer see the Homegroup options within the "Give access to" submenu.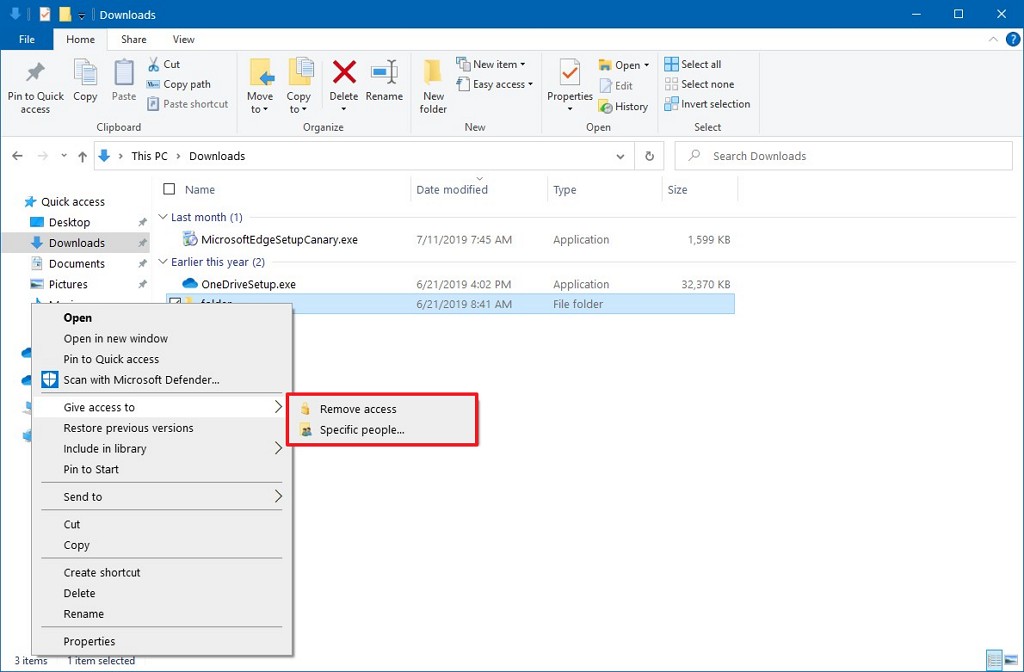 As for changes in File Explorer, Windows 10 version 2004, updates the context menu logic, so when you right-click on a .HEIC image file, you'll now have the option to "Print" or "Set as Desktop Background," as you can with other image file types.
Task Manager
In this update, you'll even find an updated Task Manager "Performance" tab, which now shows the drive type (for example, SSD), which should come in handy on devices with multiple hard drives.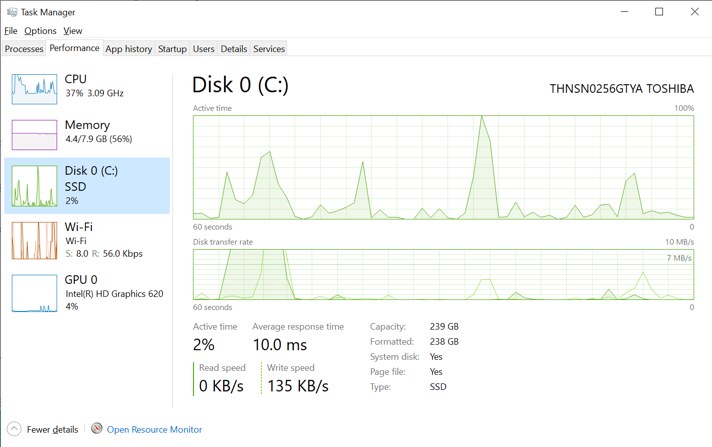 The "Performance" tab in Task Manager now adds support to monitor temperature on dedicated graphics cards.

Microsoft has updated the "Details" tab of Task Manager, and now when you right-click a process, a Provide Feedback will now be listed after End Task and End Process Tree (rather than between).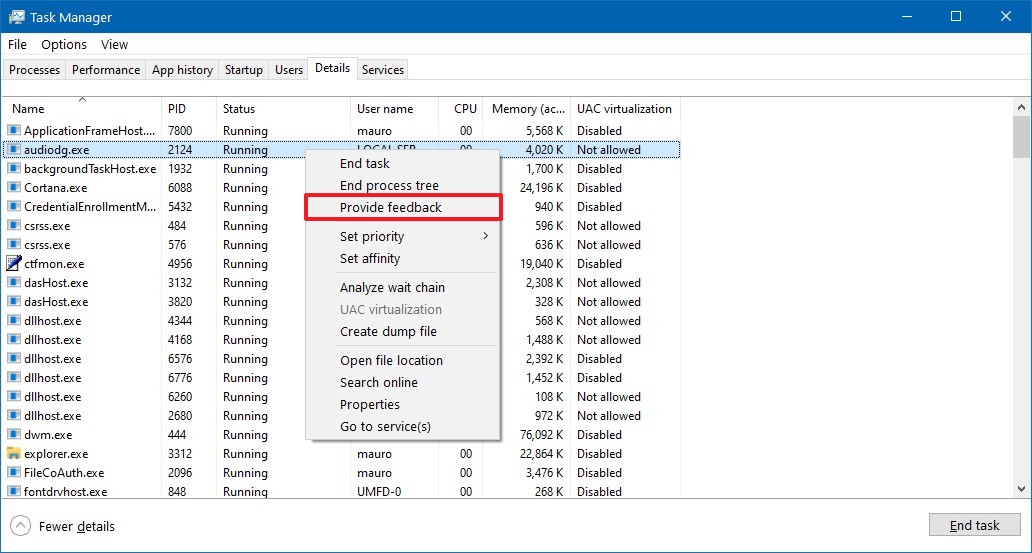 Action center and Notifications
Windows 10 May 2020 Update also includes new refinements for the notification settings. For example, now notification toasts include an inline option to turn off notifications for that app or open the app's notification settings.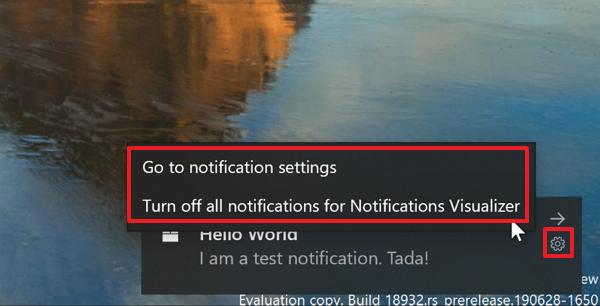 A new direct link has been added at the top of the Action Center to manage notifications. (In order to accommodate this change, Windows 10 moved the "no notifications" text down to the middle of the Action Center.)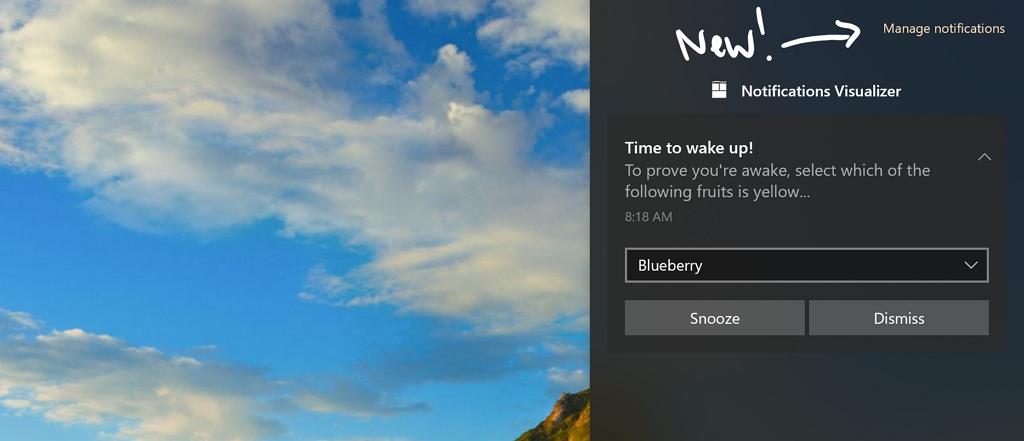 Windows Ink Workspace
In addition, this new 20H1 update, when opening the Windows Ink Workspace, you'll notice a new interface, which is significantly smaller, and Windows 10 is now converging the whiteboarding experiences with a new direct link to the Microsoft Whiteboard app.

Also, users without a first party backup solution will now see a friendly reminder to consider setting up a backup option that is included with Windows 10. (If you'd prefer to turn this off, there is an option in the notification.)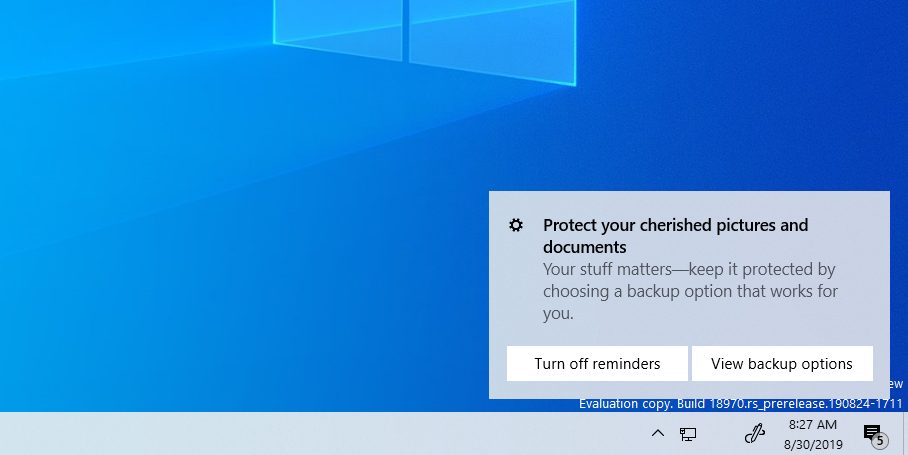 What's new with Settings experience on Windows 10 May 2020 Update
In addition to new features and change, Windows 10 version 2004 is also adding improvements to the Settings experience, including a updated header in the homepage, which instead of showing status and connected services, after a feature update, it'll display a "Get even more out of Windows" message with an option to set up OneDrive, link your phone, enable Timeline, and more.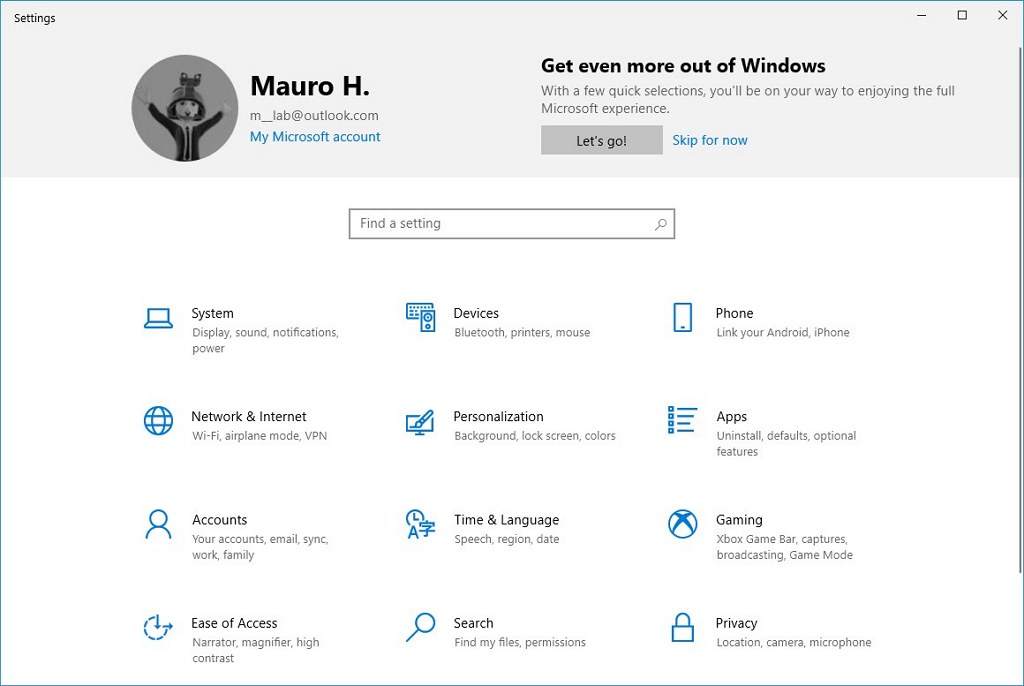 This is the wizard to finish setting up Windows 10 when you click the Let's go button.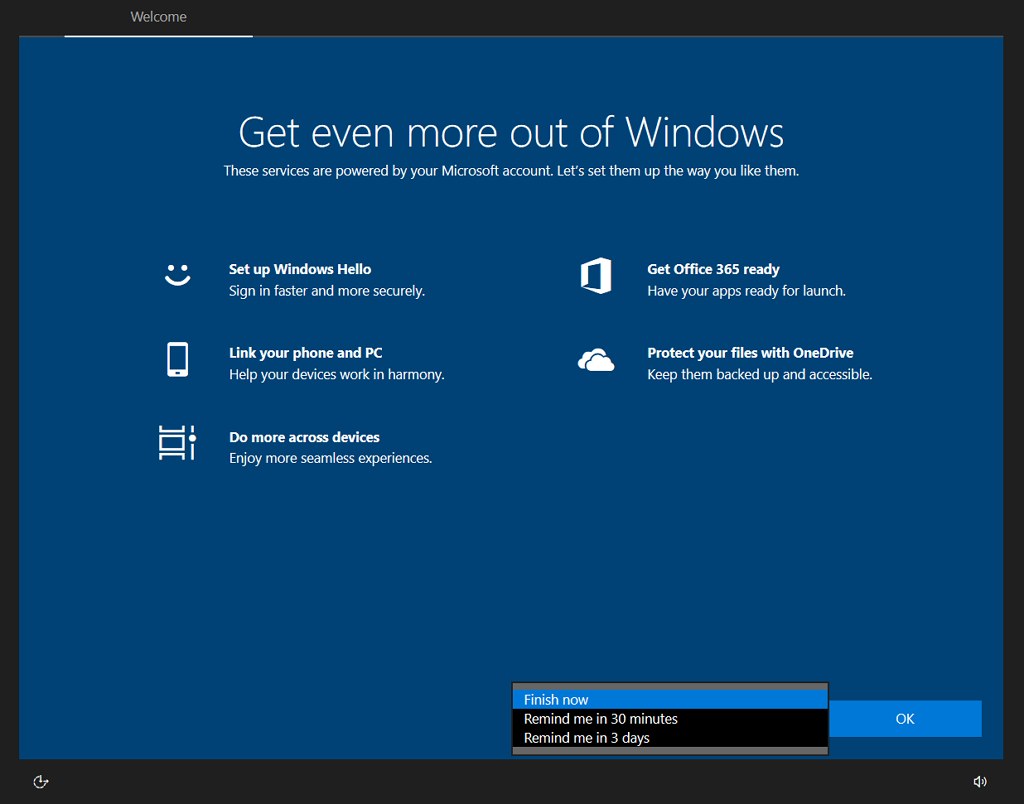 Sounds
Starting with version 2004, the App Volume and devices preferences in the Settings app is getting interface tweaks to make the experience a little more usable.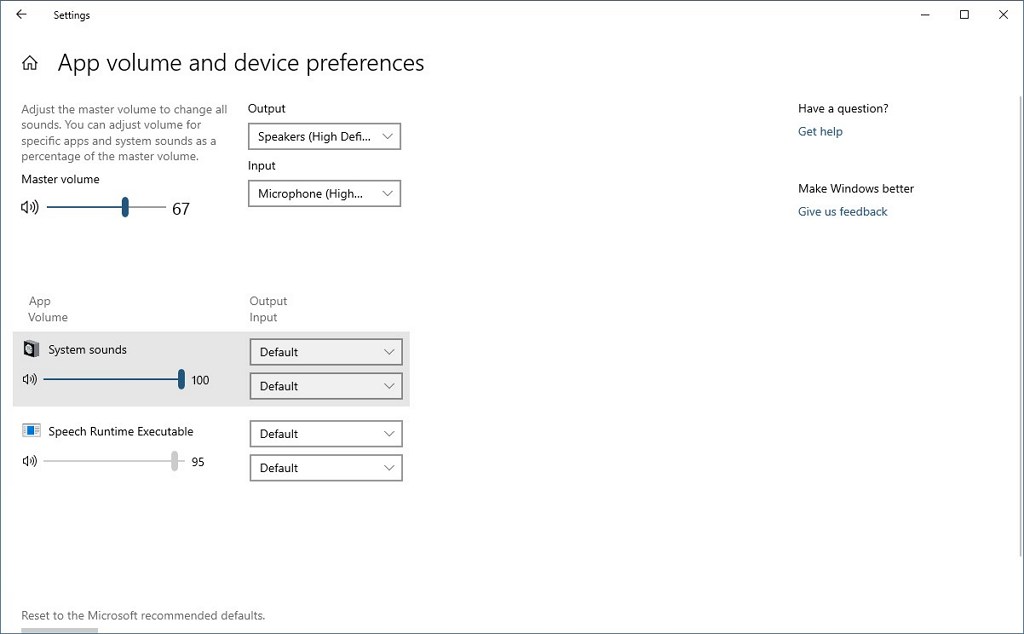 Notifications & actions
In the Notifications & actions page, Windows 10 is adding some new changes, including an option to mute all notifications and an option to disable the post upgrade setup page under the "Notifications" section. Also, you can now sort the list by which apps most recently sent notifications to quickly find the apps and change its settings.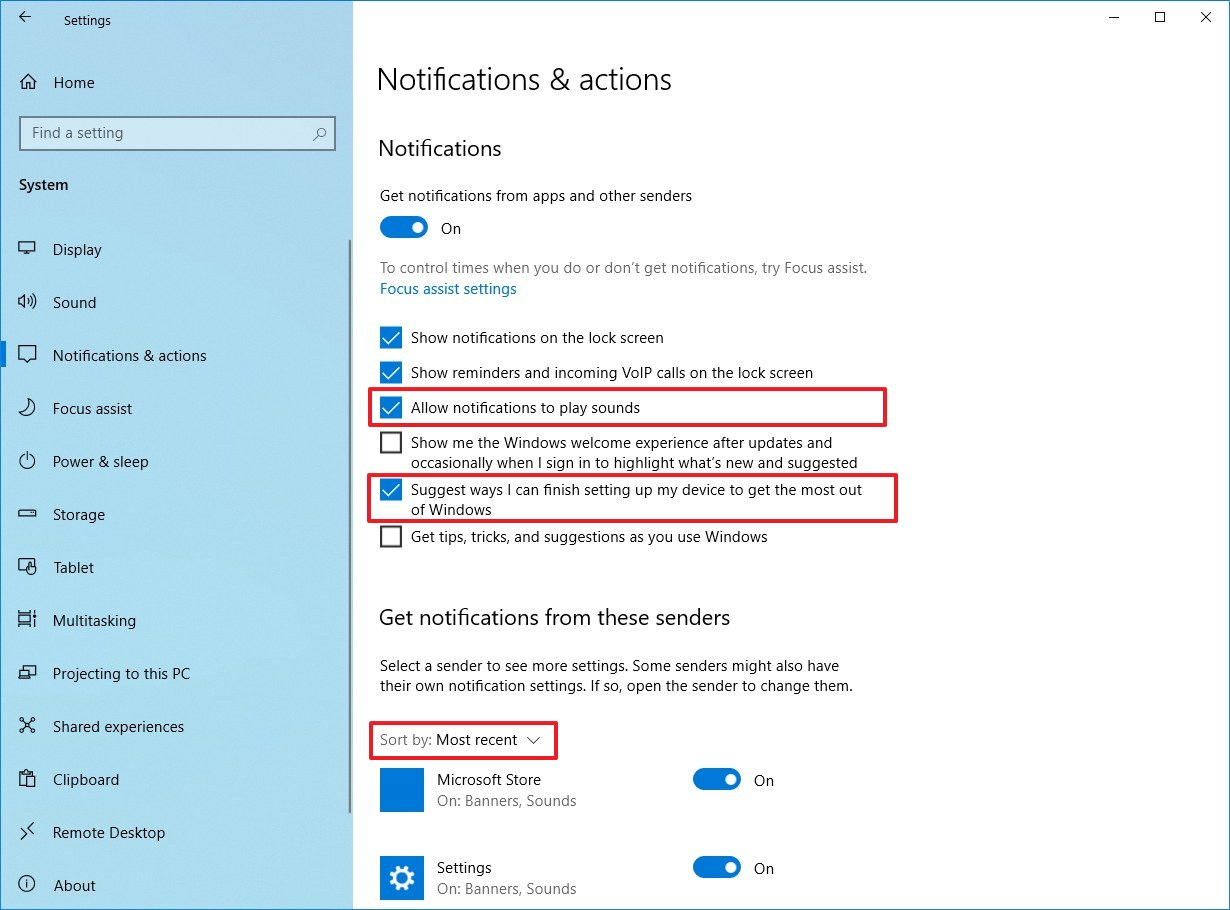 Storage
The Storage page isn't getting significant improvements, but now under the "More storage" settings section, you'll find a new option to access the backup settings page.
Mouse
In this new version, the Mouse page has been updated to include an option to change the cursor speed without the need to use Control Panel.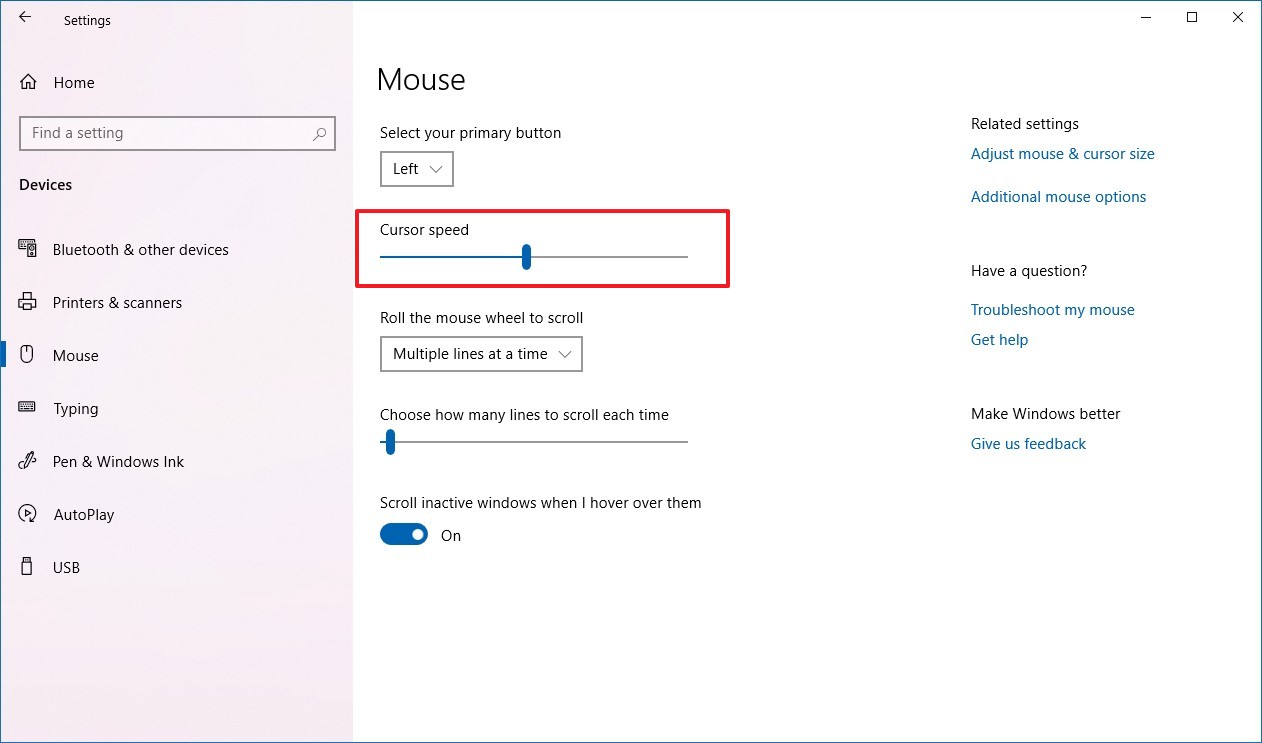 Pen & Windows Ink
In the Pen & Windows Ink page there's a lot of new changes, but you'll now find an option to disable app suggestions when using the Windows Ink Workspace experience.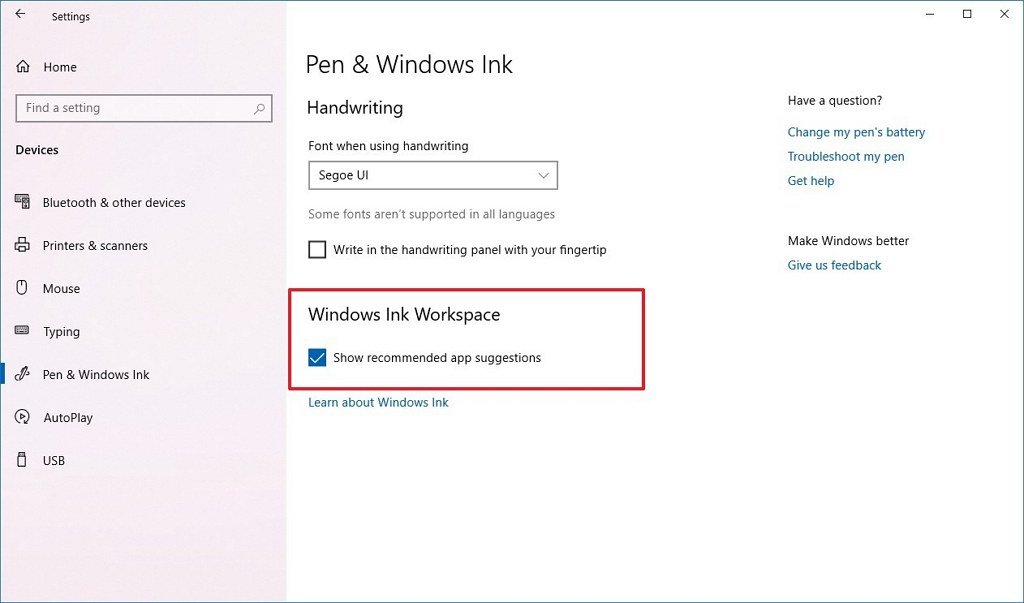 Optional Features
In addition, this Windows 10 May 2020 Update is adding changes to make the Optional Features settings more usable, including the ability to select and install multiple optional features at the same time.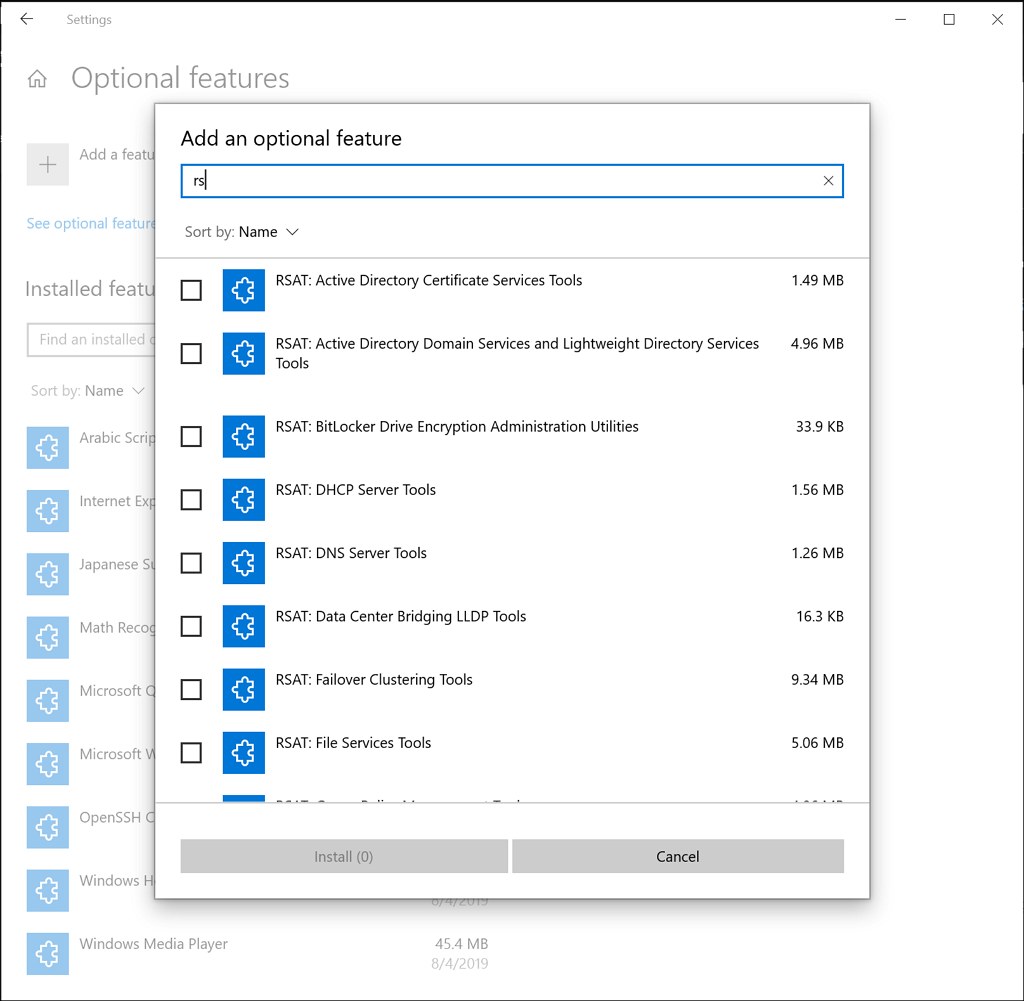 You can now search through lists of optional features and sort them by Name, Size, and Install date. Also, it's possible to see the install date for each optional feature in your "Installed features" list. Microsoft also added feature dependencies to the description of each optional feature in the list of features available for install.
You can now view the status of your latest installs, uninstalls, and cancels right on the main page in the "Latest actions" section, and it's now possible to add optional features and view your history via pop-up dialogues.
Sign-in options
In the Sign-in options page now separates the ability to restart apps automatically on reboot from the "Use my sign-in info to automatically finish setting up my device" option under "Sign-in options" in accounts settings. This change means that moving forward, you'll now be able to control whether registered apps can launch automatically after a restart using the new Restart apps setting.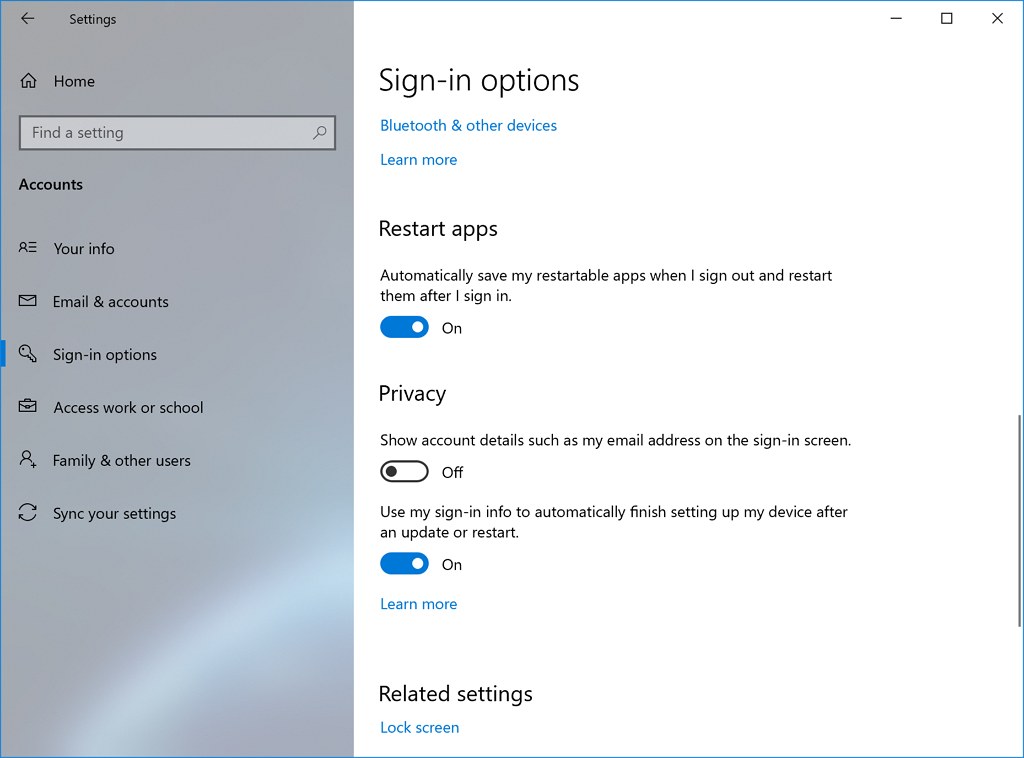 Also, the feature has been updated so that when enabled the majority of the Microsoft Store apps will restart automatically as well.
Status
The Status page is getting an update with a new view of active connections and quick access to change settings. (If you have multiple connections, only the one connected to the internet will be shown in the "Status" diagram at the top of the page.)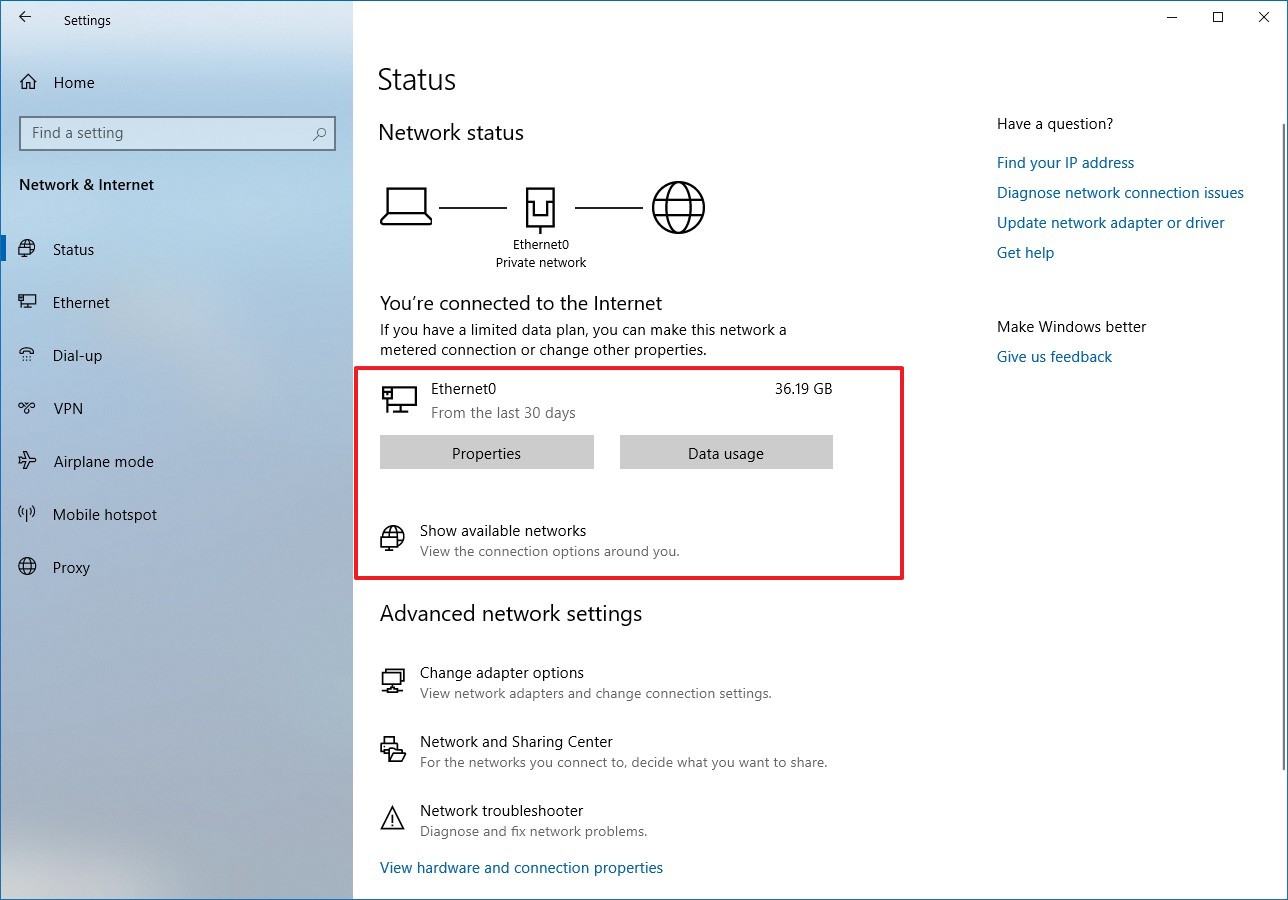 In addition, you can now see how much data is being used by a network right from the "Status" page. If it looks like you're using a lot of data, you can access the "Data Usage page" to create a limit for that network, which will warn you if you get close or go over your limit. You can also see how much data each app is using on that network.
Furthermore, the Show available networks option now appears a button with icon and description, and you can no longer access the Control Panel's Networking and Sharing Center from this page.
Data usage
Starting with the 20H1 development, Windows 10 is removing the Data usage tab from the main "Network & Internet" listing. However, the settings are not gone, they're still accessible on a per-connection basis in the "Status" page.
Sign-in options
In the Sign-in options settings page, Windows 10 is introducing a new Make your device passwordless option, which when enabled will switch your Microsoft accounts (those configured on your device) to modern authentication with Windows Hello Face, Fingerprint, or PIN. (This option will remove the password option from the "Sign-in" page and across the OS.)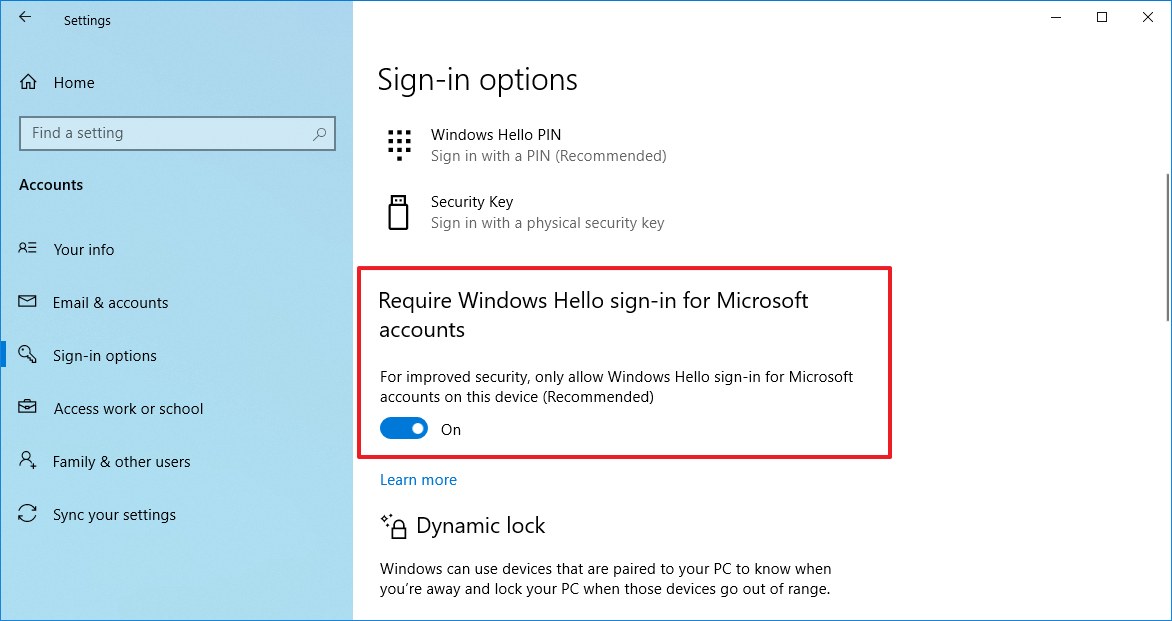 Language
Starting with this new version, the Language settings page is getting revamped to make it easier to understand your current settings.
In the page, you'll now see an overview section lets you quickly know which languages are configured as default for their "Windows display," "Apps & websites," "Regional format," "Keyboard," and "Speech."
Furthermore, each icon is actionable, which means that if something doesn't look correct, you can click the settings to change it.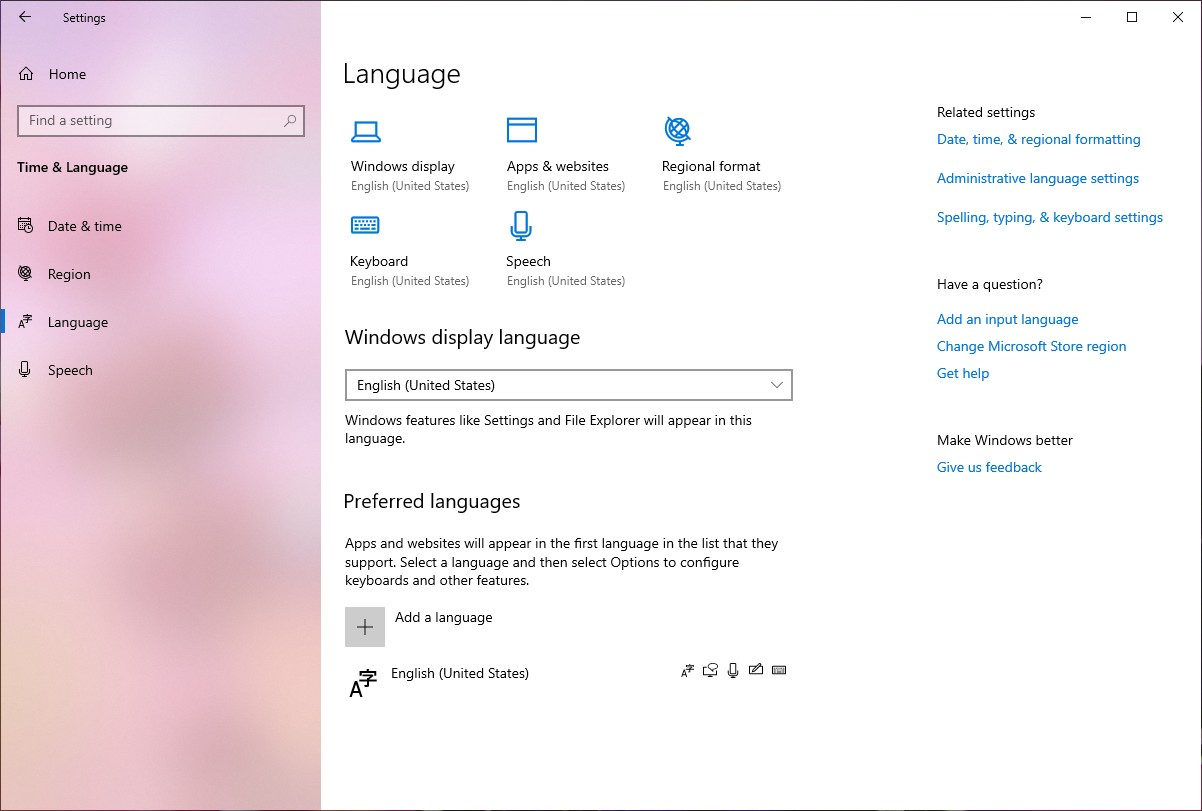 Also, when installing a new language, you'll notice that features are a bit clear to understand, and you can hover over each feature to get a tooltip that will appear with a description.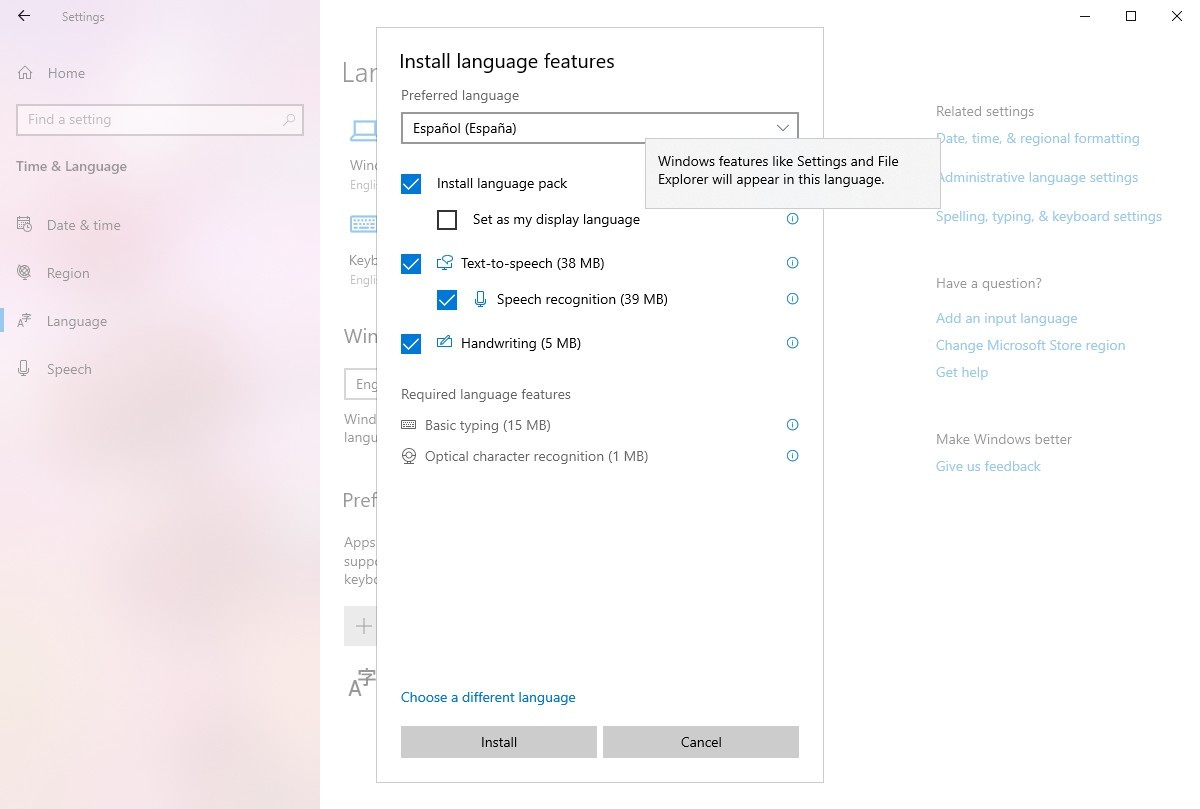 Narrator
Alongside many tweaks and improvements, the Narrator page is also getting updated with new settings to change how to capitalize the text is read. The new options include, "Don't announce," "Increase pitch," and "Say cap." Under the "Change what your hear when reading and interacting" section, you'll also find an option to allow experimental features using Outlook.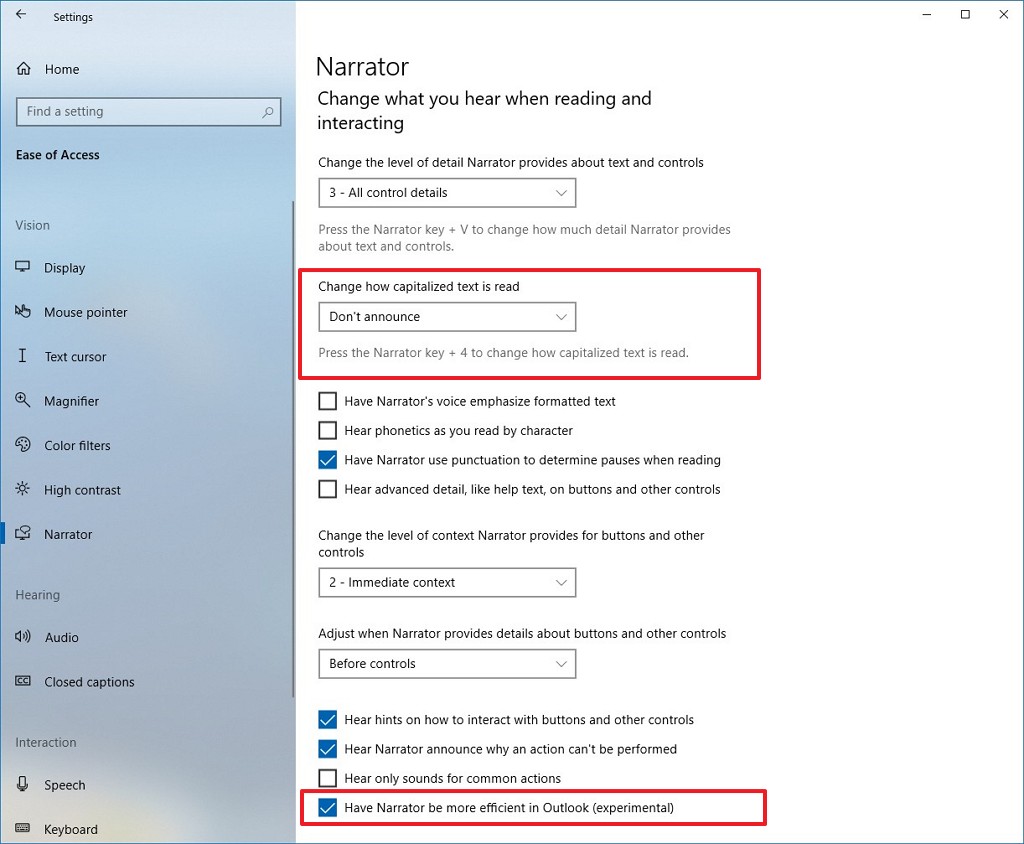 In addition, at the bottom of the page, there's a new "Get image descriptions, page titles, and popular links" section that allows to decide whether to get information about images and links using the Narrator + Ctrl + D keyboard shortcut, or the Page summary using the Narrator + S shortcut on web pages.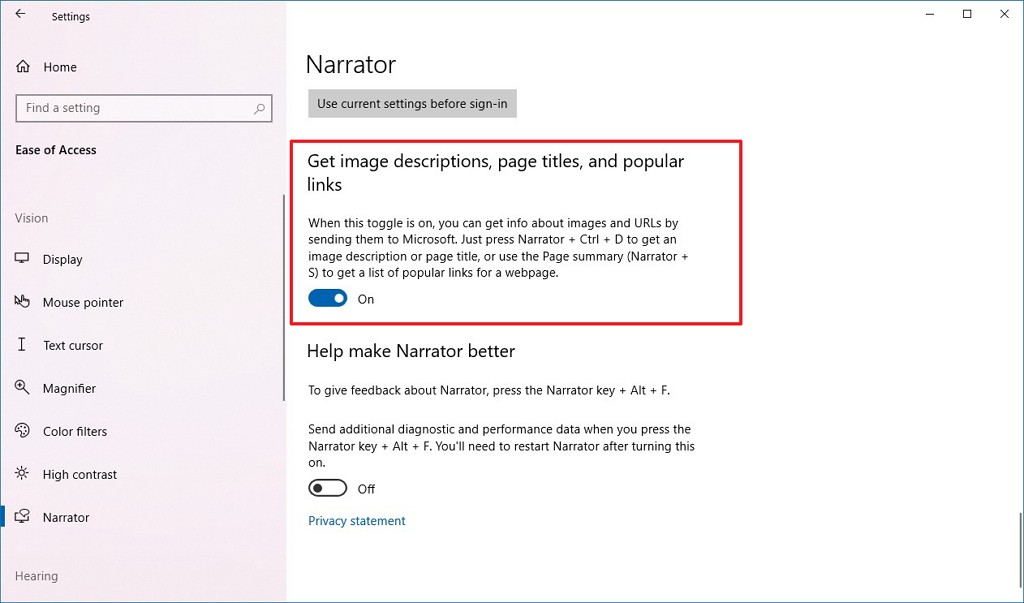 Text cursor
Beginning with Windows 10 May 2020 Update, the Narrator page now includes a new new Text cursor indicator will help you see and find the text cursor wherever you are at any time. (Select from a range of sizes for the text cursor indicator and make it a color easy for you to see.)
You can enable the new feature, in the new Text cursor page, in the "Ease of Access" settings, and turning on the text cursor indicator.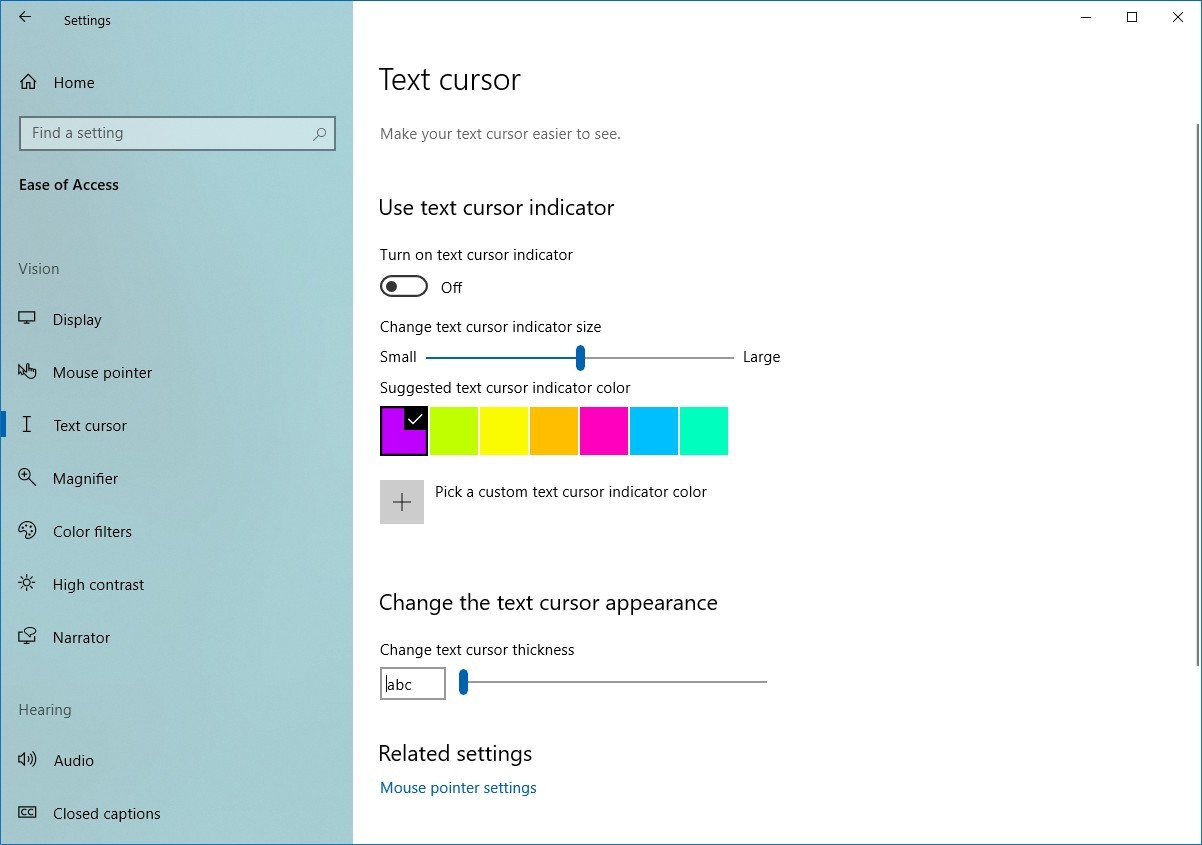 Also, as a result of these new changes, the Cursor & pointer page has now been renamed to Mouse pointer.
Magnifier 
The Magnifier page no longer includes "Collapse Magnifier window to a floating transparent magnifying" option.
The page includes a new "Keep the mouse pointer" menu to keep the text cursor in the center of the screen making it easier and smoother to type.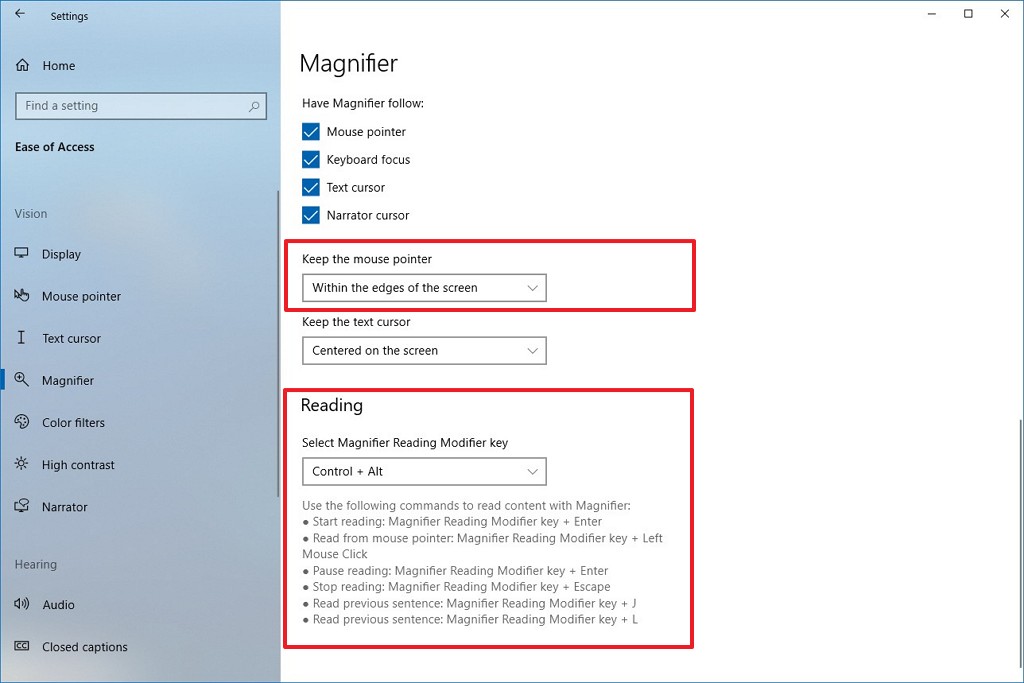 In addition, there's a new "Reading" section to adjust the Magnifier Reading Modifier key behavior. Options include "Control + Alt," "Caps Lock," "Insert," and "Caps Lock or Insert."
As part of the Magnifier interface changes, the experience includes three new ways to start reading, including "Play," "Selected text," and "Read from here." This new version includes dark theme support has been added in addition to text sizing options.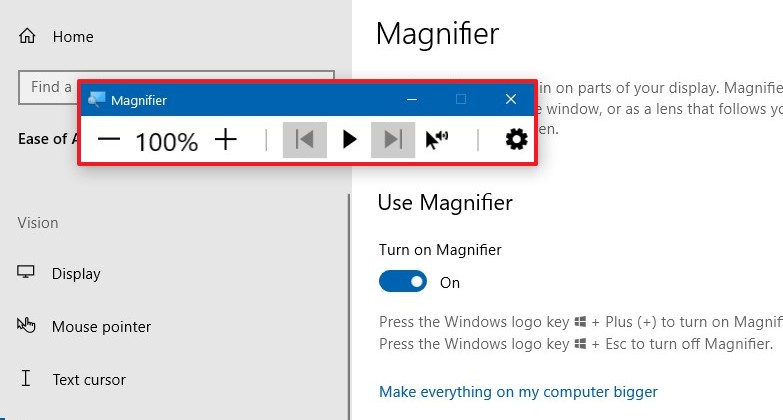 The option to change Magnifier UI to a magnifying glass and be in the viewport has been removed, and Magnifier reading now supports reading in more places.
The Magnifier makes the "Read from here" feature easier to understand, and there are improvements on legibility when reading highlighting rectangle. In addition, Windows 10 improves reading while in Lens mode, and the text cursor shapes more legible and aesthetic.
Also, Magnifier changes, the feature now remembers its window position after close and will reopen in that same location next time.
Diagnostics & feedback
The Diagnostics & feedback page doesn't include new settings, but starting with Windows 10 version 2004, the page no longer includes "Recommended troubleshooting" settings.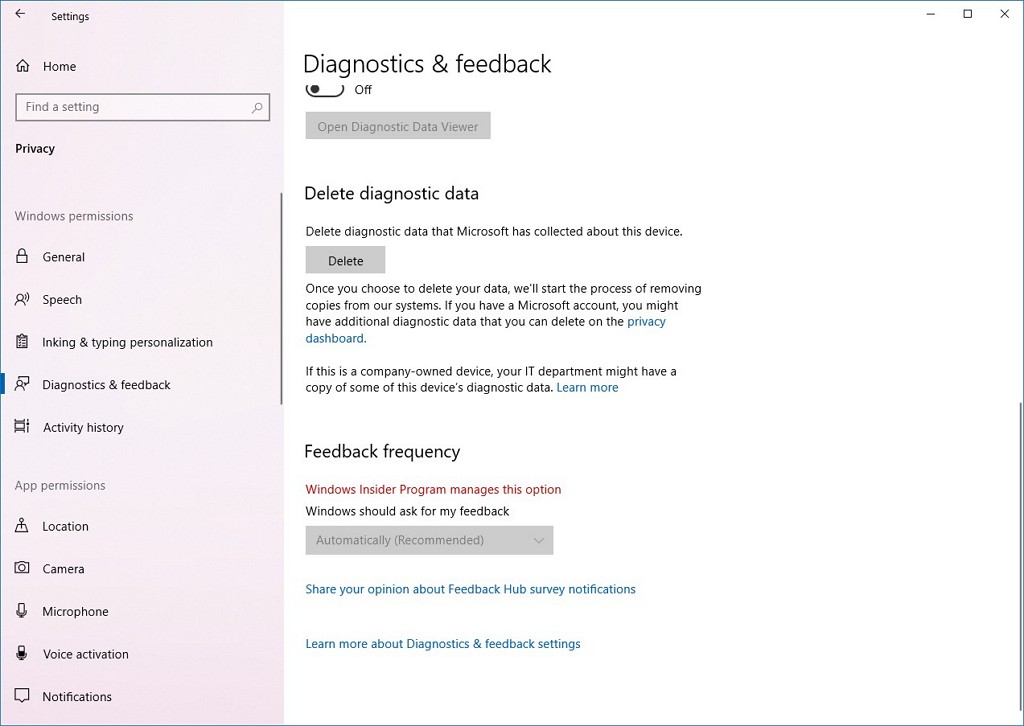 Delivery Optimization
After installing the 20H1 update, you'll also notice that the Delivery Optimization settings page now includes new settings to throttle the bandwidth as an absolute value. You can set this separately for Foreground downloads or background downloads.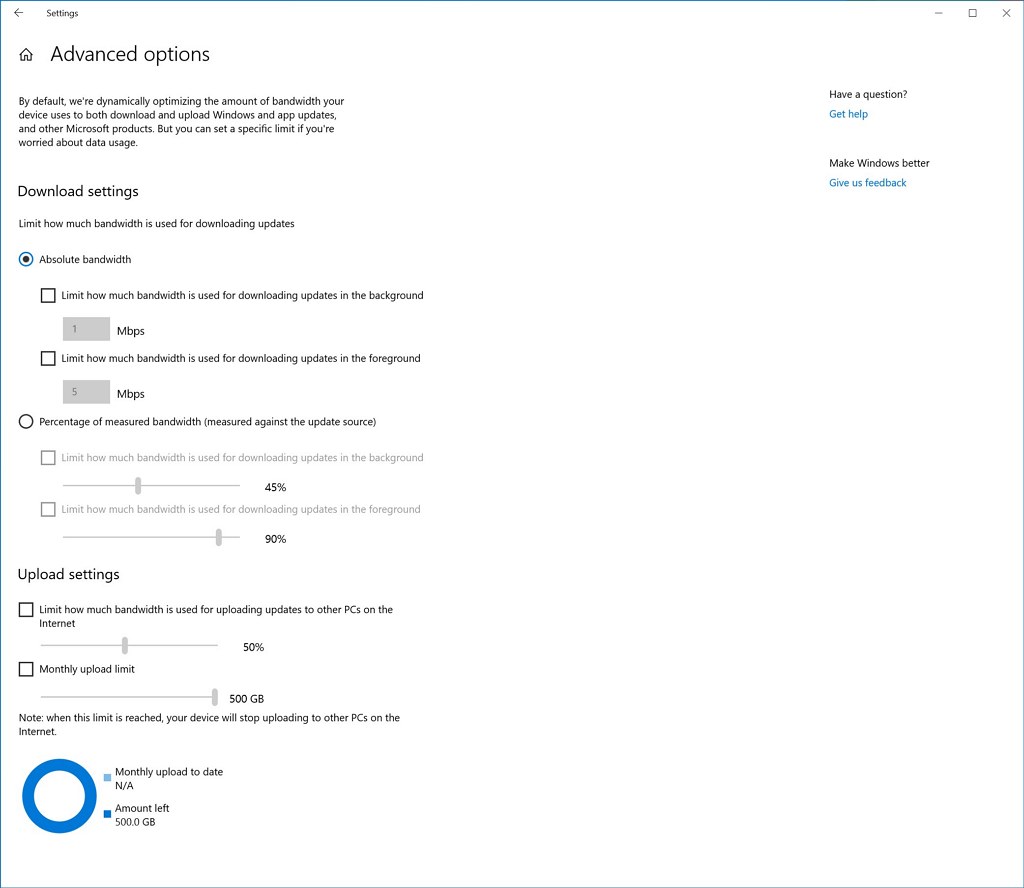 Backup
The Backup settings also receives some minor tweaks to include a reference to backup your files on the Desktop, Documents, and Pictures to cloud using OneDrive.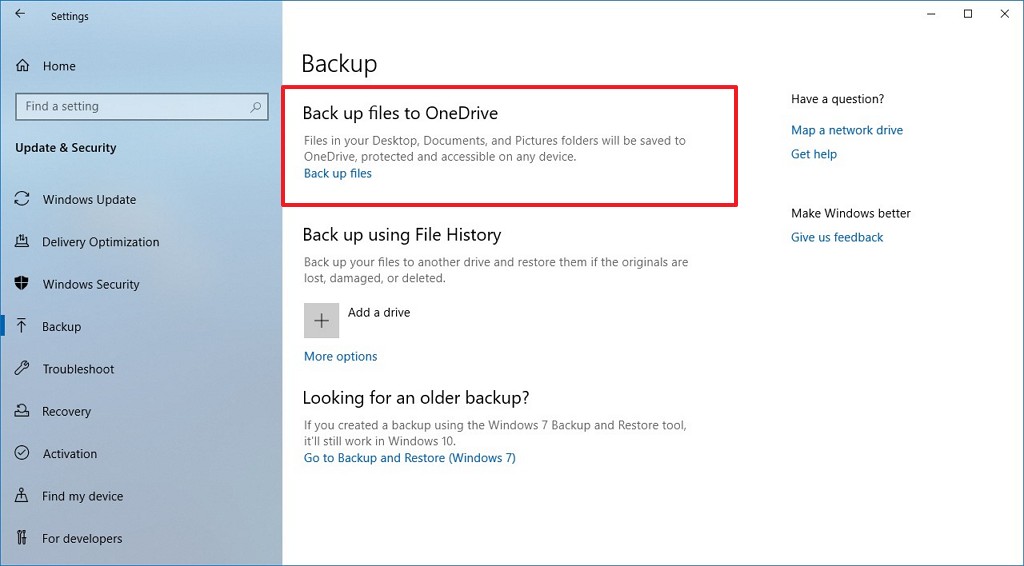 Troubleshoot
In the Troubleshoot page, you will no longer find a list of troubleshooters that you can use to fix Windows 10.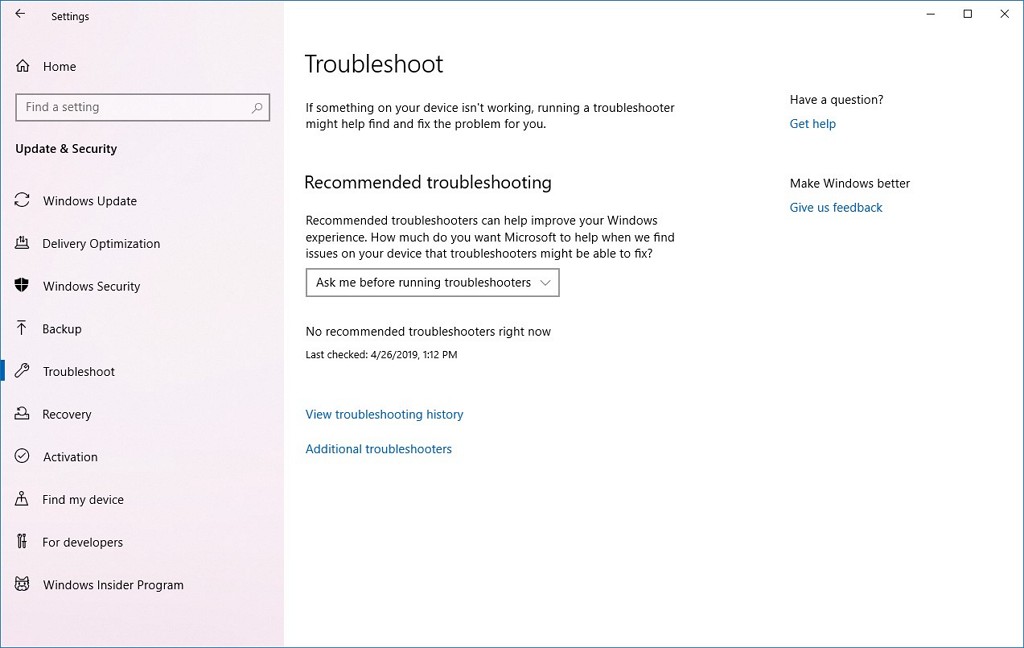 However, they haven't been removed, they just been moved to a separate page (Additional troubleshooters).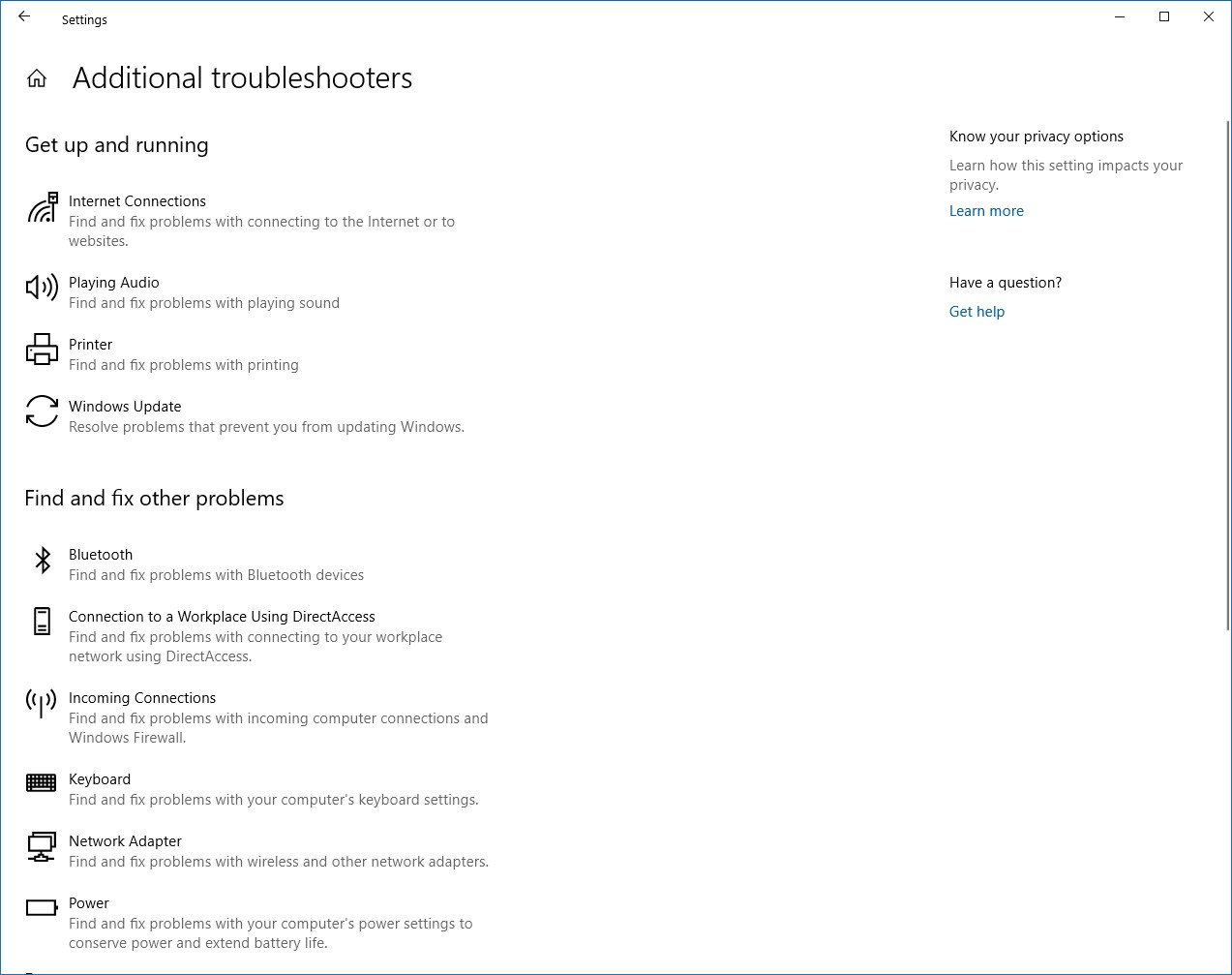 Recovery
In the Recovery page, the "Reset this PC" feature has been updated with a new "Cloud Download" feature that allows you to download a fresh copy of Windows 10 directly from the Microsoft servers, instead of using the file locally available on your device.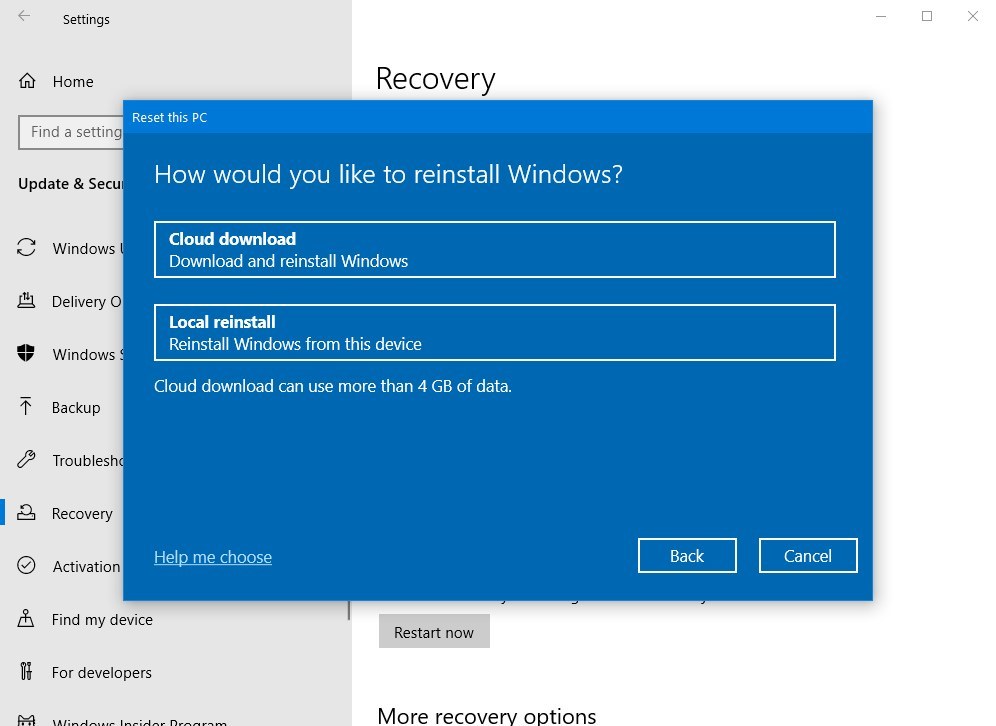 The "Cloud Download" option will reinstall the same build, version, and edition, that is currently installed on your device. Also, when selecting the new option, it'll remove all the apps already installed on your computer. Furthermore, if the "Remove everything" option is selected, user data will also be deleted.
If you prefer not to re-download the files from the cloud, you can still select the "Local reinstall" option, which will create a recovery build to reinstall Windows 10 using the files on your machine.
Narrator
The 20H1 update for Windows 10 also introduces Narrator improvements, including:
The efficiency when reading tables has been improved. Only the deltas are read when navigating. Entering and exiting tables is also less verbose.
The new Narrator + S command in Narrator give a webpage summary.
Ability to read the header data first, followed by the cell data, followed by the row and column position for that particular cell. In addition, it only reads the headers when the headers have changed allowing you to focus on the content of the cell.
Search mode will now reset scoping to all elements each time it is opened.
Ability to automatically start reading web pages and emails (Mail and Outlook). When the feature detects a webpage or email, it'll start reading from the top of the page and not at the main landmark with a fallback to find a paragraph. Using the Outlook app, Narrator will mark the status of each email (for example, unread and forwarded messages), columns (such as from and subject), and irrelevant information will be skipped. To enable the the ability to read headers, you can use the Narrator + H shortcut.
Scan mode now enables automatically when opening message letting you to access the shortcuts and use the arrow keys to read the text.
The experience now supports the aria-haspopup property.
You can turn off Narrator input learning using using Narrator + 1 command.
When the importance column is read the "importance" header is always spoken before the high or low. If a message has been flagged that column's information will be spoken immediately after the importance column instead of at the end.
Narrator is now presenting "flash messages" on a configured braille display as expected for reading the window title and when presenting suggested content.
Narrator is now presenting cell contents on a configured braille display as expected when navigating a table.
The automatic dialog reading experience has been improved.
Table navigation hotkeys are now allowed when entering a list view to allow one to navigate across columns.
The Page Summary dialog by allowing tab and shift-tab to loop around the dialog controls has been improved.
The experience will no longer announce notifications from non-focused Chrome webpages.
The feature now announces the current value of the "thumb" in legacy color picker controls.
Narrator is now presenting links and play buttons correctly in iTunes.
Windows 10 improves the Narrator reading experience in Chrome and Firefox.
Certain pages could cause Narrator to loop back up to previous content.
Narrator is now updating an attached braille display correctly when some XAML controls are expanded.
The design of the icon glyph was large and blurry has been adjusted.
Narrator improves the reading of email when objects such as images are embedded in the message.
Group header contextual elements in Narrator braille are now represented with a "grp" abbreviation instead of "group."
Narrator no longer announces changes in fonts when they have not changed.
Autocorrect sound is now more consistent with the editing experience.
Narrator in Outlook and Mail
As you read your emails in Outlook, such as the inbox, Narrator now reads the information more efficiently. Each line item now starts with the status of the email, such as unread and forwarded, followed by the other columns, such as from or subject. Column headers will be silenced and columns with no data or that have the default (expected value) will be silenced, such as normal importance or unflagged. While in Outlook, headers can be turned back on by pressing Narrator + H which will toggle their reading on and off.
In this new version, Windows 10 is also improving Narrator to offer a more efficient reading experience when reading messages in Outlook or the Mail app.
When you open the message, Scan Mode will turn on automatically. This allows you to use your arrow keys to read the message in addition to all other Scan Mode hotkeys to jump through the text of the message.
Also, Narrator now removes the unnecessary information about the table to allow you to quickly move through the text contained in the message.
Eye Control
Starting with Windows 10 May 2020 Update, Eye Control (the feature that helps users with disability to control their device with their eyes) introduces several new features:
Drag-and-drop
You can now perform drag-and-drop with Eye Control. When the feature is enabled from the settings screen, the precise mouse control tool now allows mouse drag operations, as well as the ability to combine clicks and drags with Shift and Ctrl modifier keys.
Pause
Selecting the pause button now hides the launchpad. When dismissed, the launchpad reappears when you briefly close your eyes or look away from the screen. Also, it allows eye gaze enabled applications to be used without triggering Eye Control features.
Switch support
Using the dwell method now allows to perform a switch method. In this method, dwell is used to select the target, but clicking a button is done with switch. Currently switches on joysticks, or devices emulating joysticks, are supported.
System
Developers can now create custom gaze enabled applications using the open source Gaze Interaction Library in the Windows Community Toolkit.
Settings
Eye Control settings page has been updated. Some of the changes include enabling some of the new features and more fine control of the numeric values that change how responsive the system is to eye movements.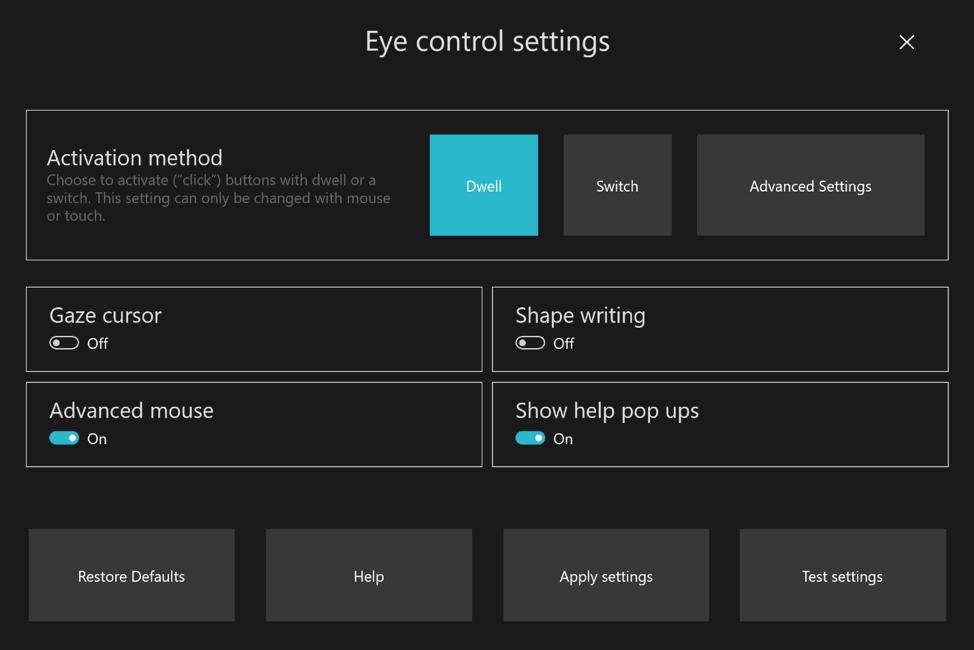 What's new with input experience on Windows 10 May 2020 Update
SwiftKey
Microsoft SwiftKey technology that gives you more accurate autocorrections and predictions by learning your writing behavior using the touch and hardware keyboard is expanding to 39 additional languages.
Dictation
Microsoft dictation technology is expanding to 12 additional languages.
Japanese IME improvements
If you write in Japanese, Windows 10 version 2004 ships with an updated IME experience, which is more secure, more stable, and improves game compatibility.
In addition, Microsoft updated the default assigned value of Ctrl + Space to be "None," and Ctrl + Space can still be used for toggling IME on and off by changing the value through its setting.
In the case that you type in Chinese, the operating system introduces new versions of the Chinese Simplified IMEs (Pinyin and Wubi), as well as the Chinese Traditional IMEs (Bopomofo, ChangJie and Quick).
Microsoft has improved the security and reliability of the experience. Starting with the 20H1 update, you'll also notice a cleaner interface for the candidate window and settings pages. (The new settings of the Microsoft Input Method Editors are available within the Settings app.)
Also, Windows 10 updates the Chinese Pinyin IME settings to now refer to "Default" mode, rather than Input mode. In addition, Microsoft updated the Chinese Pinyin IME toolbar to now be light when using light theme and the upgrade logic will preserve your scheduled defragmentation settings.
Korean IME improvements
If you type in Korean, there's an updated version of IME that's more secure, reliable, and includes an improved design. The updated experience also improved the algorithm used for text prediction when writing Korean using the touch keyboard. Text suggestions should now be more accurate and relevant when writing.
In addition, the Ctrl + Space keyboard shortcut now is set to "None." In the case that you need to use the shortcut for toggling the Input Method Editor on or off, you'll need to adjust the settings inside the Key & touch customization page.
Chinese IME improvements
If you use Windows 10 in Chinese, version 2004 improves the speed of toggling conversion mode (中 mode and 英 mode).
You can now disable the Shift + Space keyboard shortcut right-clicking the 中/英 icon in the taskbar and going to Settings > General  and disabling the Use Shift + Space to switch character width option.
Also, you now get the ability to change the candidate font size, separate from the rest of the system if you find that you need it to be a bit bigger from the General settings page.
What's new with system experience on Windows 10 May 2020 Update
The out-of-box experience (OOBE) now includes a lock icon for private networks.
Windows Subsystem for Linux 2
Starting with version 2004, Windows 10 ships with Windows Subsystem for Linux 2, which is a new version of the feature that runs ELF64 Linux binaries.
This new architecture uses a real Linux kernel, and as a result it changes the way that Linux binaries interact with Windows 10 and the hardware while maintaining the same experience like in the previous version.
Microsoft says that this new version delivers a much faster file system performance and full system call compatibility, which lets you run more applications like Docker.
In this new version, you will also be able to connect Windows Subsystem for Linux version 2 networking applications using localhost.
WSL now includes new global configuration options that you can apply to each distro. This also allows you to specify options that relate to the WSL 2 virtual machine (VM), as all your WSL 2 distros run inside of the same VM. Perhaps the most significant option that you're getting is the ability to specify a custom Linux kernel.
You can learn more about WSL version 2 in this Microsoft website.
Searching Windows
In this new version, to improve system performance while compiling and syncing large code bases in the default indexed location, Windows 10 is updating the indexing behavior to exclude common developer folders, such as .git, .hg, .svn, .Nuget, and more by default.
Sync settings engine
Starting with this new version, Microsoft begins the upgrade for the settings sync engine to a better and more reliable engine, and as a result, this feature may not work as expected until the changes are fully made in the cloud.
Bluetooth
With this update, you'll be able to pair a Bluetooth device directly from the notification, when the device is detected, without the need to open the Settings app.
In addition, Windows 10 now has an improved interface that shows less notifications making pairing a little faster. The feature now adds a Dismiss button to the first notification to give you more control while using "Swift Pair." And finally, to make the notification more helpful, now Windows 10 show the device name and category when possible.
Network cameras
Windows 10 version 2004 also includes native support for network cameras to make it easier for developers to "build security, safety and machine learning-based video analytics solutions." 
Using this new support, you'll be able discover, pair, configure, and stream TCP/IP-enabled for major ONVIF Profile S compliant camera brands. And as you connect new network cameras to Windows 10, the stream can be easily routed through the existing camera APIs built-in the operating system.
Also, developers building solutions for version 2004 will be able to stream from a given RTSP Uniform Resource Identifier (URI) through the same Windows camera APIs. In addition, with this new support, developers can take advantage of artificial intelligence (AI) services and features to create high performance end-to-end security solutions, including for common surveillance scenarios, such as people detection or face sentiment analysis.
Disk Cleanup
Windows 10 backtracks changes and starting with version 2004, the Disk Cleanup tool will no longer include the option to empty the "Downloads" folder by mistake to free up space on your computer.
Login screen
Starting with this new version, Windows 10 also introduces a new Windows key + Ctrl + Shift + L keyboard shortcut to help you investigate problems with the login screen. You can try this feature by using the shortcut while your device is locked, reproduce the issue, and invoke the shortcut again to produce a reference number that you can share when reporting the problem.
What's new with apps experience on Windows 10 May 2020 Update
Notepad
Starting with version 2004, Notepad introduces the ability to restore unsaved content after installing an update.
In addition, Notepad is now an app updateable from the Microsoft Store, which means that the note taking app will no longer depend on major releases of Windows 10 to get updates.
Snip & Sketch
As part of the improvements for the app to take screenshots on Windows 10, version 2004 introduces single window mode, which opens new snips in the same window, instead of having a window open for each snip when taking multiple screenshots.
You can now zoom in on your screenshots if they're too small for you to annotate on (and CTRL + Plus, CTRL + Minus and Ctrl + Mouse wheel are supported).
In addition, this new version also is improving the discoverability of the Windows + Shift + S shortcut by adding a reference to use the shortcut on the canvas when you open the app.
Feedback Hub
Windows 10 20H1 also ships with an updated version of the Feedback Hub app with a new feature called "Find similar feedback." The new feature looks at your feedback for similar existing feedback as you type.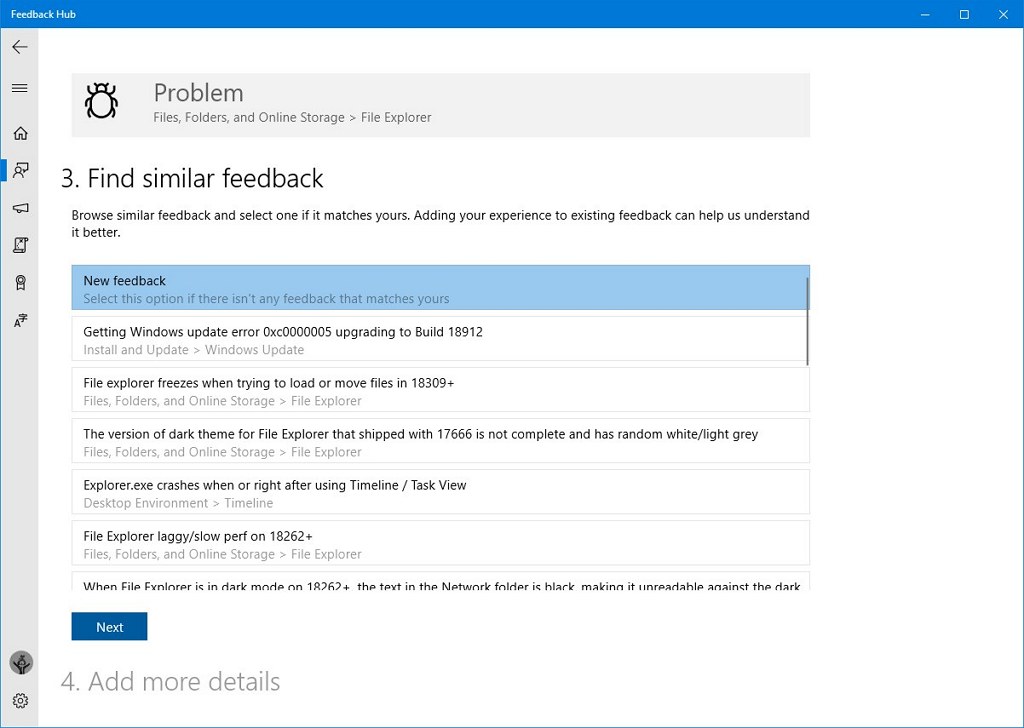 If there's a similar feedback, you can add your comment to existing feedback, or you can create a new one.
Also, in this new version of Windows 10, the app includes an improved search interface that allows you to tell the differences between problems and suggestions more clearly with new icons, color and labels.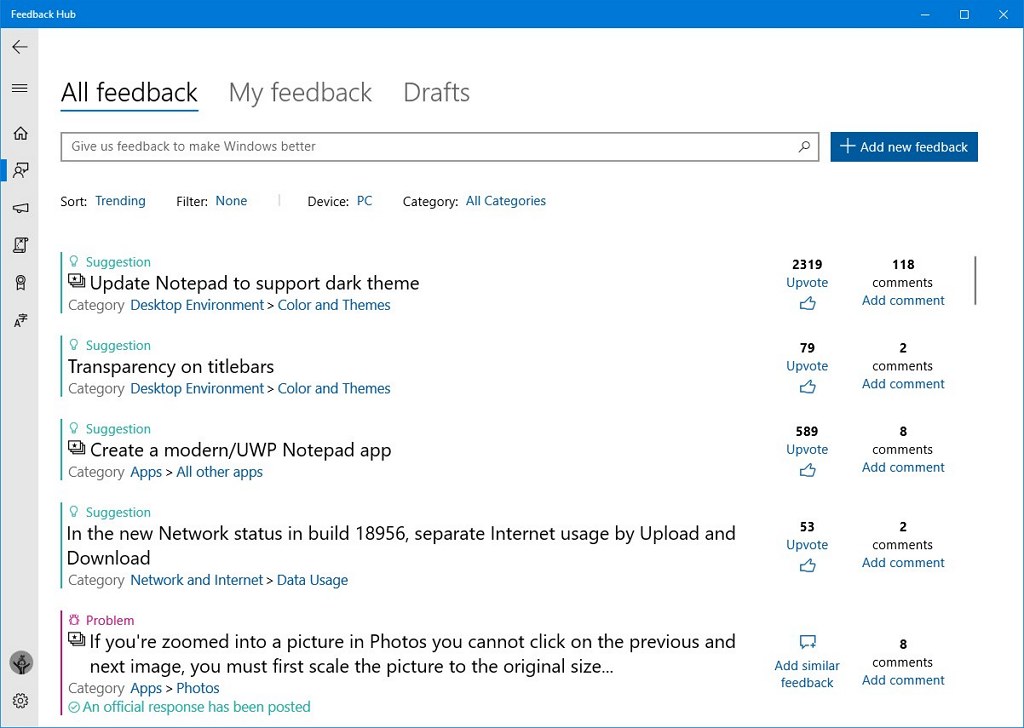 Microsoft is updated iconography and displays for adding similar feedback to problems, upvoting suggestions, and adding comments to feedback.
Furthermore, to help the engineering team to troubleshoot and fix issues with the feature update, sending problem feedback will no longer be a popularity contest. Instead, when adding a similar feedback, you'll now have to fill out a semi-completed form, which allows you to add your own description.
Finally, the Feedback app has a new Achievements page, which includes improvements to make achievements more discoverable. Also, Microsoft has added additional features that allow you to categorize and track your progress.
Calculator
This new version also includes an updated version of the Calculator app, which has a new "Always on Top" mode to keep the app always visible.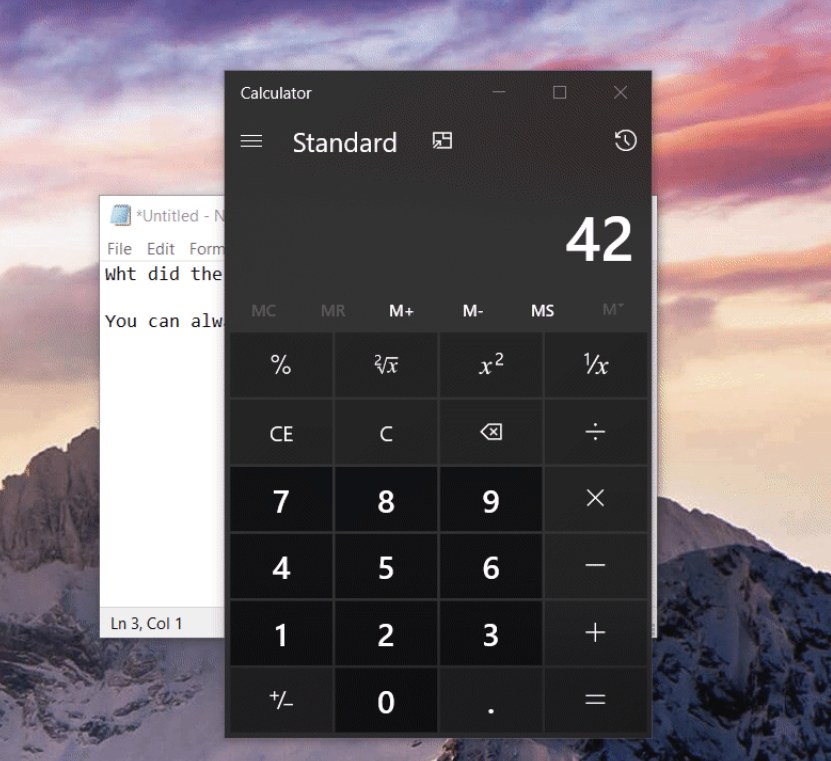 Xbox Game Bar
If you use the Xbox Game Bar, the app now displays an FPS counter and achievement overlay. (Just set focus to your game and press Windows key + G to get started.)
Microsoft Defender
Starting with Windows 10 version 2004, the software giant is extending Windows Defender ATP capabilities beyond the operating system, and as a result Microsoft is renaming "Windows Defender" to "Microsoft Defender" to reflect our cross-platform approach to endpoint security.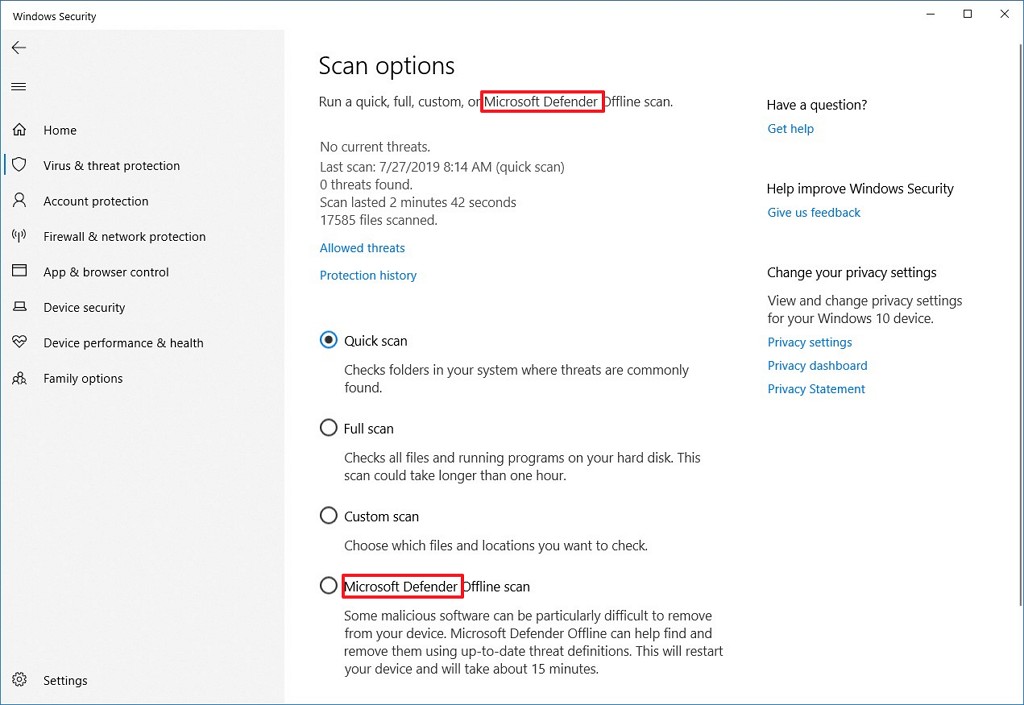 Editor's note: This guide includes features and improvements that appeared until Windows 10 build 19033. It should be noted that this guide focuses on features for consumers, as Microsoft is also adding other features aimed for enterprises, which aren't included here. Although all these new changes are part of the 20H1 development, some features like Windows Search for File Explorer, update to the Feedback Hub and Calculator are already available since version 1909. (This guide was originally published on April 15, 2019, and last updated on December 3, 2019.)