Windows 10 version 2004 (May 2020 Update) is the next major release expected to be available for supported devices sometime during spring 2020. This will be the first of two feature updates coming this year, and it's an update that will ship with a new set of features and improvements to tweak and enhance the overall experience.
Although this new version is not a massive update that will significantly change the way you use your device, it's a small update that includes a slew of incremental improvements and some small features around optimization, security, and productivity.
In this guide, we'll highlight the 15 best new features and improvements available with version 2004 of Windows 10. (You can also check everything that is new with version 2004 in this extensive guide.)
Windows 10 version 2004 best features
These are best features and changes available with Windows 10 version 2004:
1. Sign in
As part of the sign-in experience, Windows 10 version 2004 ships with several improvements, including a new feature to help investigate problems with the sign-in screen.
If you're having problems signing in, you can now use the Windows key + Ctrl + Shift + L keyboard shortcut to start a recording, reproduce the issue, and then use the shortcut again to produce a reference number that you can share when reporting the problem to Microsoft.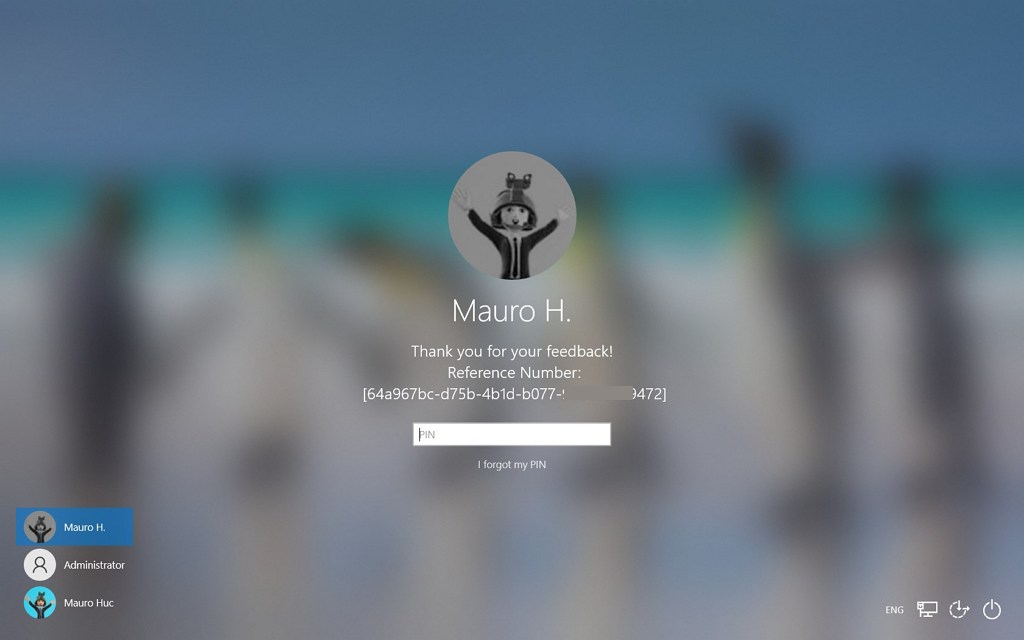 As part of the sign-in experience, Windows 10 is introducing a new Require Windows Hello sign-in for Microsoft accounts option, which when enabled will switch your Microsoft accounts (those configured on your device) to modern authentication with Windows Hello Face, Fingerprint, or PIN. (This option will remove the password option from the "Sign-in" page and across the operating system.)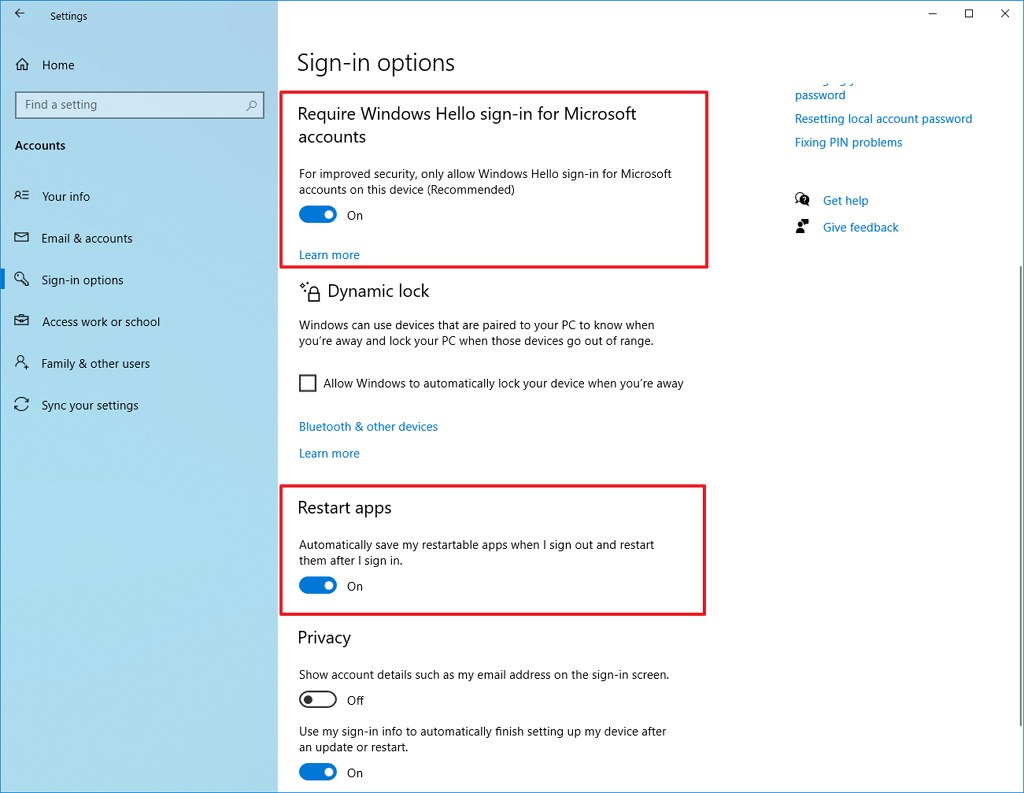 In addition, the "Sign-in options" page now is splitting the ability to restart apps automatically after a restart under the "Privacy" section. This change means that moving forward, you'll now be able to control whether registered apps can launch automatically after a restart using the new Restart apps setting.
If you usually have to use Safe Mode, you can now sign into your account with a PIN while in Safe mode. In the past, you're required to use a password to sign in, even if you use a PIN to login into your account in normal mode.
2. Virtual desktops rename
If you use virtual desktops to group different tasks or project, you can now specify a custom name for each desktop.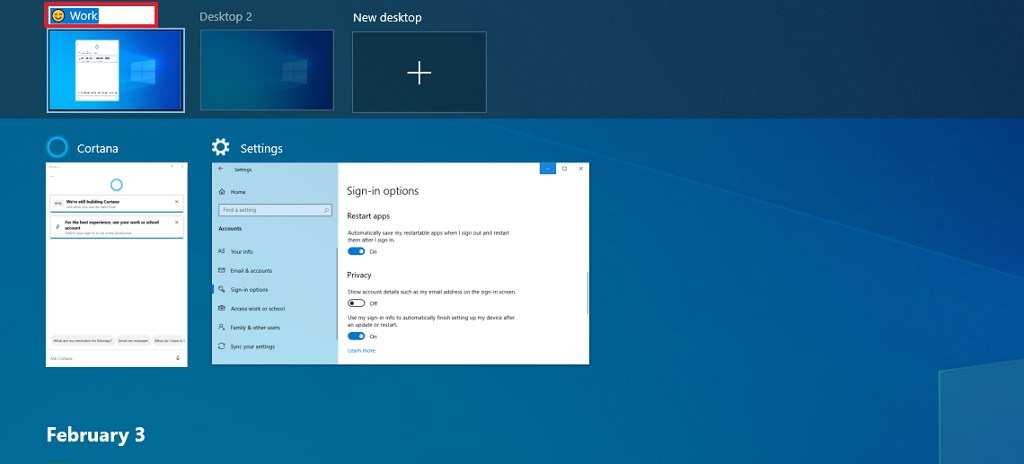 You can rename a virtual desktop by clicking the header of the desktop and changing the name. Or you can right-click the thumbnail of the desktop in Task View, and a context menu with a Rename option in it should appear.
3. Cortana app
Starting with Windows 10 version 2004, Cortana is no longer part of the operating system. Instead, it's now an app that updates through the Microsoft Store and provides a new chat-based interface with the ability to input text or voice to interact with the assistant.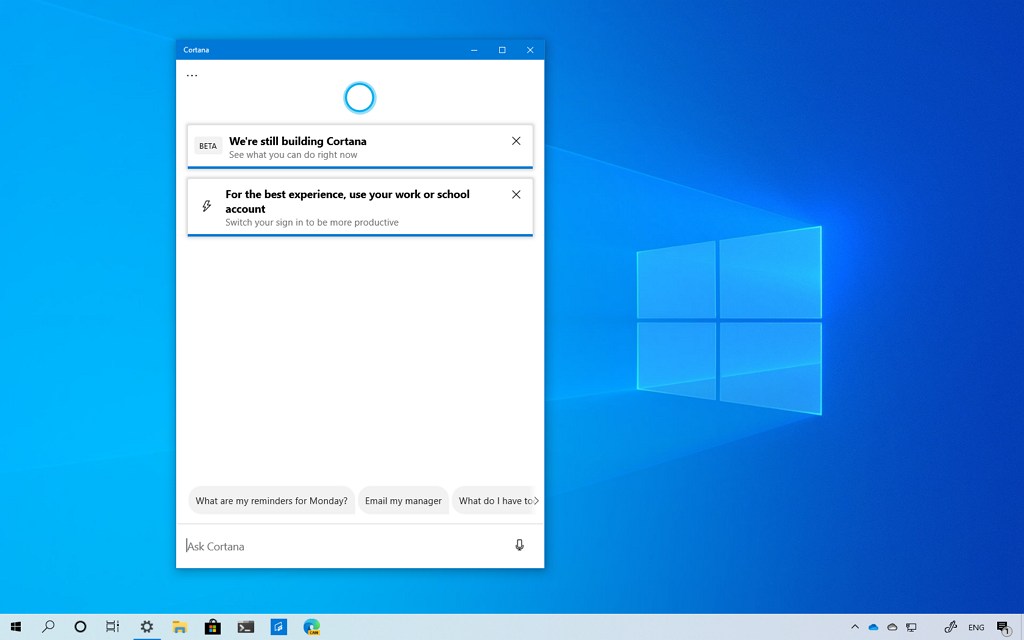 The app also supports the light and dark mode available on Windows 10, and the new experience offers a less intrusive screen for "Hey Cortana" queries that can stay in the flow while you work. In addition, the assistant has been updated with new speech and language models, performance has improved, and you can even drag and resize like any other app.
As a result of this transmission from being a core feature to be converted to an app, you'll no longer find references of Cortana in the homepage of the Settings app.
4. Notifications settings
In this update, Microsoft is also bringing new refinements for the notification settings. For example, now notification popups include an inline option to turn off notifications for that app or open the app's notification settings.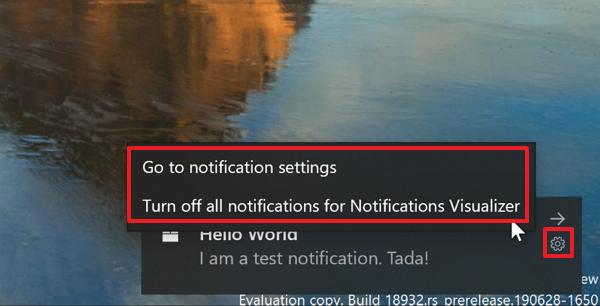 Also, a new direct link has been added at the top of the Action Center to manage notifications. (In order to accommodate this change, Windows 10 moved the "no notifications" text down to the middle of the Action Center.)
In the "Notifications & actions" settings page, Windows 10 is adding some new changes, including an option to mute all notifications and an option to disable the post upgrade setup page under the "Notifications" section.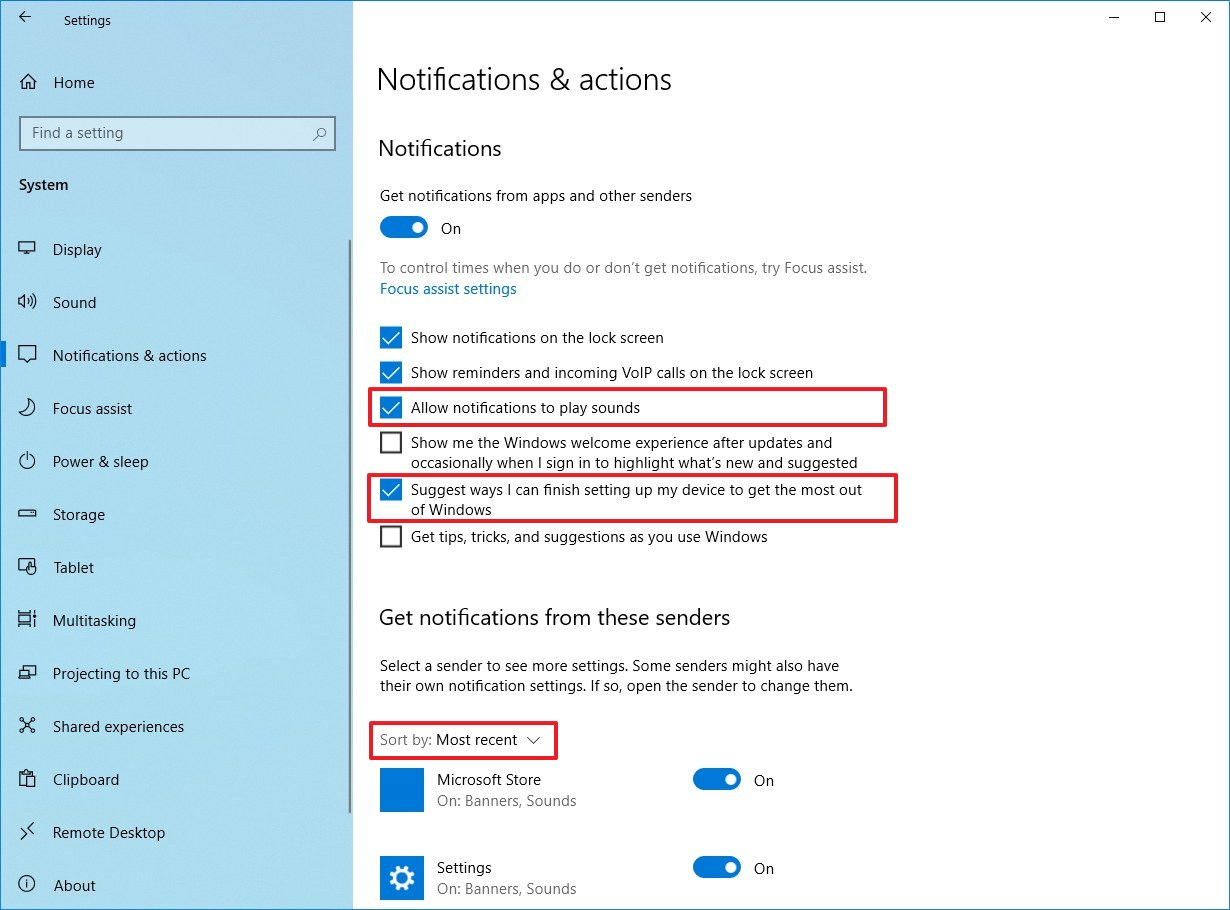 Also, you can now sort the list by which apps most recently sent notifications to quickly find the apps and change its settings.
5. Optional Features settings
Windows 10 May 2020 Update is adding changes to make the Optional Features settings more usable, including the ability to select and install multiple optional features at the same time.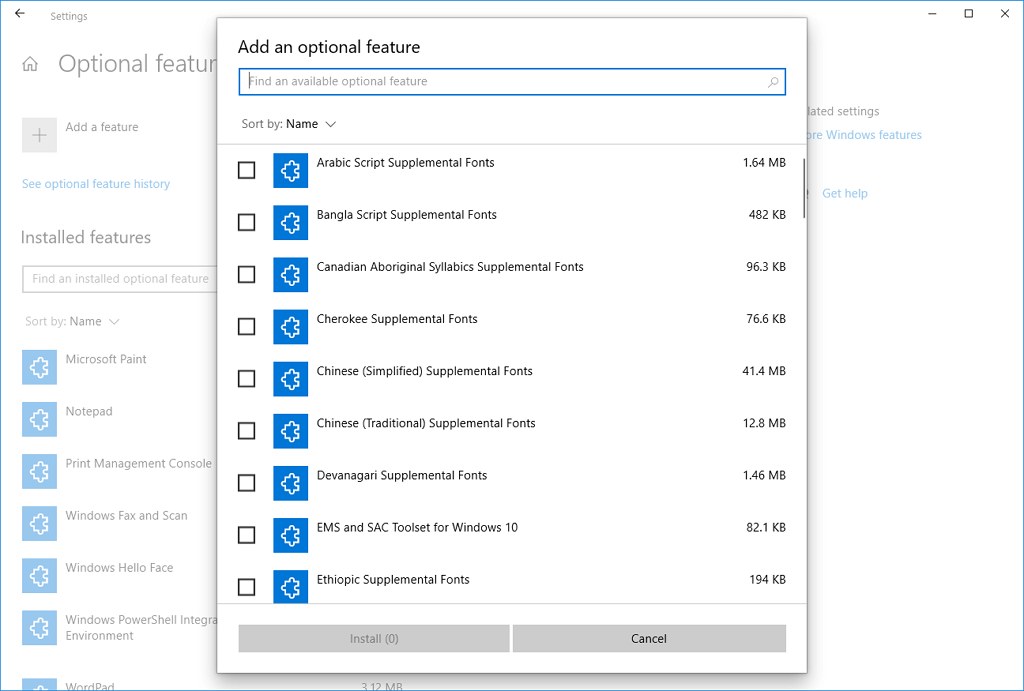 In addition, starting with this feature update, WordPad, Paint, and Notepad are now features on-demand, which means that you can remove and add them back again from the Optional Features settings page.
6. Data usage settings
Starting with version 2004, Windows 10 is removing the Data usage tab from the main "Network & Internet" section. However, the settings are not gone, they're still accessible on a per-connection basis in the "Status" page.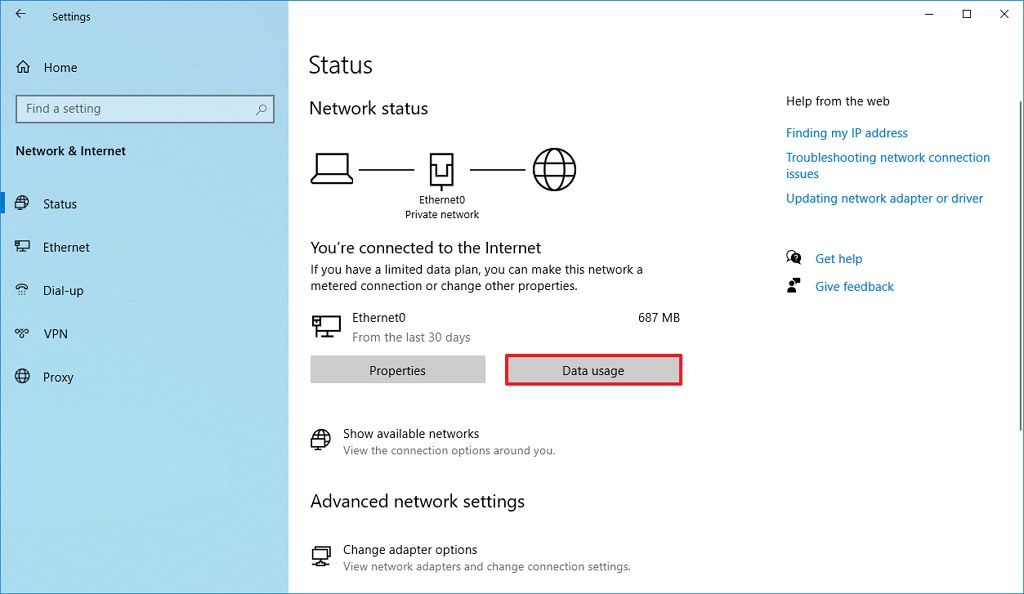 7. Language settings
The Language settings isn't getting new features, but you'll find several visual changes. For example, the page is getting redesign to make it easier to understand your current configuration.
The page now includes an overview section letting you quickly understand which languages are configured as default for their "Windows display," "Apps & websites," "Regional format," "Keyboard," and "Speech."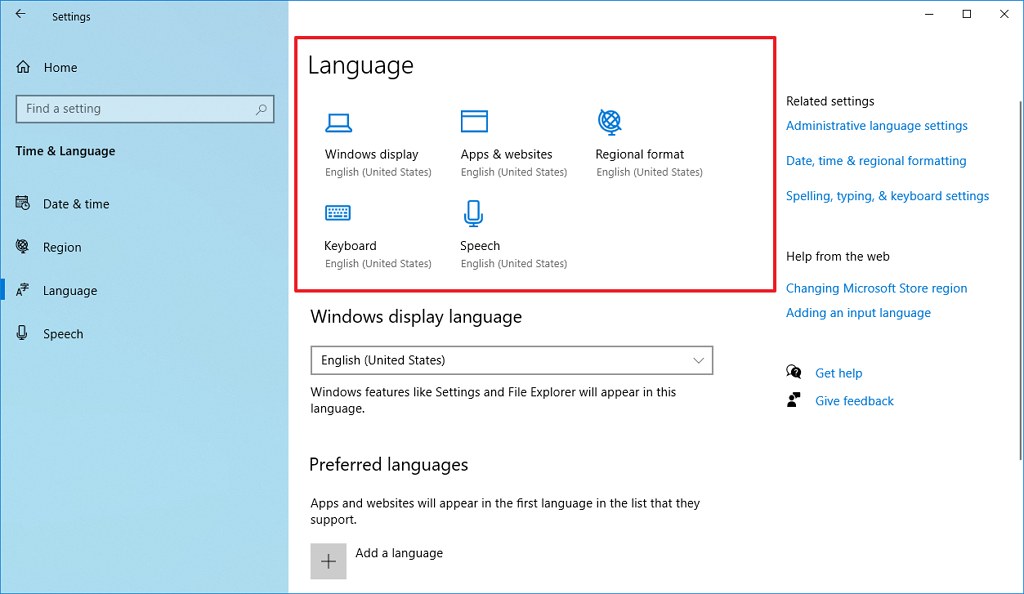 Each icon in the settings is actionable, which means that if something doesn't look correct, you can click the settings to change it.
Also, when installing a new language, the extra options are clearer to understand, and you can hover over each feature to get a tooltip that will appear with a description.
8. Text cursor indicator
Another new feature with the first feature update of 2020 is the Text cursor indicator, which is a feature that will help you see and find the text cursor anywhere it might be, at any time.
You can enable the new feature, in the new "Text cursor" page, in the "Ease of Access" settings, and turning on the text cursor indicator option.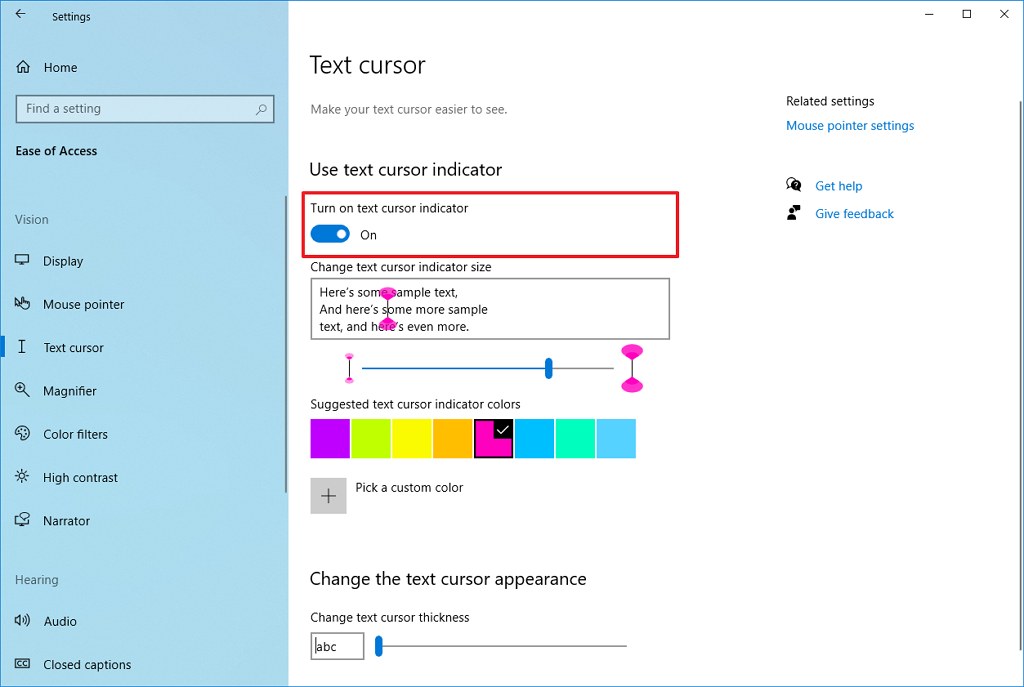 The settings allow you to select from a range of sizes and colors to make easier for you to find the cursor.
9. Backup settings
The Backup settings page has been updated with an option backup your files on the Desktop, Documents, and Pictures to cloud using OneDrive.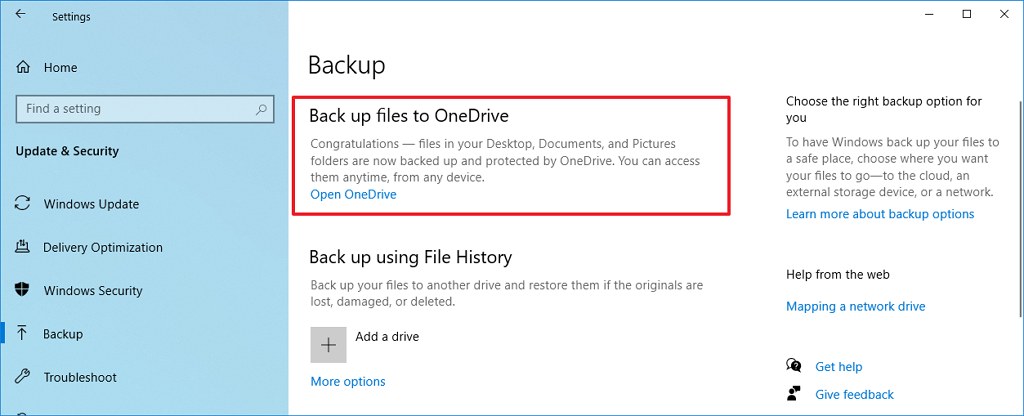 Also, users without a first party backup solution will now see a friendly reminder to consider setting up a backup option that is included with Windows 10. (If you'd prefer to turn this off, there is an option in the notification.)
10. Bluetooth pairing
After installing this update, you'll be able to pair a Bluetooth device directly from the notification popup, as soon as the device is detected, without the need to open the Settings app.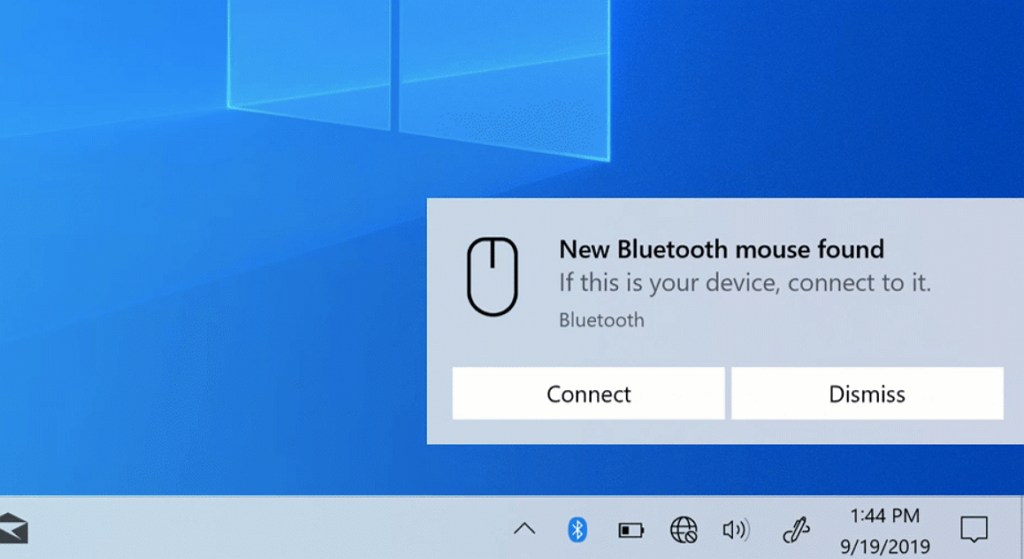 In addition, Windows 10 now has an improved interface that shows less notifications making pairing a little faster. The feature now adds a Dismiss button to the first notification to give you more control while using "Swift Pair."
11. Windows Subsystem for Linux 2
Starting with version 2004, Windows 10 is introducing Windows Subsystem for Linux 2, which is a latest version of the feature that runs ELF64 Linux binaries.

This new architecture uses a real Linux kernel, and as a result it changes the way that Linux binaries interact with Windows 10 and the hardware while keeping the same experience.
Also, the new experience means faster file system performance and full system call compatibility, which allows you to run more applications, such as Docker, and you'll be able connect network apps using localhost.
In addition, WSL2 now includes support for global configuration options that you can apply to each distro.
12. Network cameras support
Another best feature available with Windows 10 version 2004 is native support for network cameras to make it easier for developers to build security and machine learning video analytics solutions.
The new support will allow easy discovery, pairing, configuration, and streaming of TCP/IP-enabled for major ONVIF Profile S compliant camera brands.
Also, developers will be able to stream from a given RTSP Uniform Resource Identifier (URI) through the same Windows camera APIs. And they'll also be able to take advantage of artificial intelligence (AI) services and features to create high performance end-to-end security solutions, including for common surveillance scenarios like people detection or face sentiment analysis.
13. Microsoft Defender Antivirus
Starting with Windows 10 version 2004, Microsoft is extending Windows Defender ATP capabilities beyond the operating system, and as a result the name of the security feature is changing from "Windows Defender" to "Microsoft Defender" to reflect our cross-platform approach to endpoint security.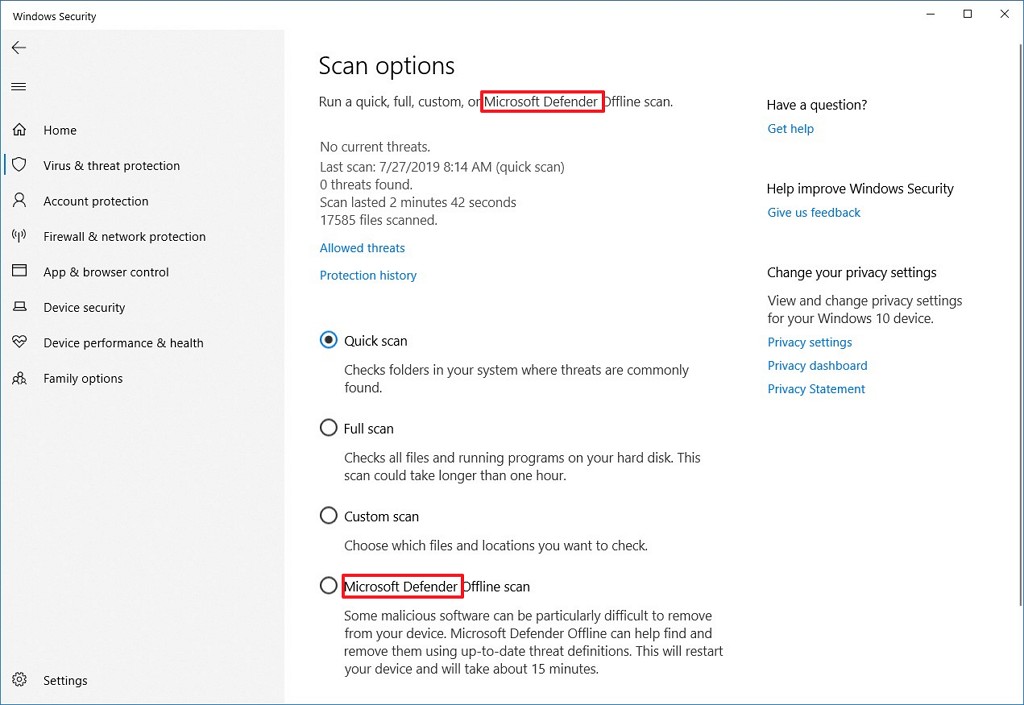 14. Windows Ink Workspace
Windows Ink Workspace is another experience that is getting a refresh with version 2004. After installing the feature update, you'll notice a new interface, which is significantly smaller, and Windows 10 is now converging the whiteboarding experiences with a new direct link to the Microsoft Whiteboard app.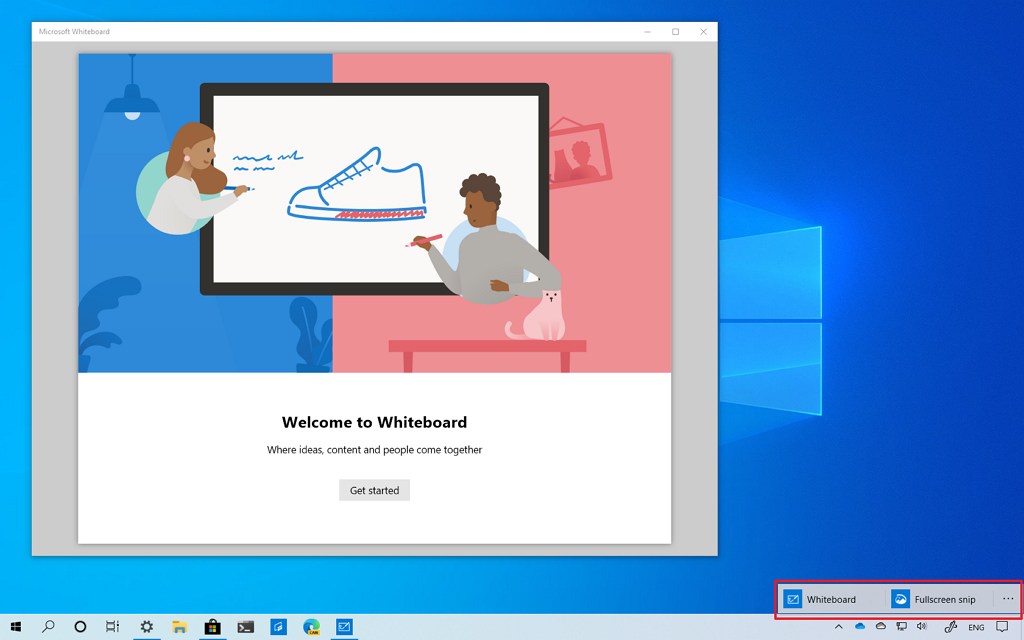 15. Recovery with cloud download
In the Recovery page, the "Reset this PC" feature has been updated with a new Cloud Download feature that allows you to download a fresh copy of Windows 10 directly from the Microsoft servers, instead of using the file locally available on the computer.
The "Cloud Download" option will reinstall the same build, version, and edition, that is currently installed on your device. Also, when selecting the new option, it'll remove all the apps already installed on the device. In addition, if the "Remove everything" option is selected, user data will also be deleted.
If you prefer not to re-download the files from the cloud, you can still select the "Local reinstall" option, which will create a recovery build to reinstall Windows 10 using the files on your machine.
These are some the best features and improvements coming with the Windows 10 May 2020 Update. Do you know other features that weren't mentioned? Let us know in the comments.